All our products, in one place.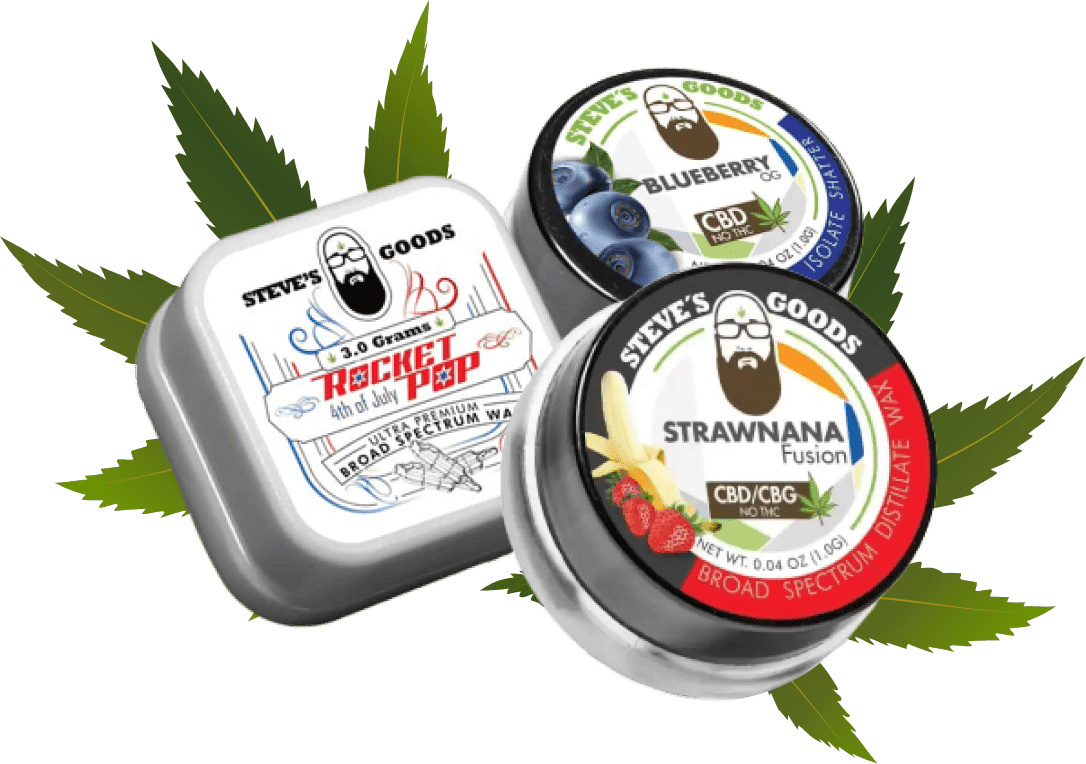 2022 Award Winner of CBD Concentrates: CBD wax, shatter, isolate dabs for sale
CBD Concentrates, aka "CBD Dabs" are delicacies. Colorado was one of the first states to experiment with CBD wax dabs. Leave it to the pros at Steve's Goods to grow the best hemp for Cannabidiol extraction, and to continue formulating the highest-quality CBD wax & CBD shatter dabs products on the planet. We are your one-stop shop for all CBD Dabs for sale.
FAQ's
Thank you for your support, we now have a 4-acre hemp farm! We successfully grew 3 acres last year (2020) and extracted all the material we will need to make the freshest concentrates on the market for you. We partner only with labs that use the newest and most advanced hemp extraction technologies to offer the best top-shelf hemp cannabinoids. This offering includes CBD isolate, THC Free distillate, high CBG concentrates, and cannabinoid isolates such as CBG isolate, and CBN isolate; straight from the hemp farm, and onto the hemp extraction lab. This is how we can guarantee you're getting the best CBD concentrates online.
The careful selection of our partners combined with the farming of our own hemp (beginning in 2020) all but guarantee total quality control for the formulation of any product we make, including those for dabbing CBD. This is our approach to creating CBD concentrates that have ranked top-3 globally, and number 1 overall in both the US and in Colorado (2 years in a row). Extraction Method Matters Our CBD is certified by a lab that uses C02 or Ethanol extraction techniques to extract the cannabinoids directly from the hemp plant, which is the very best way to do it! Concentrates can be utilized with a device, added to a daily coffee, or even dabbed. The results with Steve's Goods CBD concentrates are typically too good to be true. Don't take our word for it. See for yourself!
CBD concentrates are like the common THC wax concentrates for sale but are extracted from the hemp plant, specifically because it has higher amounts of Cannabidiol or CBD. Dabbing CBD allows you to take in more efficiently and makes for faster delivery. Hemp-derived CBD concentrates are perfect for adding to your THC dabs or even adding it to your marijuana or hemp flower to increase the potency. At Steve's Goods, we specialize in CBD Concentrates with plant-derived terpenes that taste and smell like real cannabis strains but without the high price for cannabis terpenes. The hemp extract we use in every CBD Dab is pure and comes from our Colorado hemp. We make everything from either CBD isolate or THC Free Distillate. These concentrates can come in all types of products and are very interchangeable depending on the need and your preferences in dabbing CBD Concentrates.
Our isolate comes in an easy-to-use powder to be accessible in whatever form is easiest for the customer. What is CBD Isolate? This is the purest form of CBD by which to garner daily intake, whether sprinkled in a bowl, topping bong slides, added to joints, or rolled into blunts. CBD isolate is the purest form of concentrated CBD. The cannabinoids inside the hemp plant have been isolated into a single molecule; Cannabidiol. This product is great for affordable dabbing, or even formulating your own CBD products. No High Feeling from Isolate By itself, CBD isolate doesn't get users 'high,' because it is not psychoactive, however, many users have described a "body high," associated with the relaxing feelings or a "focused state" of mind that follows consuming CBD isolate.
Dabbing is another way to smoke hemp-derived CBD, the action of doing so being referred to as "taking a CBD Dab." This is when one takes a small piece of CBD extracted concentrate and vaporizes it by melting it on a hot surface. Oftentimes that hot device is called a "nail," or a "paddle," and inhales the vapor produced by the melting through a water pipe, typically called either a dab rig or an oil rig. Propper Dabbing Equipment Helps How to use CBD dabs isn't just a matter of preference. Rigs help to cool dabs and filter their hot vapor. CBD wax for sale from Steve's Goods alone will not get a user high, unless our dabs are paired with a marijuana extract, or are taken from a rig through which marijuana extracts have been consumed.
For the best CBD device on the market, you can look no further than at the CBD Starter Pack. This device start pack has 1 device, 1 gram of CBD Cartridge, and 1 gram of Blueberry OG CBD Shatter.
Wax concentrates are one form of CBD dabs to be consumed in your dab/oil rig. CBD waxes from Steve's Goods can't and won't make consumers high, and are completely legal, so our customers never have to worry about any random tests or exposures in their various journeys. What is CBD Wax? It is a concentrated form of CBD that comes from a THC-free distillate, then by adding in plant terpenes, we craft the best CBD wax concentrate on the market.
CBD Shatter dabs are very similar to CBD crumble wax, and in fact, are nearly the same thing. The only exception: CBD shatters are among the purest forms of crystallized CBD dab waxes you can get. It's called CBD shatter because it's in the form of isolated crystals with terpenes added that look like shards of beautifully colored, broken glass. Steve's Goods has been the number 1 supplier of CBD Shatter since 2017. We strive to not only keep our perfect formulation the same but by increasing the potency of our CBD isolate or THC-free distillate, we continue to make this product better year over year. Our flagship flavors started off only being made with CBD isolate. We introduced, Blueberry OG CBD Shatter, Pineapple Express CBD Shatter, Terpin Gorilla CBD Shatter, Watermelon OG CBD Shatter, and we can't forget our GirlScout Cookies CBD Shatter! Now try these flavors in CBD Wax form! We also have a great selection of CBG Concentrates, CBG dabs, and soon-to-come CBN dabs! Try our limited edition Mango Untamed CBD wax, limited edition Soul Train CBD wax, or our limited edition AppleCider CBD Wax.
There are so many ways to intake hemp-derived CBD that choosing the right product is almost all about preference. From dabbing wax to ingesting hemp oil, to sprinkling whatever kind of hemp goodness into a run-of-the-mill blunt; anybody can begin to reap the benefits of CBD which are readily available thanks to the Farm Bill of 2014. CBD wax is a distillate-based concentrate that is complete without THC with minor cannabinoids inside like CBG, CBC, and CBN. In some cases, we add in extra CBG isolate to make Steve's Goods CBG products a more balanced ratio of cannabinoids. CBD Shatter is a pure CBD isolate that is 99% or higher of activated cannabidiol. Both CBD Wax, and CBD Shatter can be made without terpenes (we call it Hemp OG or CBD isolate), or in most cases, we add plant-derived terpenes. Faster Cannabinoid Delivery The Entourage Effect is REAL CBD concentrates are among the fastest available ways to take in CBD for supplement or smoking use. Cannabidiol acts as a supplementary relief agent, providing quick help for much more than we are currently aware. What a time to be alive! CBD Shatter is an excellent, measurable combo to keep cannabinoid balancing as easy as the enjoyment.
You can buy hemp shatter dabs online, as long as they're made from non-marijuana cannabis plants. CBD Concentrates from Steve's Goods include CBD Isolate, Dabs including Waxes, and Shatters. As for concentrates, there are mainly two ways to consume them. CBD Isolate is a powder form, making for easy and convenient use. Your Way Is Ok! It can be put into anything of your choosing, from joints, blunts, bongs, and bowls. However, CBD dabs, waxes, & shatters are most likely to be used in a dab/oil rig.
At first, dab rigs can seem cumbersome or intimidating but don't worry, they are actually quite simple. Dab rigs and oil rigs are made of 2 parts: a "nail," which is the hot surface that vaporizes the extract a water pipe that allows for inhalation of the vapor with ease No hemp concentrates from Steve's Goods will get a person high, but they will definitely help our customers to feel 'high on life.' If this is a concern for you, start with CBD Shatter.
As concentrates are usually listed and marketed, they are rarely ever referred to as simply "CBD Wax." Instead, subcategories of waxes tend to attract the attention of labelers; CBD shatter, CBD live resin, CBD crumble, and CBD budder. These represent what is essentially the 'hemp wax family,' or manifestations of hemp extract wax in its various forms. CBD Shatter CBD Shatter concentrates, although classified under shatter wax by category, isn't quite a 'wax' by the look and feel. During the extraction process, it doesn't fully crystallize, giving it a cloudy appearance, though resembling a more glass-like structure. Terpenes of fruit and flower are added to this end result for delightful flavor in this shatter wax concentrate form. "Terpsolate" to say it differently. CBD Live Resin CBD Live Resin is made by using cryogenically frozen buds, as opposed to dried trims or cured buds. Being "fresh frozen" ensures greater preservation of cannabinoids and terpenes. This also means it's more expensive due to a more extensive process to market. CBD Crumble The extraction process for Crumble is the same substance as CBD Live Resin, however, the difference in the result is that makers of crumble use a pre-purged CBD oil that has more moisture and much higher viscosity. It results in a softer substance that easily crumbles, hence the name. CBD Budder This particular wax is produced at higher temperatures and air pressures than Crumble. This makes it fluffier and waxier but does not affect the potency of the product. Named Budder for its similar resemblance to cooking butter or margarine, and is often combined into CBD cooking butter.
Cannabidiol (CBD) waxes are sought after due to their high CBD concentrations, meaning easy access to the benefits of CBD concentrates. If you are unaware of what makes CBD awesome, let's discuss it. Hemp has been labeled by some as 'mother nature's pantry cabinet,' as it has a wide variety of potential applications.
CBD shatter is truly a savory experience for anyone of age for inhalant hemp who may need or want it. From people who suffer from mobility inhibition to people who choose CBD as a mental or focus optimization supplement. Unlike THC wax for sale out there, our hemp wax can be purchased online. Try Our Blueberry OG CBD Shatter The taste of CBD Blueberry OG Shatter is evocative of lazy summer days, lying around, arm stretched out waiting for your hand to be filled with another scoop of fresh-picked blueberries. Or maybe it calls to mind imagery of that first bite of blueberry cheesecake. Deliciousness and Cannabis extract, all in one beautiful crystalline structure. Try Our Pineapple Express CBD Shatter & Our Broad Spectrum Wax Dabs Products If you love the tropical flavor of pineapple and you also love dabs, get excited! It's our award-winning Pineapple Express CBD Shatter… Boosting your dab's potency and the flavor is as easy as breaking off a piece and adding it to your extracts.
Our Terpin Gorilla CBD Shatter Is The Answer To That If pungent, earthy flavors are the way to satisfy your taste buds, then our CBD Terpin Gorilla Shatter is for you. Also available in broad spectrum dab wax. Featured CBD Shatter Deals Save money and try them all with our CBD Shatter Bundle Deals! See why our quality outperforms our competitors and you will love the extra organic hemp and our cannabis-derived profiles to match flavors like Blueberry OG. How To Measure CBD Concentrates Serving Sizes Measuring how much CBD you're getting in a dab isn't as easy as other methods, but there are ways for you to approximate it. If you have a 100 mg. slab you can break it up into 2, 4, or 10 equal pieces and divide according. For instance, if you want to smoke 25 mg. a day, break off a ¼ and enjoy it throughout. More serving size information is available in this blog post.