Description:
Blueberry OG CBD Shatter by Steve's Goods was one of the first hemp dabs we released. We have collected awards and accolades for over 3 years, and after all this time, this shatter is still a time-tested fan-favorite.
Product Details:
1/2 g – 1 g units
Rich Blueberry OG plant terpenes
Colorado hemp extracted CBD isolate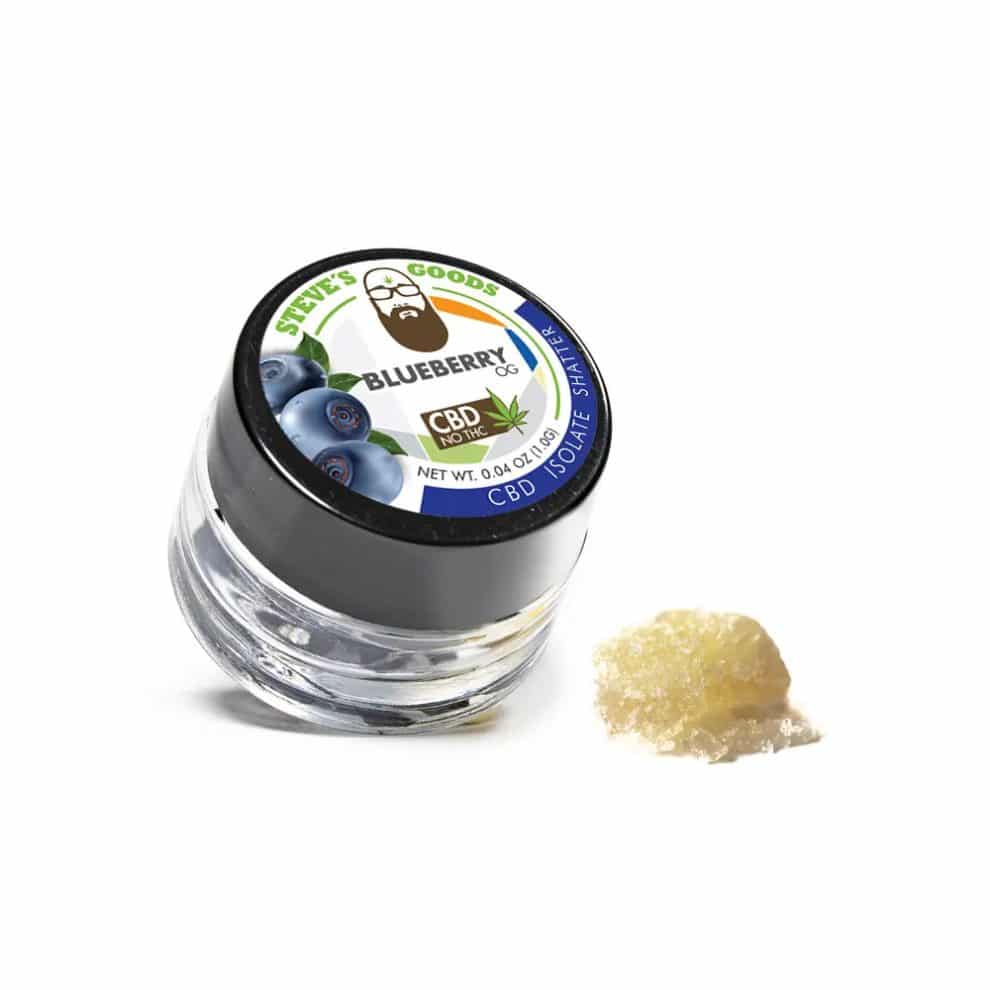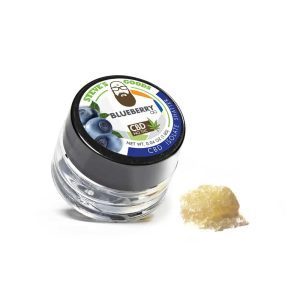 Ingredients:
Extracted hemp cannabidiol (CBD) isolate, Pure plant blueberry terpenes
Warning from the Manufacturer
Our CBD dabs are intended for use by adults or with adult supervision. Keep out of reach of children and minors.
How to Use:
Break off a piece of this CBD Concentrate and sprinkle it directly onto, or mix it into, your cannabis (bowl, joint, device)
We recommend a dab rig, dab pen, or other devices used for consuming hemp concentrates.
This product is also easily consumed using our famous CBD Starter Pack.
More On Blueberry OG CBD Shatter
This was one of the first terpene profiles we offered. We have been making the finest Colorado-extracted CBD dab shatter concentrates for over 3 years. Over that time, we collected the awards and accolades that tell the story of our relentless pursuit of the perfect CBD dabs. After all this time, our Blueberry CBD shatter is still a time-tested fan-favorite.
Are Blueberry OG CBD Shatter dabs from Steve's Goods a good value?
We always try to keep our prices low, but that is probably beside the point. When you see a CBD concentrate product with Steve's Goods on the label, you can rest assured that nobody out there works harder to create quality hemp products than we do. Nobody. And though it sounds like marketing, our industry awards and recognition substantiate our place on the CBD dabs' mountaintop. Blueberry and OG Kush terpenes never tasted like this in any other CBD dabs for sale online.
Blueberry OG CBD Shatters are fine products…
…because of the fine ingredients and the love that we put into them. Our proprietary process blends a formulation of natural fruit and floral terpenes together with 99% pure CBD isolate, and the outcome is this: a pristine blueberry flavor CBD shatter dabs product that draws taste comparisons to "cheesecake," and "taffy," and even "cotton candy."
What is the best way to consume Blueberry OG CBD Shatter Dabs?
CBD Isolate-based shatters from Steve's Goods are made from extracted hemp isolate concentrates, meaning that all such products contain no THC. That makes this product fully legal CBD shatter. Enjoy them in any setting via rig, battery-powered pocket device, or as an easy addition in a well-balanced cannabis combo session. Device options below for those in need of one.
We offer Dip Devices – Evri pen…
…which matches well with our products. It is a high-quality battery device, and was designed to be a perfectly portable option for the dabs enthusiast on-the-go. The Evri device has different temp settings, few instructions to remember, three temperature settings, and an easy-to-clean construction. This is definitely a CBD shatter-friendly e-device.
We also offer the best stationary device option on the market
The EZ Bake E-nail is well-known and globally famous for its easy adaptation to glassware most cannabis users already keep at home. It is durable, safe, reliable for each use, flexible in heat. It also reaches set temperatures quickly after being turned on, and temperature adjusts quickly with a rolling dial and a digital gauge. This is also a CBD dabs-friendly device option.
We love both so much, we have a difficult time picking the better option, and many of our customers say the same thing.
Can Buleberry OG CBD shatter be used without a device?
Of course, you can and we would highly suggest keeping with your cannabis habits and simply adding Steve's Goods shatter to your routine. It isn't every day you find a product that can change and enhance any bowl or joint, adding a smell and taste profile that you've never experienced before. We can confidently say that regardless of how long you have used cannabis, you have never found a product like Steve's Good CBD concentrates.
So give us a try…
…and add us to your next session. Blueberry OG CBD Shatter makes a great sprinkling on top of any cannabis convo you can imagine. Let us know what comes to mind when you try this product. We hear things like blueberry flavor cheesecake, and cotton candy all the time.
A Note On Dabbing:
Temperature is (really) important when dabbing; you want to figure out the ideal low temp for your dab tolerance. Make sure to follow the directions that come with your device if you choose to go that route!
More Questions about our Blueberry OG CBD Shatter:
What, exactly, are CBD shatter Dabs?
CBD shatter has a different meaning at Steve's Goods. It means potent, pure, powerful CBD isolate, combined with fruit and floral terpenes. All-natural, and all Colorado, only and ever. We aren't a gas station CBD company, and you won't find us on Amazon sandwiched between a bunch of those kinds of brands.
Steve is committed to providing CBD products that actually work. And in order to achieve functional quality, only high-quality ingredients can be involved in any recipe. Blueberry OG CBD shatter is one of our favorite formulations, and one of the many products our biggest fans rave about.
We want everyone in the dab world to know…
…who we are, that our CBD dabs are the best out there and that adding them to any smoke session is a game-changer for the better.
Does Blueberry OG CBD shatter work?
Yes, CBD shatter 'works.' For what purpose is a better question, and is one that depends on answers to a number of different, and person-to-person health considerations. Steve's Goods does not recommend our CBD shatter as suitable replacements for prescriptions, treatments, or medications.
We encourage all customers to research hemp and to consult with a doctor or medical professional in advance of using products along with prescriptions or other medicines.
Who Does Blueberry OG CBD shatter dabs work for?
Our typical customer for this product is a combo cannabis user. That is broad in definition and includes a variety of cannabis consumption methods, device type preferences, flavor prejudices, and product combo possibilities. These types of users are typically after cannabinoid balance, taste enhancement, or just have a THC restriction professionally or personally.
Buying Options for Steve's Goods Blueberry OG CBD Shatter Dabs
Shatter comes in ½ grams or 1 gram unit containers.
In addition to Blueberry OG, we also offer a variety of flavors for you to enjoy including Terpin Gorilla, Pineapple Express, Watermelon OG, and Girl Scout Cookies shatters.
How much CBD is there in a gram of Blueberry OG CBD Shatter from Steve's Goods?
900 mg of CBD is available in each gram unit. Half gram units have half as much or 450 mg.
How long, on average, does a gram of CBD shatter last?
Most dabbers get a solid week from a gram of our CBD dabs.
Why choose Steve's Goods CBD Dabs?
All of our Blueberry OG CBD concentrates are first class and based on an award-winning formulation. The Blueberry OG CBD shatter is our CBD isolate version, and blends 99% pure Colorado hemp extract isolate with the very best fruit and floral terpenes that will have your senses delighted and searching your memory is for something similar and pleasant. For all the purists and combo dabbers out there, this one is for you.
We worked hard to make sure you could find us, and we are glad you did! Please feel free to browse our other CBD products for suitability to your needs and wants in a Colorado hemp product. Know that we are always innovating, and that means you will find that we bring new products to market all the time. As always, make sure and reach out to a member of our staff in the event you need answers or context. We can't wait to hear how you loved Steve's Goods' shopping experience.
~Steve's Goods is on Social Media!~
Check us out on Instagram and Facebook!
-If you would like to join our affiliate program…
…please find our portal here.
-If you are interested in bulk and wholesale options for this product…
…please find our wholesale program here.
-For copies of our recent lab test results…
…visit our Certificates of Analysis on this page.
This product is not for use by or sale to persons under the age of 18. This product should be used only as directed on the label. It should not be used if you are pregnant or nursing. Consult with a physician before use if you have a serious medical condition or use prescription medications. All trademarks and copyrights are property of Steve's Distributing LLC. These statements have not been evaluated by the FDA. This product is not intended to diagnose, treat, cure or prevent any disease. Individual weight loss results will vary. By using this site, you agree to follow the Privacy Policy and all Terms & Conditions printed on this site. Void Where Prohibited by Law.