CBD Shatter is one of the first CBD concentrates to hit the market. It's made by combining CBD isolate and plant-based terpenes at a high temperature. It's the purest form of concentrate on the market – upto 99% pure CBD.
As a 2021 award winner of CBD concentrates, we consider ourselves one of the best CBD shatter brands available. We grow our own hemp and enhance our products with extra CBG to make our CBD shatter even stronger.
steve from steves goods with cbd shatter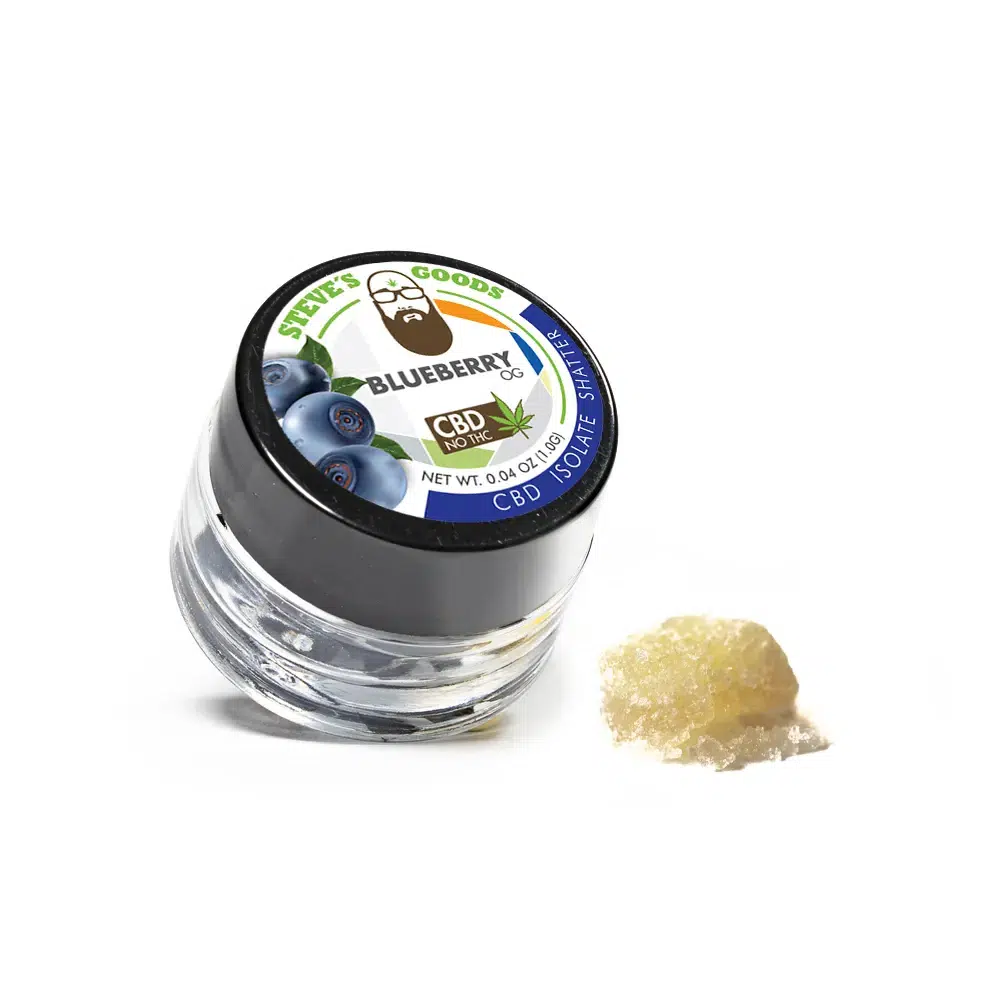 FAQ's
CBD shatter is solid concentrated CBD. This makes it pure, and desirable for individuals that want a product without other cannabinoids. This is beneficial when consuming other cannabinoids like CBG. Just mix the CBD shatter with the CBG slab to get a well-rounded combo dab. Hemp-derived CBD shatter is perfect for adding to your other dabs or even adding it to your cannabis or hemp flower to increase the potency. At Steve's Goods, we specialize in CBD shatter with plant-derived terpenes that taste and smell like real cannabis strains but without the high price for cannabis terpenes. The hemp extract we use in every CBD Dab is pure and comes from our Colorado hemp farm. We grow everything from what is needed for our product line each year.
Pineapple Express CBD Isolate Shatter

Our isolate comes in an easy-to-use powder to be accessible in whatever form is easiest for you. CBD Isolate is the purest form of CBD by which to garner daily intake, whether sprinkle in a bowl, topping bong slides, added to joints, or rolled into blunts. CBD isolate powder is used to create CBD shatter. It is after we add plant-derived terpenes and heat, and let it settle, that it becomes CBD shatter. No High Feeling from CBD Shatter CBD concentrate shatter, or any pure form of CBD for that matter, will not produce the high effect of THC. By itself, CBD shatter doesn't get users 'high,' because it is not psychoactive, however, many users have described a "body high," associated with the relaxing feelings or a "focused state" of mind that follows consuming CBD shatter. Terpenes play a role in the entourage effect, that can make some feel more uplifted and happy. Combining the two together will offer you an experience that has shown to be calming and focusing. How To Use CBD Shatter CBD Starter Pack If you want to buy CBD shatter and get your feet wet in the world of CBD all together, we can help with one simple package. For the best CBD device and goods on the market, you can look no further than at the CBD Starter Pack. This dab pen device pack has 1 device, 1 gram of CBD Cartridge, and 1 gram of Blueberry OG CBD Shatter. EZ-Bake Enail – Dab Nail Our custom Dab Nail is perfect when setting it to the optimal temperature and keeping it there all day! Just set it up with your favorite glass piece. It isn't recommended, but people have left these on for a consistent 24 hours, and it stayed the same heat the entire time. Be cautious about dab nail placement to avoid potential hazards. Little Dipper For CBD shatter wax dabbers on the go. This dab pen is perfect for traveling, as it's lightweight and can be easily transported. Just put the metal cap back on and it's  ready to go back into your pocket, purse or backpack. CBD Shatter Terpene Flavors At Steve's Goods, we have some of the best CBD shatter flavors available. Our flagship terpene flavors include: New flavors include: CBD concentrates today. ~Steve's Goods is on Social Media!~ Check us out on Instagram and Facebook! -If you would like to join our affiliate program… …please find our portal here. -If you are interested in bulk and wholesale options for this product… …please find our wholesale program here. -For copies of our recent lab test results… …visit our Certificates of Analysis on this page.