All our products, in one place.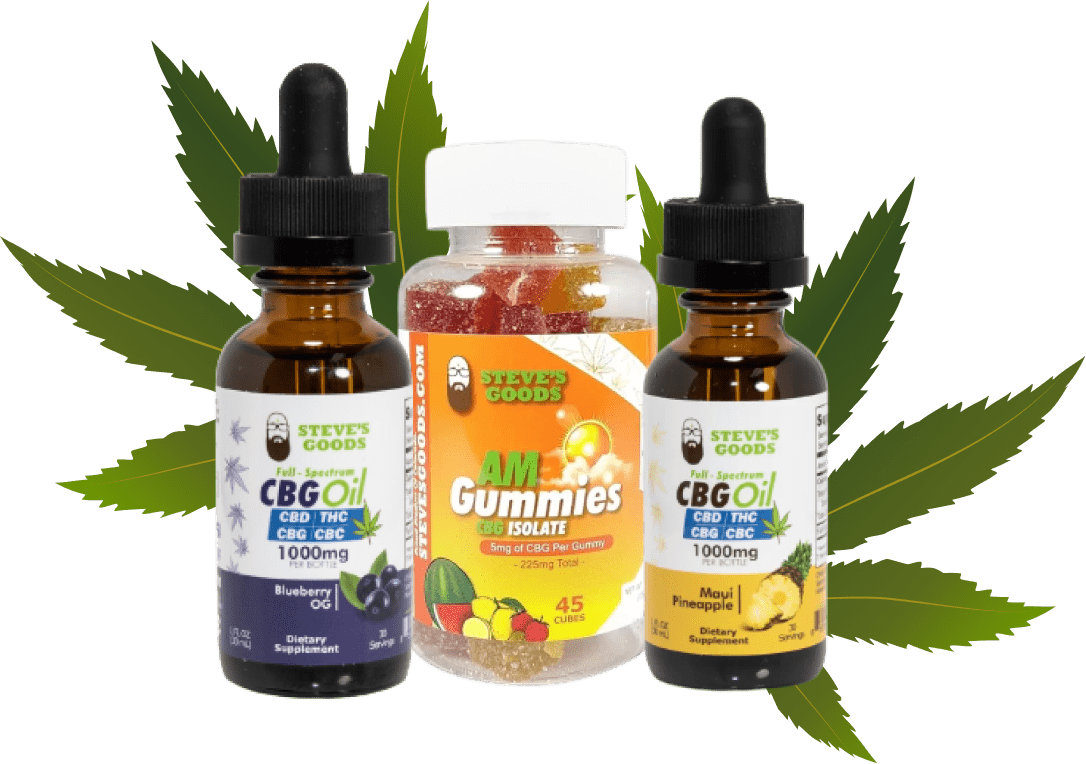 Showing 1–12 of 14 results
CBG Products by Steve's Goods – Extract enhanced using fine Colorado hemp
We know the quality of your Cannabigerol matters. That's why we grow our own hemp and finish our products adhering to the highest quality standards. Once you try our CBG production formulations and hemp, you'll never leave!
FAQ's
You may be familiar with CBD, but what do you know about CBG? We consider CBG as the remarkable cannabinoid found in the genetics of the Cannabis plant. It's produced naturally but is generally converted into one of the other major cannabinoids during the process of photosynthesis. Because of this, CBG products are expensive to come by! CBG has a reputation for offering natural pain relief. Common benefits of taking CBG products include reduced inflammation and nausea.
Our Broad Spectrum CBG Oil is only ever the original and best formulation of CBG oil product for sale in Colorado. Just like our full-spectrum tincture formulations, minor cannabinoids abound, fruit and floral terpenes complete the mixture. Nano and phytochemicals, as well as the other natural matter that makes the hemp plant so robust and diverse, are included. We grew the fine Colorado hemp extracts included in this year's formulations, and we plan to do the same going forward.
Full Spectrum CBD Tinctures were our original formulation and are our first love. We don't boost the CBG in these tinctures, and mainly because we don't need to as there is no good reason to. When you see a competitor drone on about a full spectrum CBG oil, it's a trap. Cannabigerol is boosted in our broad-spectrum hemp formulations because that offers the closest thing to a full spectrum effect for customers in need of alternatives to THC without the "high" or risk of a drug test slip up.
Our CBG Isolate is a fine hemp powder form of Cannabigerol. We also make a CBG dab slab form of equal potency. If you want to buy CBG products that are undisturbed and unformulated, try our C02-extracted isolate CBG. We also sell CBG products in bulk, just like any of our other hemp raw materials and extracts.
If you have no THC restriction, of course, you want a full spectrum hemp oil formulation. In the case of most ANY quality CBG products, good growers have sufficient CBG potencies in their hemp to suit these customers by natural occurrence. The rest of what you hear is only marketing and spin. At Steve's Goods, we grow our own hemp. We want you to discover the difference it makes when a cannabis primary vendor controls their entire quality process. In CBD and CBG production, as well as all of our other products, you will notice the difference as soon as you give it a try and compare.
We thrive among an ocean of inferior CBG products, and our common competitors know this. Just a quick search of CBG products online, and you will see a few other names that couldn't have possibly done it without us. Quite literally, in many cases, they learned it from us, too (though they won't tell you as much).
Most of our competitors won't tell you this: CBG Isolate and other CBG extract concentrates do produce a risk of side effects long term. They have been known to cause chest tightness and lower digestive episodes in a small minority of cases.It's important to balance the use of such concentrates to avoid long term overuse as doing so may increase the risk of such side effects. CBG Isolate and Slab concentrates are best as a cannabis combo, a food additive, or a light occasional stand-alone dab. Neither are suitable replacements for prescription medications or treatments.
And on that note, it's becoming more and more important to know what went into hemp products like these, and from where the hemp comes. We do. Not just the lab. Not just the sales team at some hemp wholesale firm. We know the person responsible for our hemp from seed to finished product. Our competitors can rarely ever say the same, and it shows.
CBG Products for Sale CBG is the mother cannabinoid to CBD, THC, and all of the other wonderful cannabinoids found in the hemp plant. For more on CBG, check out our blog the 1-2-3's of CBG. Browse the website to buy CBG products. Enjoy responsibly! ~Steve's Goods is on Social Media!~ Check us out on Instagram and Facebook!-If you would like to join our affiliate program… …please find our portal here.-If you are interested in bulk and wholesale options for this product… …please find our wholesale program here.-For copies of our recent lab test results… …visit our Certificates of Analysis on this page.