CBD Tincture Oils for Sale
All our products, in one place.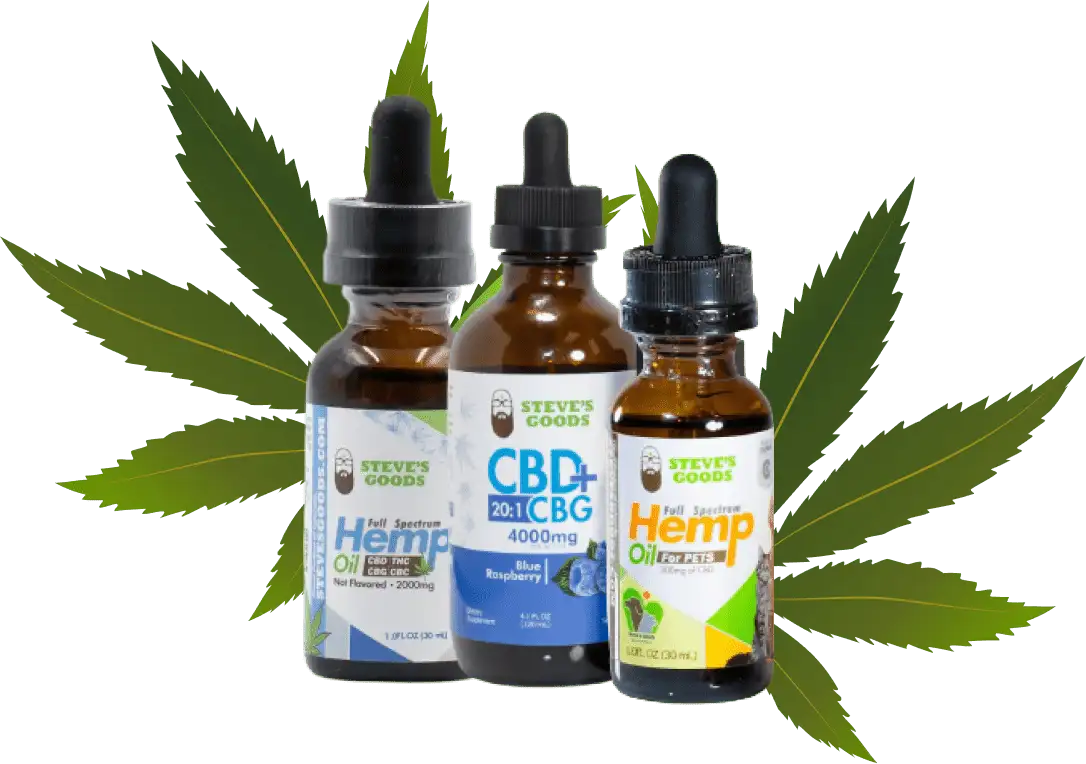 CBD Oil by Steve's Goods Update
I'm sure you've had a tough time figuring out which CBD products to buy. It's hard to understand what's best for your needs with so many options in stores and online, with different prices, flavors and ingredients!

One of the most important factors when choosing any type of supplement is potency – how strong it is. This can be measured by milligrams (mg) per serving size like teaspoons or tablespoons.

For example, 1000 mg equals 1 gram. A high quality tincture should have 50+mg/ml up top 150+. The more potent it gets, typically slower onset but longer lasting effects will be.
FAQ's
Cannabidiol (CBD) is a cannabinoid derived from the hemp plant. CBD oil extracts are made by extracting cannabinoids with organic and food-grade ethanol, which creates an extract that retains its natural qualities more than other methods of extraction due to being less harsh on our precious cannabis plants.

The result is full spectrum, high quality CBD oil containing all 60 plus naturally occurring constituents found in raw Cannabis Sativa L including THC as well as CBN & CBC but without any psychoactive effects! All components work together synergistically for your health benefit; many people use it topically or orally every day because of how readily bioavailable they make these compounds after ingestion into your system.

Even if you're not feeling particularly sick at the moment, Steve's Goods CBD oil tinctures for sale are a great supplement for everyday use. For more information you can find it here, cannabinoid research.
CBD oils and CBD tinctures are two different products.

While they're often used interchangeably, there's a difference between them.

Cannabis-based oils can be made with just two ingredients – the plant material (e.g., hemp) itself plus an oil that acts as a carrier so you don't have to smoke or vape it in order for your body to absorb all its benefits.

Conversely, CBD tinctures use high-proof alcohol as their natural ingredient which helps create extracts of another kind — ones steeped by nature rather than man made machinery like extraction methods such as CO2s or butane gasification from waxes and shatter concentrates).

This does not mean Steve's Goods tincture oils contain alcohol. It simply means we use alcohol to extract the hemp into CBD oil and use that to make a CBD tincture which gives us a CBD oil tincture.
CBD oils are absorbed into the bloodstream by capillaries in your mouth, which means you should rub it onto the inside of your cheek after taking a dropper full. The CBD molecules will then travel to various parts of your body and can be used for benefitting your body's endocannabinoid system.
Our CBD Oil Tinctures for sale are best served at different times. Our Full Spectrum CBD Oil is great for relaxing at night and should be taken later in the day. The reason for this is it is great in reducing inflammation which is very relaxing.

CBD Oil Tinctures are well known in the supplement industry as having health benefits because of its effect on our endocannabinoid system. This system controls our bodies response system and can be the reason why your body stays in balance.
CBD Oil Tinctures are well known in the supplement industry as having health benefits because of its effect on our endocannabinoid system. This system controls our bodies response system and can be the reason why your body stays in balance.
Full-spectrum hemp products, in general, (may) cause screening mishaps for more reasons than just THC.

THC is screened for, but did you know that certain cannabinoids and terpenes may even show up as THC in a lab result if not accounted for pre-screening? So it is possible to take a product that is free of THC and to trip a false positive. Most screenings are not flexible enough to account for non-THC screening as THC. This means the safest bet for folks who worry is to stick to isolate products.

CBD oil legally has to have less than 0.3% THC, which isn't enough to show in urine. As long as you take high quality, lab tested CBD oil, you will not fail a drug test using that alone, and within the parameters of recommended serving size.
CBD extracted from industrial hemp cannot get you high. It has less than 0.3% THC and is non-psychoactive.

This is why it's vital to know your source. Marijuana has high percentages of psychoactive THC while the hemp plant has higher amounts of CBD. CBD can be extracted from either plant — and the former will produce a product higher in THC.
Feeling the effects of CBD varies from person to person. Here are a few factors in determining how fast CBD will work for you. They include the strength of your oil, how much you're taking, and what you want to relieve. Also, how full is your belly?

Finding the right CBD serving size for you often takes experimentation.

Short term, full spectrum CBD oils usually begin to take effect within 20 – 40 minutes and can take as long as an hour. Long term, with consistent use, it's been reported people notice an overall benefit.
Yes! We have a blend of wild caught salmon oil and anchovy oil mixed with the finest full spectrum hemp extract. This CBD Oil Tincture for sale for dogs is tasty because it smells like fish, which can be put on your dog's food or taken straight from the dropper if they're up to that sort of thing.

CBD oil is known to help furry friends reduce pain throughout the body, decrease anxiousness, combat gastrointestinal issues, and even reduce instances of seizures, according to The Humane Society of The United States.

Our CBD Pet Oil is not only for dogs, but also for cats! We also sell CBD Dog Treats with a more enjoyable way to deliver it.
Steve's Goods was the original creator of the CBG oil before everyone and their mother started a CBD Oil company with a CBG oil.

We educated and sold to most of these people that now sell their own CBG Oil but just know that if it doesn't come from us, it is not authentic CBG oil. We have a special formulation of cannabinoids that perfectly offer your endocannabinoid system the supplement value it needs.

We sell two types of Full Spectrum CBD Oil:

CBD Hemp Oil
Silver Mint CBD Oil
We sell four types of CBG Oil:
Blueberry CBG Oil
Watermelon CBG Oil
Maui Pineapple CBG Oil
Blue Raspberry CBG Oil
OG Hemp CBG Oil
Steve's Goods has been formulating CBD oils since 2017 before you even knew CBD existed! We have our own hemp farm where all our oil is extracted from. This way we can guarantee quality standards of all our products – be it our CBD oil tinctures for sale or CBD oil online or in-store – every year!

Steve's Goods is proud to be a one-stop shop for all your hemp product needs. We offer CBD, CBG, , Delta-8, Delta-9, and HHC products.

All of our hemp comes from the best Colorado farms. We use third-party testing facilities to ensure product safety and accurate formulation of our products to ensure you have a perfect product every time.

Try the best CBD products on the market by visiting our top categories:

Our 2022 fan favorites are
Delta 8 gummies
and Strawnana
CBD
Wax.