Fine, Pure Colorado Hemp Extract Powder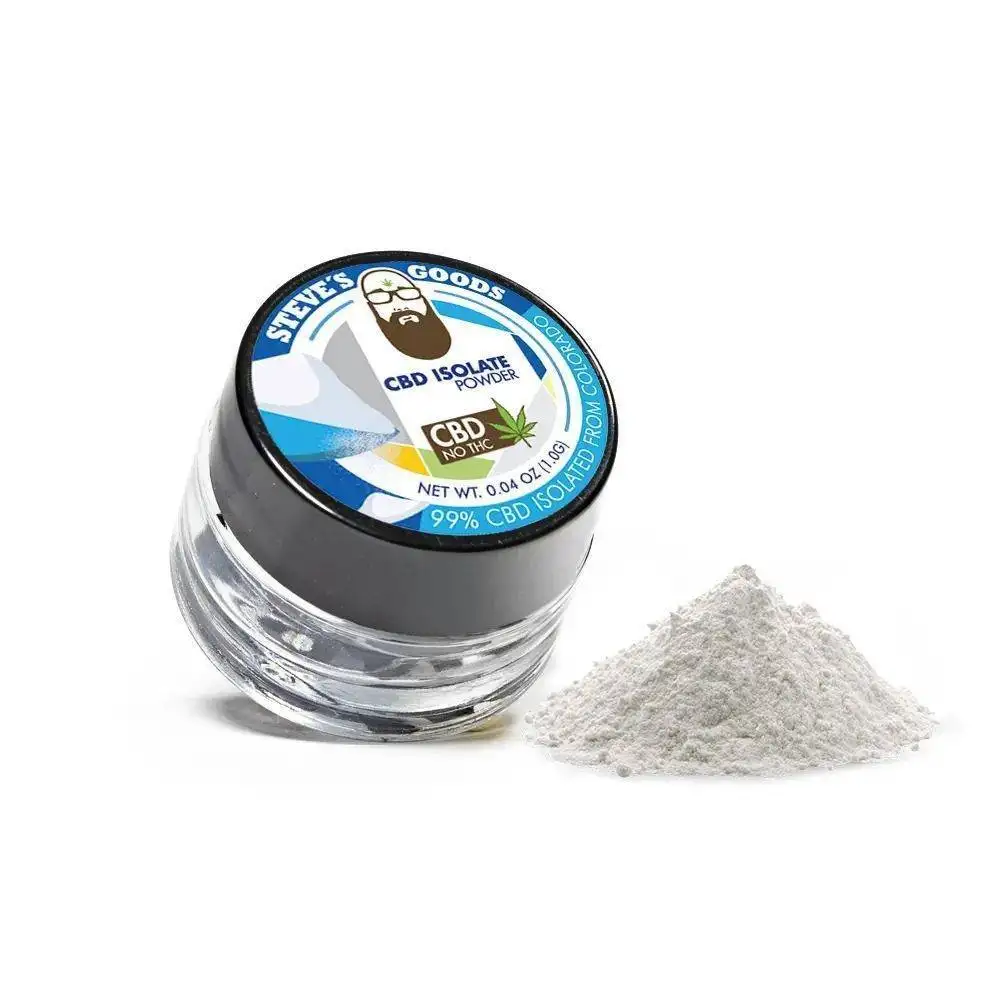 CBD Isolate from Steve's Goods
At Steve's Goods, we have pure CBD isolate for sale. We use the exact same high-quality hemp oil as we do in all of our products, so you get the best effect from this full-spectrum product every time.. This purity process leaves behind only the purest CBD.
FAQ's
Our CBD isolate comes in an easy-to-use powder so that you can add to anything. .
Whether it's a sprinkle in your bowl, bongs, joints, or blunts, our CBD isolate for sale is versatile and easy to use. View all of our CBD without THC products.
Like all of our products, we use the same base technique to extract our high-quality CBD isolate powder.
Our CBD isolate starts with a homegrown plant from farms that meet our quality standards, ensuring you feel the fullest, purest effects..
This isolate powder is made by filtering out all of the crystals containing the effects of CBD from the plant. Leaving you with pure terpenes and cannabinoids like CBD.
The great thing about hemp isolate is that it's so incredibly versatile! CBD isolate uses a range far and wide. And if you add it to a normal cannabis consumption routine, you can expect an enhanced entourage effect as a result. You can really do whatever you're comfortable with.
The most outstanding part about this product (besides its versatility) is that you can decide on the strength and potency while integrating it into anything you desire.. It's important to note that a little goes a long way and that this product is 99% CBD. Try CBD isolate:
In your favorite cup of coffee, tea, juice, or smoothie
Sprinkled into soups, dressings, and baked goods
Mix it into your face cream.
In your vape pen.
Some topicals use CBD isolate, but Steve's CBD Isolate creams are a full spectrum product. We can ensure that there are no unnecessary additives that may deter the effects of proper short-term supplementation.
Relief never tasted so good! Steve's Goods CBD edibles are for our foodie clients. Your guilty pleasure, now with added benefits! Steve's Goods Gummies are the way to go when wanting a yummy way to provide relief and to kick back and relax.
Using the best hemp on the market, we have enhanced your average gummies to an entirely different level. 10 mg within each gummy? You can't beat that!
Our pure CBD isolate can be added to your favorite foods and beverages, and you can also make your own CBD goods with it!
Since it has no taste or odor, it blends seamlessly without a trace that there is anything different about it. Especially into your own oils, such as; coconut, palm, and avocado. Make sure to keep in mind if you are going to cook with it, it might lose some potency when the cooking temperature passes 180-200°C (356-392°F).