Description
Description:
OG Hemp CBG Oil from Steve's Goods is a fan favorite. Made from the finest broad-spectrum CBD distillate, cold-pressed hemp seed oil, and a fine blend of terpenes for the perfect taste.
Product Details:
500 mg – 2500 mg concentrations
15 mL or 30 mL bottles
Sealed for freshness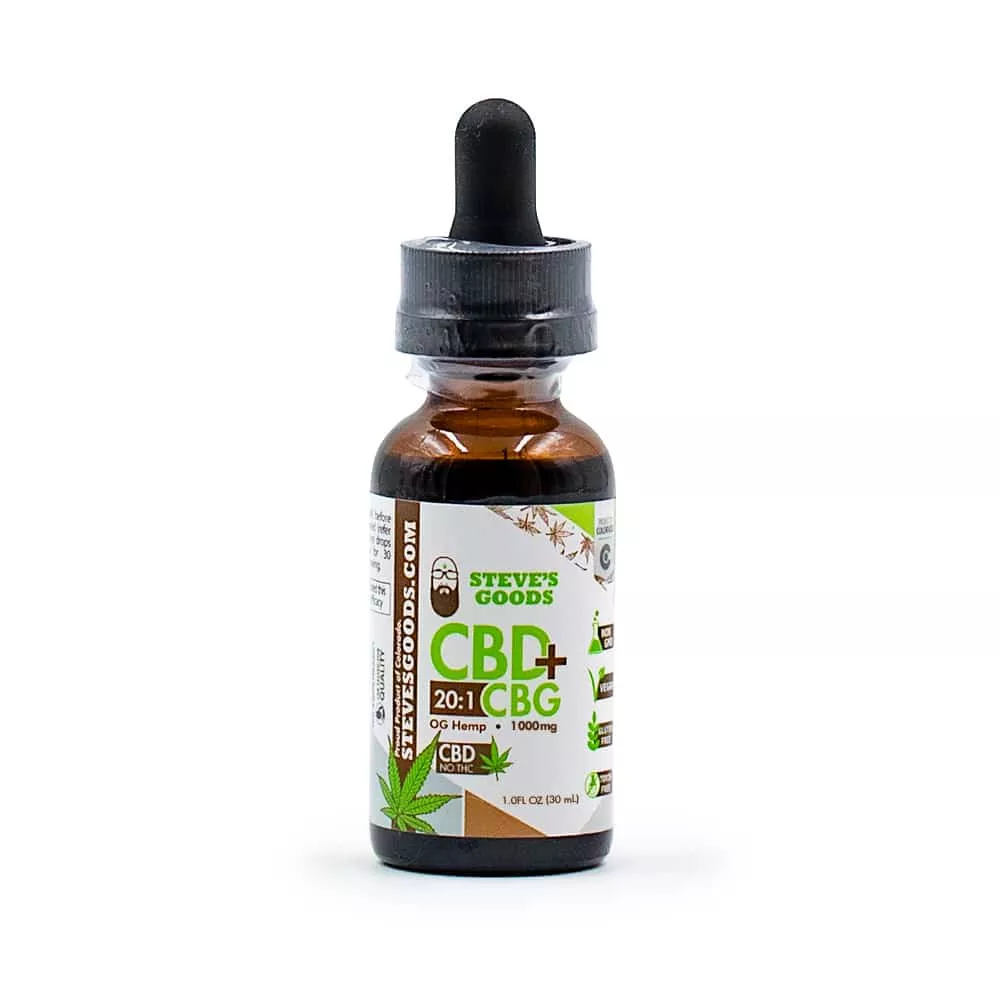 Ingredients:
THC Free Distillate, Organic Hemp Seed Oil
How to Use:
Take one dropper once or twice per day. Shake well before each use. Use as needed (see serving size chart). Intended for short-term supplementation.
Serving Chart
250 mg / 15 mL
500 mg / 15 mL
1250 mg / 15 mL
500 mg / 30 mL
1000 mg / 30 mL
2500 mg / 30 mL
250 mg / 15 mL
Per Bottle – CBD 250 mg./ CBG 12.45 mg.
Per Dropper (1mL) – CBD 16.66 mg./ CBG .83 mg.
Per Drop – CBD .83 mg./ CBG .04 mg.
15 drops of 250 mg deliver 12 – 13 mg. of pure CBD and .6 mg. CBG
500 mg / 15 mL
1250 mg / 15 mL
500 mg / 30 mL
1000 mg / 30 mL
2500 mg / 30 mL
More About OG Hemp CBG Oil
This tincture formulation is made for the purists who prefer to avoid fruit and floral terpenes available in our other blends. It will only ever find Colorado's finest hemp ingredients in our tinctures. From the moment you first discovered this product, you will love it.
Why choose OG Hemp CBG Oil from Steve's Goods instead of buying from the next guy?
If you've ever heard somebody refer to us as the best-tasting CBD products company, you should know that isn't marketing. Steve's Goods wins awards on a regular basis for our masterful abilities in hemp product formulation. This flavor is a flagship among our broad-spectrum, THC-free hemp tincture lineup. It is a great product because it stems from great ingredients and we would not have it any other way.
We made this one for the purists out there, and for anyone who is sensitive to excessive terpenes. We hope you enjoy it as much as we enjoyed making it for you.
Hemp plants sometimes contain higher amounts of CBG…
…especially during specific growth times, and scientists are learning ways to produce strains that provide even more.
Since CBG has been isolated and studied and its potential benefits are becoming known, researchers around the globe believe it could have a significant impact on mental, physical, and emotional health. While it's known that CBG works with the body's endocannabinoid receptors, it appears it may work with many other receptor systems as well.
What is the best way to consume OG Hemp CBG Oil?
Answering this question with a question: What is your preferential method of cannabis tincture consumption? That method will do fine. Add OG Hemp CBG Oil to any non-alcoholic drink mix and enjoy instantly! All our CBG oils are made from THC-free broad-spectrum distillate, and this makes them fully legal CBG oils that are totally portable and versatile.
What is CBG?
Without CBG, THC and CBD wouldn't exist. It's the mother of all phytocannabinoids!
Isolated, each cannabinoid has its own beneficial properties, many that overlap, but when CBD and CBG are taken together, the benefits of the CBD last longer and are more pronounced. Due to low concentrations, less than 1%, in plants with high THC content, CBG hasn't gotten a lot of attention, but that's rapidly changing.
What if I don't get the desired relief from CBG oil?
OG hemp CBG oil tinctures from Steve's Goods we're proudly made for the hemp purist consumer. Some folks are a little more sensitive to terpenes than others. Many people simply enjoy an earthy, natural formulation.
Whatever your reasons
People tell us of all sorts of reasons for which they get drawn to this product, and we encourage you to give it a long and hard look. It is formulated only, ever, from the highest quality broad-spectrum CBD concentrate extracts Colorado produces. We combine those ingredients with mouth-watering terpenes, to bring you this THC-free blend of hemp perfection. Like so many happy customers we have served to date, we are confident that you will love this product.
Who Do CBD Hemp Oils work for?
Our typical customer for this product is a combo cannabis user. That is broad in definition and includes a variety of cannabis consumption methods, device type preferences, flavor prejudices, and product combo possibilities. These types of users are typically after cannabinoid balance, taste enhancement, or just have a THC restriction professionally or personally.
Steve's Goods does not recommend our OG Hemp CBG oil as a suitable replacement for prescriptions, treatments, or medications.
We encourage all customers to research hemp and to consult with a doctor or medical professional in advance of using products along with prescriptions or other medicines.
How much CBD is there in a bottle of OG Hemp CBG Oil?
CBD + CBG oils are available in formulations varying in strength from 250 mg – 2,500 mg.
How quickly will you go through a bottle of OG Hemp CBG Oil?
Serving size, personal preference, and bottle formulation aside, most people get a week or two of supplementation out of a bottle.
For every 20 mg. of CBD in the bottle, there's 1 mg. of CBG. That's a 20-to-1 ratio.
The constant is every bottle has either 15 ml or 30 ml. With 15-30 dropper fulls per container, each dropper contains 1 ml. and approximately 20 drops.
Why choose Steve's Goods CBG Oils?
Oooooh! This gets us we get excited! Our CBG Hemp CBG Oil tastes fresh and green, like nature intended hemp to taste. Unlike our terpene infused Blueberry OG CBG Oil or Watermelon flavored CBG Oil, this product has no other flavor than the plant itself. Earthy and delicious.
All of our CBG Oils are made with a proprietary formula that equates to a 20:1 ratio of CBD to CBG.
OG hemp oil was a long overdue "Thanks" to all the cannabis and terpene sensitive hemp oil enthusiasts who requested it over time. Just like all our other CBG tinctures, this one is formulated to please.
Our customers mean the World to us
Without you, there wouldn't be us! And we don't take that lightly.
Our mission from the start has been to spread the word about CBD across the land, planting seeds of relief for a healthier future for all. That in addition, of course, to offering full-strength CBD and CBG concentrate products that you can trust.
We are constantly formulating and innovating…
…meaning if we don't have it now, there is a great chance we will very soon. Please reach out if you need further context in terms of anything you see here. We how you enjoy your shopping experience.
We offer handsome discounts for service members, the disabled, and seniors.
And, here's something you might not know Steve's Goods is employee-owned! Everyone is invested in working together to bring you the very best. And we always welcome feedback.
Why is Locally Grown Colorado Hemp More Trusted Among Consumers?
You might be thinking to yourself, hemp is hemp. Why does it matter who grows it and where? And you might not be having that thought at all. But, if you are, here are some things to consider.
There are many factors in the mix when it comes to growing quality hemp. They include soil, temperature, nutrients, time of harvest, etc, etc. And, that's only the beginning of the story.
We track the industrial hemp used in our products…
…from seed to sale. We've met the farmers and been to the farms. Tracking from seed to sale means we have oversight on our product every step along the way to assure purity and quality. Nothing but the best.
All of Steve's Goods products are made from locally grown hemp. Every batch is tested.
We worked pretty hard to be sure you could find us on the web, so we are glad you made it here. Please look around our CBD shop if you have not yet found what you are searching for. We have dozens of products, and we are sure to have a few options that suit you. And if you have a good look, and don't locate anything you want, please leave us a suggestion.
~Steve's Goods is on Social Media!~
Check us out on Instagram and Facebook!
-If you would like to join our affiliate program…
…please find our portal here.
-If you are interested in bulk and wholesale options for this product…
…please find our wholesale program here.
-For copies of our recent lab test results…
…visit our Certificates of Analysis on this page.
This product is not for use by or sale to persons under the age of 18. This product should be used only as directed on the label. It should not be used if you are pregnant or nursing. Consult with a physician before use if you have a serious medical condition or use prescription medications. All trademarks and copyrights are property of Steve's Distributing LLC. These statements have not been evaluated by the FDA. This product is not intended to diagnose, treat, cure or prevent any disease. Individual weight loss results will vary. By using this site, you agree to follow the Privacy Policy and all Terms & Conditions printed on this site. Void Where Prohibited by Law.