Description:
Our CBG Hemp Oil Bundle comes with ingestible oil tinctures in a variety of fun flavors made of proven formulations.  We have something for every taste pallet, and we know why people keep coming back for more of this one.
Product Details:
5 bottled tinctures with droppers
Safety seals
Product instructions may vary. See individual labels.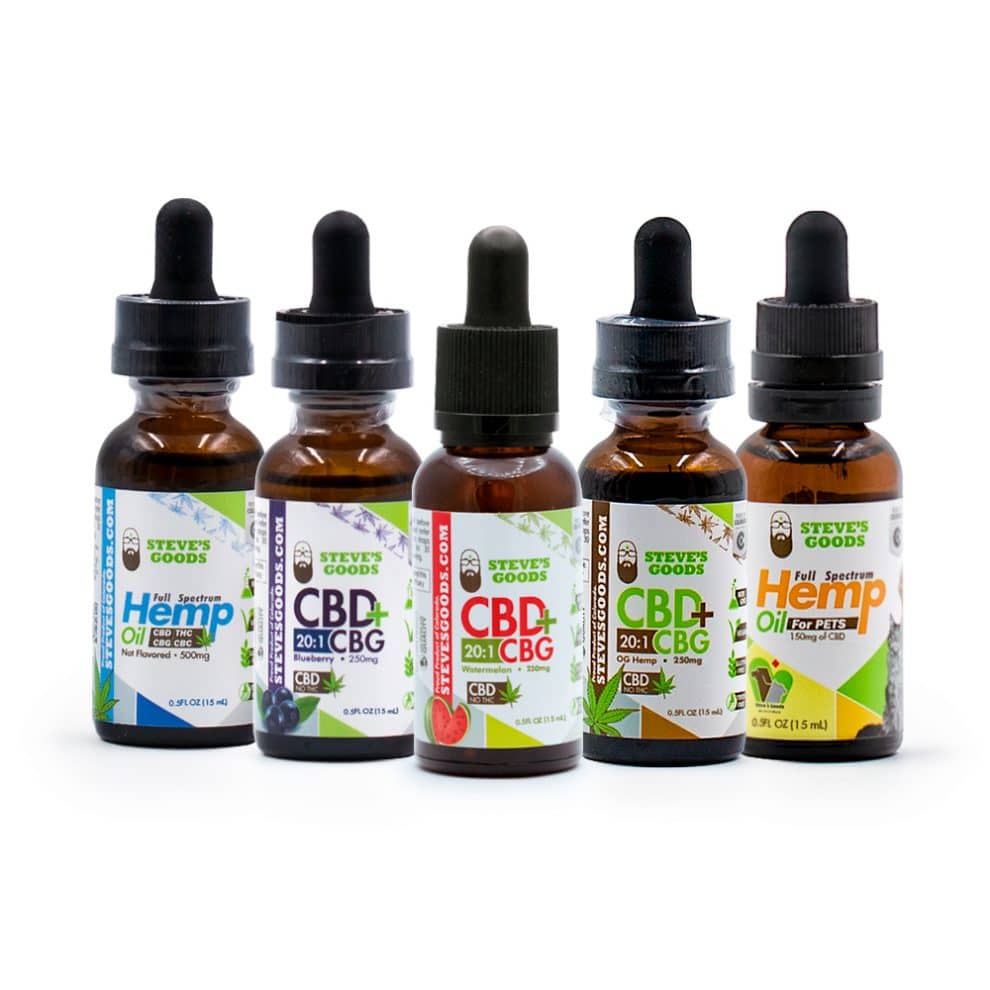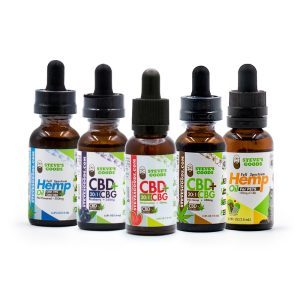 Includes:
(1) Watermelon, (1) Blueberry, and (1) OG Hemp CBG Oil | 500mg each (30ml) [Reg. $104.97]
(1) Full-Spectrum Hemp Oil 500 mg (30ml) [Reg. $34.99]
(1) CBD Pet Oil | 150 mg (30ml) included [Reg. $24.99]
How to Use:
Take 1 dropper orally once or twice per day.
More About The Gotta Taste 'em All Starter Pack
So why choose the Gotta Taste 'Em All CBG Hemp Oil Bundle from Steve's Goods?
CBD is a vogue term that gets misconstrued by shotty products and faulty marketing. But this industry is undergoing a renaissance of sorts, and when the art of it becomes a science, true CBD products will be defined as something like high-potency, highly bio-available, and versatile hemp products.
And what does all that mean?
Simple: We are already ahead as Steve's Goods manufactures strong, Colorado-only hemp products that are usable by the body, and provide users with a number of applications. CBG Hemp oil is just one of our late innovations driving what is next for the industry globally. This CBG Hemp oil bundle is the tour of everything, CBG tincture wise, all-in-one
Other Common Questions about our CBG Hemp Oil Bundles:
Do CBG Hemp Oil Bundles Work?
Yes, these products work. Yes, they work in entourage with other cannabis products, and they do so quite well. So what is the ideal application or use case? That depends on how each customer would individually answer questions regarding unique health considerations. CBD + CBG Oils are not marketed by Steve's Goods as suitable replacements for medical treatments or prescriptions of any kind.
Can I Use This While Taking Normally Scheduled Medications?
We encourage every Steve's Goods customer with abnormal health risks of any kind, current, and future, to consult with her or his regular doctor or medical professional adding our products. The CBG Hemp Oil Bundle is sold and marketed as a bundle of hemp supplements, for supplemental consumption and/or use supplemental use only. We do not manufacture medicine as defined by US products regulatory authorities.
Who Does It Work For?
Runners, swimmers, football players, volleyball players, baseball and basketball players, among other athletes. Skiers and snowboarders, hikers, backpackers, cyclists, and distance runners all fit the bill.
Military Personnel | Retired, Active, and Discharged – Army, Navy, Marines, Air Force, Coast Guard, National Guard, and DHS
Let's not forget our military servicewomen and servicemen, and all the physical activity required in their sacrifices for this country. Let us know of your service by calling, emailing, or chatting with us on-site, and we will get you a discount that makes sense for service people. We would love to hear what you think about our CBG Hemp Oil Bundle, too.
Laborers & Builders
We would be fools were we not to mention union and non-union laborers of all kinds that built, and continue to build America: fabricators, metal workers, assembly workers, textile manufacturers, quilters, and construction workers.
How Much CBD Is There In Gotta Taste 'Em All – CBG Hemp Oil Bundles from Steve's Goods?
250 mg of broad-spectrum CBD + CBG extracts and isolates are included in each fine CBD + CBG Hemp Oil Tinctures. Concentrations of Hemp Oils and CBD + CBG Oils range from 250 mg (15 mL bottles)  to 2,500 mg (30 mL) bottles
How long will it last?
Daily CBG Hemp Oil consumers expect this CBG Hemp Oil Bundles to last between 4-6 weeks. This is an estimate based on common feedback.
How do you use CBG Oil?
-Our CBD + CBG Oil Tinctures can be taken sublingually (under the tongue or mixed into cold drinks).
Our CBD Bundle Deals Are Pretty Awesome…
Steve came up with the idea for bundles, and to this day, loves to offer our discounted CBD bundle deals because of the efficiencies we gain from economies of scale by selling CBD bulk packages. Bulk CBG Hemp Oil Bundles mean fewer marketing costs and fewer shipping costs for us, and so we are more than happy to pass those savings along to you, our amazing customers!
We put the focus first on finding quality
From our raw materials to our terpenes, to our carrier oils, and so on,  we consider only high-quality ingredients for formulation into finished products.  Bundles on this site create real value for people: lower prices, locally sourced ingredients, all crafted-in-Colorado. When you buy a CBG Hemp Oil bundle from us, you can trust that Steve has got your back, offering the hemp market only the very best products we can possibly formulate from hemp!
Thank you for choosing the Gotta Taste 'Em All Starter Pack and CBD Bundle Deals, by Steve's Goods!
We worked pretty hard to be sure you could find us on the web, so we are glad you made it here. Please look around our CBD shop if you have not yet found what you are searching for. We have dozens of products, and we are sure to have a few options that suit you. And if you have a good look, and don't locate anything you want, please leave us a suggestion.
~Steve's Goods is on Social Media!~
Check us out on Instagram and Facebook!
-If you would like to join our affiliate program…
…please find our portal here.
-If you are interested in bulk and wholesale options for this product…
…please find our wholesale program here.
-For copies of our recent lab test results…
…visit our Certificates of Analysis on this page.
This product is not for use by or sale to persons under the age of 18. This product should be used only as directed on the label. It should not be used if you are pregnant or nursing. Consult with a physician before use if you have a serious medical condition or use prescription medications. All trademarks and copyrights are property of Steve's Distributing LLC. These statements have not been evaluated by the FDA. This product is not intended to diagnose, treat, cure or prevent any disease. Individual weight loss results will vary. By using this site, you agree to follow the Privacy Policy and all Terms & Conditions printed on this site. Void Where Prohibited by Law.