Description:
CBD might be trendy, but unfortunately, quality products offered by many hemp companies are not. This industry is growing rapidly and changing just as quickly. One day soon, CBD products will be defined as something like high-potency, highly bio-available, and versatile hemp products. Those are the kinds of products contained within this CBD Mega Bundle.
Product Details:
(1) Steve's Goods CBD Starter Box Unit (includes Evri from Dip Devices, 1g Shatter, 1g CBD Cart)

1g of each CBD Wax -AND- Shatter: Flavors- Blueberry OG, Pineapple Express, Watermelon OG, Terpin Gorilla.

(1) Bottle of CBD Gummies (Full-Spectrum Pyramids ~ 5-Pack)

(1) 1000 mg – 30 mL | Blueberry CBG + CBG Oil Tincture

(1) 2oz – Jar | Fine CBD Relief Balm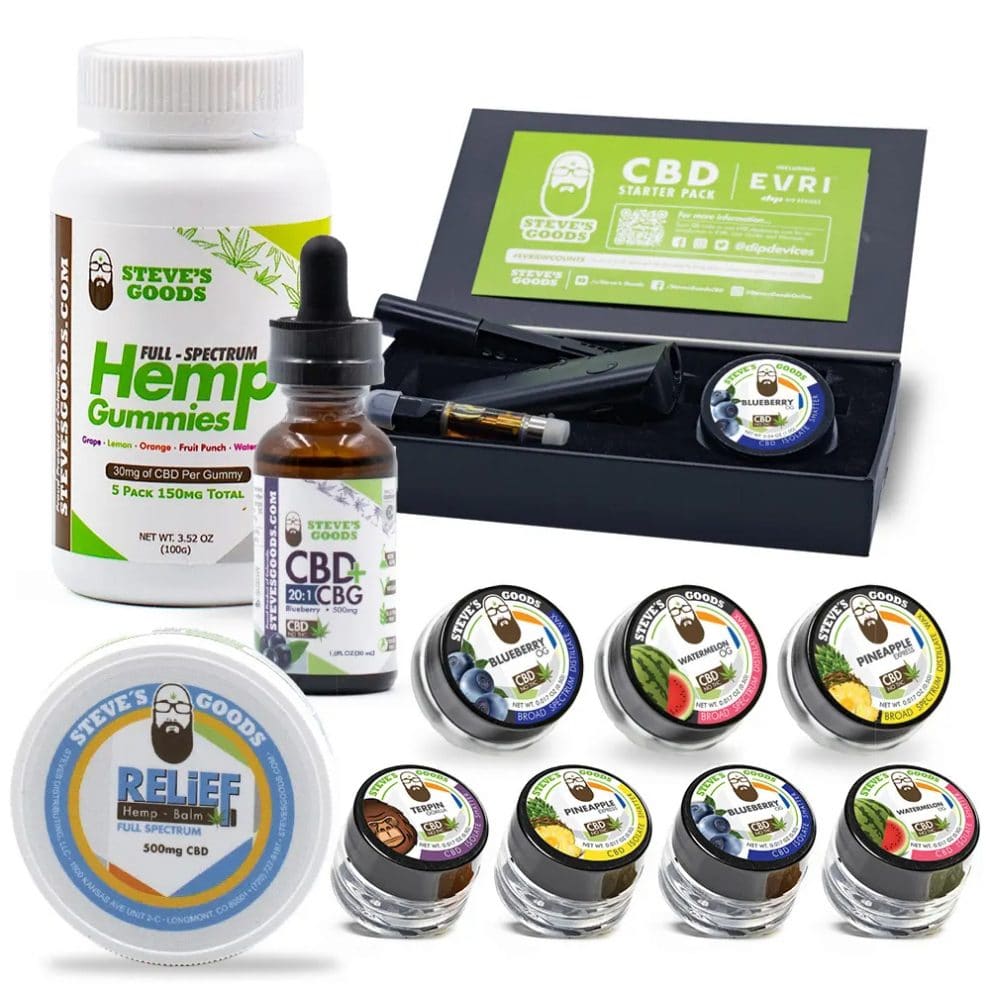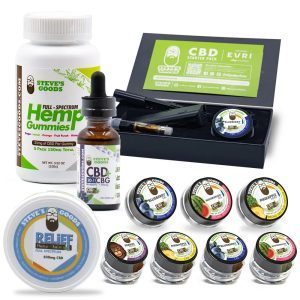 Ingredients:
Please check individual product pages for ingredients.
How to Use
Please check individual product pages for directions.
More About The CBD Mega Bundle
What does all that mean?
Simply put: We are and always will be pioneers in this industry, and this bundle is full of award-winning products. CBG Hemp oil is just one of our late innovations driving what is next for the industry globally. This CBD Mega bundle is a fast-forward to a complete CBD experience.
Other Common Questions about our CBD Mega Bundles:
What, exactly, is a CBD Mega Bundle?
With ingestible oil tinctures in a variety of fun flavors made of proven formulations, we have something for every taste pallet, and we know why people keep coming back for more of this CBD Mega bundle.
Do CBD Mega Bundle Products Work?
Yes, each of these products works. Each one works pretty well in entourage with other types and forms of cannabis products.
So what is the ideal application or use case?
That really does depends on each individual customer. Each person will likely register a different score were we ever impartially evaluated in terms of our respective overall health.
Steve's Goods products, including these CBD Mega Bundles, are not marketed as suitable replacements for medical treatments or prescriptions of any kind.
Can I Use This While Taking Normally Scheduled Medications?
Probably, though we cannot stress enough that we encourage every Steve's Goods customer with ANY abnormal health risks, current or future, to consult carefully with a doctor or medical professional prior to adding our products to a supplement regimen.
This CBD Mega Bundle is sold and marketed as a bundle of hemp supplements, solely intended for recreational or for supplemental consumption and use. Steve's Goods does not manufacture medicine as defined by US products regulatory authorities.
Who Does It Work For?
People involved in:
Intense Athletics
Football players, volleyball players, baseball and basketball players, softball players, and swimmers, among other types of athletes. Skiers and snowboarders, hikers, backpackers, cyclists, and distance runners all fit the bill, also.
Military Personnel | Retired, Active, and Discharged – Army, Navy, Marines, Air Force, Coast Guard, National Guard, and DHS
Let's not forget our military service people, and the physical stamina required just to show up each day in service of this country. Please let us know of your service by calling us, emailing us, or chatting with us on-site.  We will always have a discount that makes sense waiting for our honorable service people. We would love to hear what you think about our CBD Mega Bundle, too.
Laborers-Focused Workers
We would be absent-minded not to mention union and non-union laborers of all kinds. They built, and continue to build our America: fabricators, metal workers, assembly workers, textile manufacturers, quilters, and construction workers alike.
Get the mega picture?
If your typical daily routine involves the potential for heavy wear-and-tear,  you are likely a prime candidate to discover whether a CBD Mega Bundle from Steve's Goods isn't exactly what you need to supplement recovery from your grind.
How Much CBD Is There In A Steve's Goods Mega Bundle?
850 mg of broad-spectrum CBD per gram of wax. 950 mg of isolate CBD per gram of shatter. 500 mg per jar of CBD Relief Balm. 125 mg full-spectrum in the 5-Pack of CBD Gummies. 500 mg broad-spectrum CBD in our CBD+CBG Tincture (30 mL).
If You Are Looking For A Device To Use To Enjoy This CBD Wax Bundle:
The EZ Bake E-Nail (Steve Branded) Is Our #1 Recommended Fixed-Location Device
If You Need To Go Mobile With Your CBD Wax Bundle, Meet the Evri from Dip Devices
This is our favorite all-time portable device and it is featured in our Steve's Goods CBD Starter Pack.
Our CBD Mega Bundle Deal Is Pretty Awesome…
Steve came up with the idea for bundles, and to this day, loves to offer our discounted CBD Mega Bundle because of the efficiencies we gain through economies of scale by selling CBD bulk packages. CBD Mega Bundles mean fewer marketing costs and fewer shipping costs for us, and so we are more than happy to pass those savings along to you, our amazing customers!
We put the focus first on finding quality
From our raw materials to our terpenes, to our carrier oils, and so on,  we consider only high-quality ingredients for formulation into finished products.  Bundles on this site create real value for people: lower prices, locally sourced ingredients, all crafted-in-Colorado. When you buy a CBD Mega Bundle from us, you can trust that Steve has got your back, offering the hemp market only the very best products we can possibly formulate from hemp!
~Steve's Goods is on Social Media!~
Check us out on Instagram and Facebook!
-If you would like to join our affiliate program…
…please find our portal here.
-If you are interested in bulk and wholesale options for this product…
…please find our wholesale program here.
-For copies of our recent lab test results…
…visit our Certificates of Analysis on this page.
This product is not for use by or sale to persons under the age of 18. This product should be used only as directed on the label. It should not be used if you are pregnant or nursing. Consult with a physician before use if you have a serious medical condition or use prescription medications. All trademarks and copyrights are property of Steve's Distributing LLC. These statements have not been evaluated by the FDA. This product is not intended to diagnose, treat, cure or prevent any disease. Individual weight loss results will vary. By using this site, you agree to follow the Privacy Policy and all Terms & Conditions printed on this site. Void Where Prohibited by Law.