Description:
Choose From: (10)  ~OR~  (20) Unit CBD Multi-Packs
Includes 1 G each: Watermelon OG, Blueberry OG, Girl Scout Cookies, Terpin Gorilla, and Pineapple Express.
Steve's Goods is known for our award-winning, Broad-Spectrum, CBD Hemp Dab Waxes
Product Details:
10 or 20 grams of CBD Wax
2 or 4 grams of Blueberry OG Wax
2 or 4 grams of Pineapple Express Wax
2 or 4 grams of Watermelon OG Wax
2 or 4 grams of Terpin Gorilla Wax
2 or 4 grams of Girl Scout Cookies Wax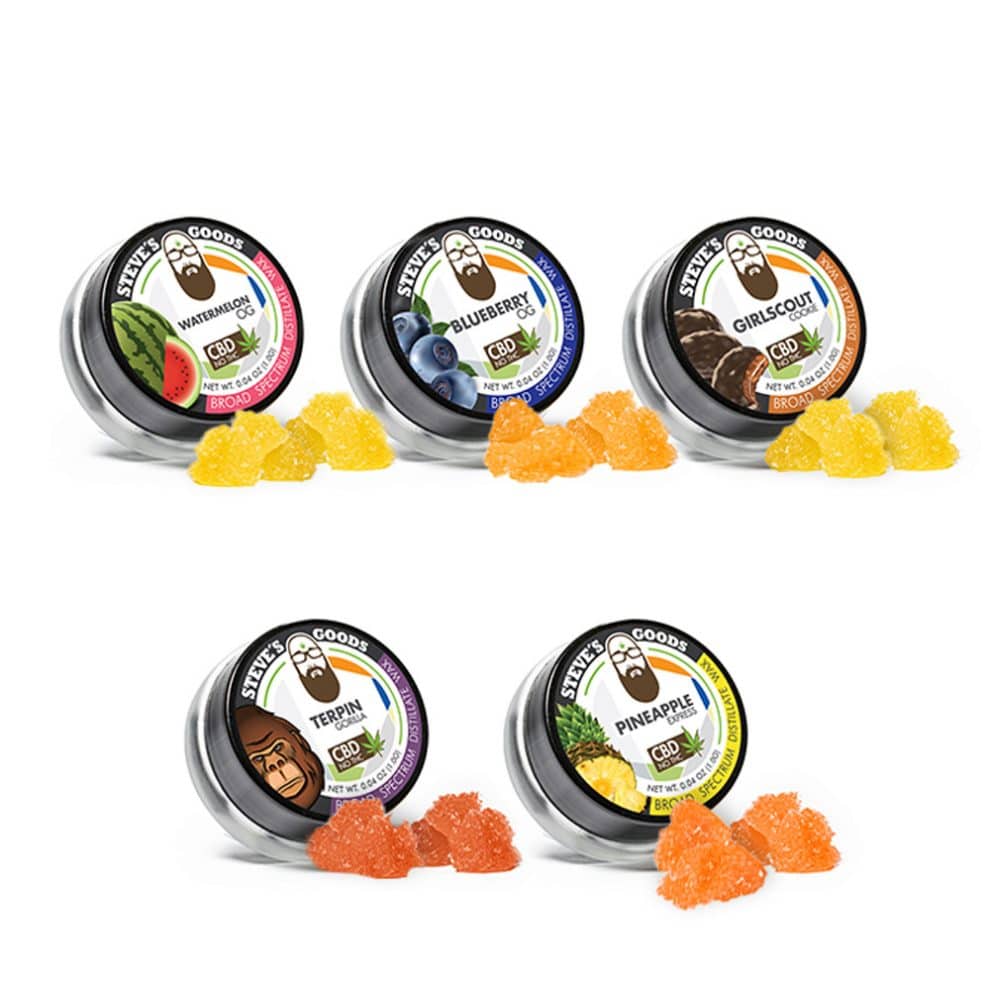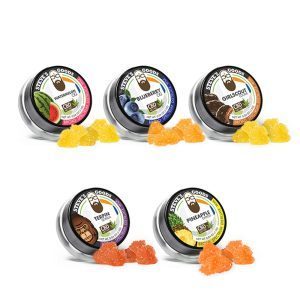 Ingredients:
THC Free Distillate, Terpenes
How to Use
Mix in your cannabis or use a device like our CBD Starter Pack.
More About The CBD Wax Bundle
We Offer 2 Options of this CBD Wax Bundle
Wax Bundle | Option #1: 10 Gram Wax Variety Pack 
Watermelon OG CBD Wax –  2 Grams
Pineapple Express CBD Wax – 2 Grams
Blueberry OG  CBD Wax – 2 Grams
Girl Scout Cookies CBD Wax – 2 Grams
Terpin Gorilla CBD Wax – 2 Grams
CBD Wax Bundle | Option #2: 20 Gram Wax Variety Pack
Watermelon OG CBD Wax –  4 Grams
Pineapple Express CBD Wax – 4 Grams
Blueberry OG  CBD Wax – 4 Grams
Girl Scout Cookies CBD Wax – 4 Grams
Terpin Gorilla CBD Wax – 4 Grams
So why choose the CBD Wax Bundle from Steve's Goods?
Our CBD dab bundles are top-notch in quality. CBD is a vastly misunderstood term these days thanks to all the quick-buck marketers who follow the green rush while we grow from an artful new industry to a scientifically-tuned growth industry before our very eyes. We make the science of hemp simple by producing strong, Colorado-sourced CBD hemp products that are bioavailable to the body, and that provide users with versatility in application.
Other Common Questions about our CBD Wax Bundles:
Do CBD Wax Bundles Work?
Yes, these CBD concentrates products work. Yes, CBD Wax Bundles contain CBD Concentrates. Yes, they work well in concert with other hemp and cannabis products. And how will they help? That depends on what kind of relief is needed, as well as a number of different, and case-specific, individualized health considerations. CBD Dabs are not a suitable replacement for prescriptions or medicinal treatments of any kind. These are smokeable, inhalable products and should be considered as such.
Can I Use This While On Normal Medications?
We encourage all customers to consult a medical professional in advance of making decisions to use our products in lieu of any others. The CBD Wax Bundle is sold and marketed as a bundle of fast-delivery, high-CBD dabs, for normal cannabis consumption and/or use only. We do not manufacture medicine as defined by US regulators.
Who Does CBD Work For?
Welders, Plumbers, Framers, Carpenters, Pipe-Fitters, Boilermakers, Construction Workers, Engineers, Athletes… The list goes on. If your pass time or hobby requires a lot of physical exertion on a regular basis, you are part of an audience that we consider prime candidates to benefit from the supplemental use of CBD products. Perhaps Steve's Goods broad-spectrum, THC-free waxes are the right product to provide what you seek?
Physical Demands Sometimes Require A Boost
And there are many types of supplements and additives available at Steve's Goods. CBD Wax Bundles are excellent products for people who smoke, already, and enjoy the multitude of terpene flavor profiles offered up by Steve's Goods.
How Much CBD Is There In CBD Wax Bundle Products from Steve's Goods?
850 mg of broad-spectrum CBD are is included in each fine 1 G unit within our CBD Wax Bundle. We carry 1/2 G units with 1/2 the CBD concentration, and we offer the same 1/2 G and 1 G product options for our CBD shatter.
Bulk CBD Wax or Bulk CBD Shatter
We have a wide variety of CBD concentrates for CBD Wholesale, and Hemp Wholesale. Find out why Steve's Goods is an award winning CBD concentrates manufacturer. 
How long will it last me?
Daily CBD Wax dabbers tend to go through our concentrate products at a similar clip by which they tell us about dabbing THC concentrates. Moderate to heavy dabbers should expect CBD Wax bundles to last between 5-7 days. This is a non-scientific estimate based on feedback from customers over time.
How do you use it?
See below for our recommendations for the best hemp dab devices on the market.
If You Are Looking For A Device To Use To Enjoy This CBD Wax Bundle:
The EZ Bake E-Nail (Steve Branded) Is Our #1 Recommended Fixed-Location Device
If You Need To Go Mobile With Your CBD Dab Wax, Meet the CBD Starter Pack from Steve's Goods! This is our favorite all-time portable device, and it is featured in our Steve's Goods CBD Starter Pack.
Our CBD Wax Bundle Deals Are Pretty Awesome…
Steve came up with the idea for bundles, and to this day, loves to offer our discounted CBD bundle deals because of the efficiencies we gain from economies of scale by selling CBD bulk packages. Bulk CBD shatter bundles mean fewer marketing costs and fewer shipping costs for us, and so we are more than happy to pass those savings on to you, our amazing customers! We hope you see and feel the value we have worked so hard to create for you.
We got you covered on CBD Dab Wax.
We put the focus first on finding quality
From our raw materials to our terpenes, to our carrier oils, and so on,  we consider only high-quality ingredients for formulation into finished products.  Bundles on this site create real value for people: lower prices, locally sourced ingredients, all crafted-in-Colorado. When you buy a CBD Wax Bundle from us, you can trust that Steve has your back by bringing to market only the very best products we can possibly formulate from hemp!
~Steve's Goods is on Social Media!~
Check us out on Instagram and Facebook!
-If you would like to join our affiliate program…
…please find our portal here.
-If you are interested in bulk and wholesale options for this product…
…please find our wholesale program here.
-For copies of our recent lab test results…
…visit our Certificates of Analysis on this page.
This product is not for use by or sale to persons under the age of 18. This product should be used only as directed on the label. It should not be used if you are pregnant or nursing. Consult with a physician before use if you have a serious medical condition or use prescription medications. All trademarks and copyrights are property of Steve's Distributing LLC. These statements have not been evaluated by the FDA. This product is not intended to diagnose, treat, cure or prevent any disease. Individual weight loss results will vary. By using this site, you agree to follow the Privacy Policy and all Terms & Conditions printed on this site. Void Where Prohibited by Law.