Strawnana CBD Hemp Oil 2000mg
Strawnana CBD Hemp oil is a 2000mg full spectrum extract from hemp plants grown on our hemp farm in Colorado, processed with organic materials like our raw honey or organic hemp seed oil. CBD Hemp Oil is not psychoactive and will not get you high but has its list of supplemental benefits.
Free shipping on all domestic orders over $100

Product Details
Whats Includes
How Its Work
Product Details
Description:
Our Strawnana CBD hemp oil was invented because of how popular our original 2000mg CBD hemp oil was in 2022.
2000 mg concentrations
30 mL bottles
Sealed for freshness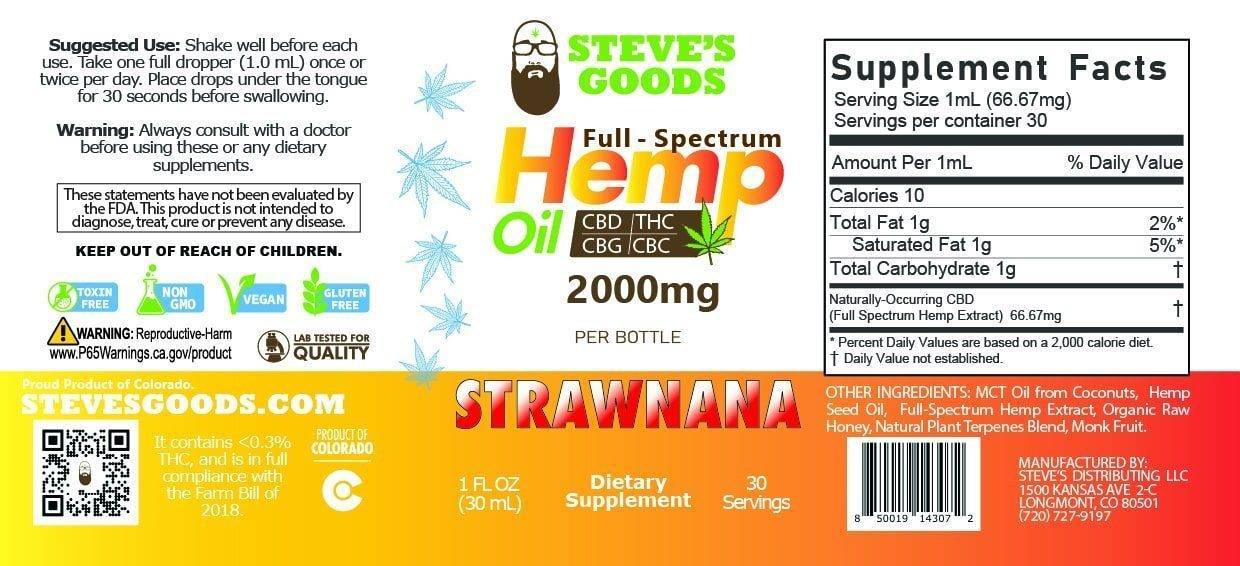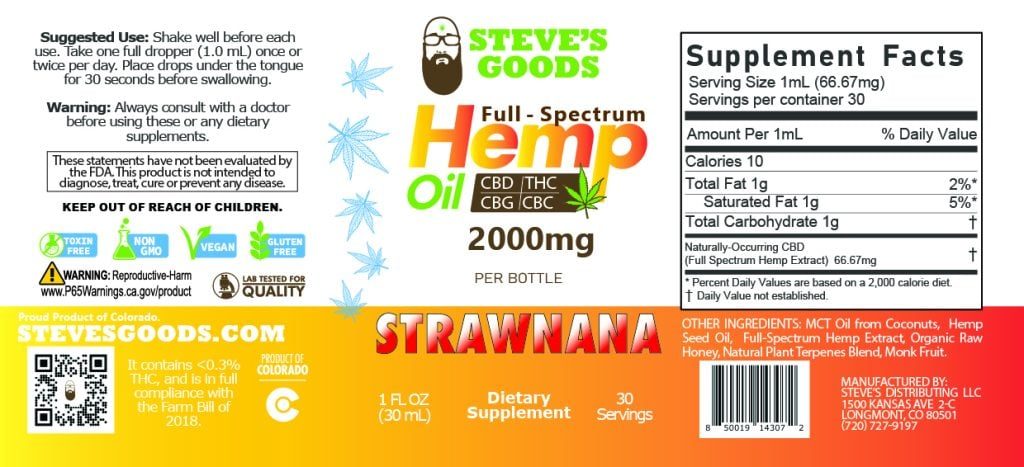 Whats Includes
Full Spectrum Hemp Extract, Organic Hemp Seed Oil, Local raw organic honey, Organic MCT OMCT (Medium Chain Triglycerides) derived from Coconuts, Cold-Pressed Hemp Seed Oil, extracted full-spectrum raw CBD Hemp Oil, Extracted CBD isolate, Local Colorado raw honey
How Its Work
Take one dropper once or twice per day. Shake well before each use.
– You'll feel more relaxed.
– Your stress will be reduced.
Emotional benefits:
– You'll have a sense of calm and peace about you.
– You'll sleep better than ever before!
CBD hemp oil is a well-known supplement that can help. It also contains no psychoactive properties and won't make you feel high.
CBD is fat soluble, and you can't overdose on it- two words that are music to any CBD enthusiast's ears. For the best effects, in most cases, people should take CBD daily, which means we're all going to have a lot of happy days ahead!
Can I Take CBD Every Day? Not only can you, but for the best effects, you should take CBD every day in most cases. You can't overdose on CBD. Plus, there isn't an amount limit, so feel free to enjoy as much as possible without worrying about taking too much! After all, CBD Hemp oil is a supplement!