Description:
Girl Scout Cookies CBD Shatter is a fan-favorite Steve's Goods terpene profile. That's a big deal because we constantly win awards and recognition for our CBD concentrate products. Try us out and experience a flavor like no other.
Product Details:
1/2 g – 1 g units
Rich, Natural Girl Scout Cookies plant terpenes
Colorado hemp extracted CBD isolate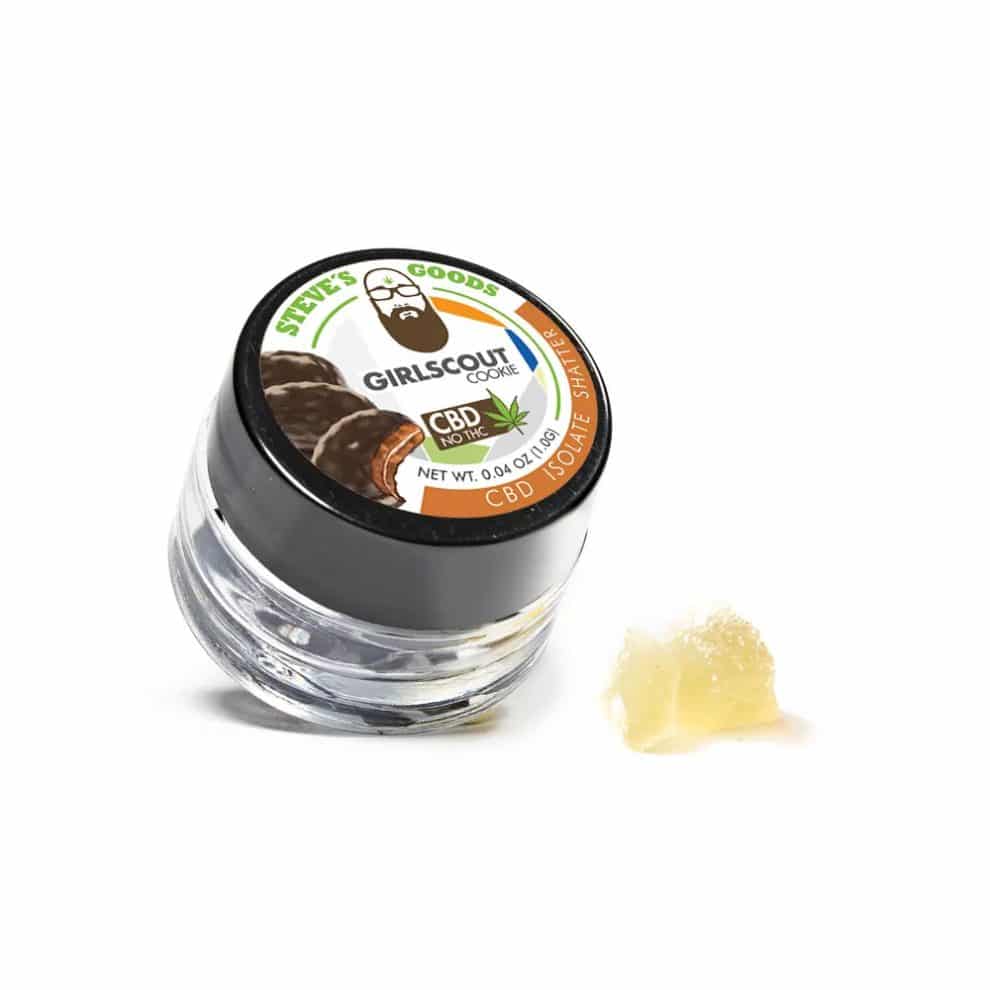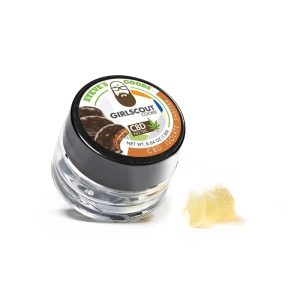 Ingredients:
Extracted hemp cannabidiol (CBD) isolate, Pure plant girl scout cookies terpenes
How to Use:
Break off a piece of this CBD Concentrate and sprinkle it directly onto, or mix it into, your cannabis (bowl, joint, device)
We recommend a dab rig, dab pen, or other devices used for consuming hemp concentrates.
This product is also easily consumed using our famous CBD Starter Pack.
More On Girl Scout Cookies CBD Shatter
When you hear that our CBD dabs are the best out there, it isn't a punchline or some fancy marketing. We hear and feel the daily echoes of positivity and grateful sentiment from our fans and customers. We have lived such sentiments at nearly every expo we attended in the last three years. Our Girl Scout Cookies CBD Shatter looks like wet, cracked glass shards, drowning in just the right amount of terpenes to be delightfully "terpy" but not overly "saucy."
Steve has always loved this formulation
He has rarely been as thrilled as the day that we brought this hemp spin on the classic Girl Scout Cookie CBD Shatter to market. Since then, we have sold tens of thousands of grams in this flavor profile, and the response is clear: people always come back to our jar for more cookies.
What is the best way to consume these Girl Scout Cookies CBD Shatter Dabs?
Steve's Goods CBD Shatters can be enjoyed in numerous ways. Most commonly our customers melt them solo using a preferred shatter rig or device. Steve's Goods stocks a few different device options below. If you need a way to smoke this shatter, you should check out our device selection.
We offer Dip Devices – Evri pen…
…which matches well with our products. It is a high-quality battery device and was designed to be a perfectly portable option for the dabs enthusiast on-the-go. The Evri device has different temp settings, few instructions to remember, three temperature settings, and an easy-to-clean construction. This is definitely a Girl Scout Cookies CBD shatter-friendly e-device.
We also offer the best stationary device option on the market.
The EZ Bake E-nail is well-known and globally famous for its easy adaptation to glassware most cannabis users already keep at home. It is durable, safe, reliable for each use, flexible in heat. It also reaches set temperatures quickly after being turned on, and temperature adjusts quickly with a rolling dial and a digital gauge. This is also a CBD dabs-friendly device option.
We love both so much, we have a difficult time picking the better option, and many of our customers say the same thing.
Can I use CBD shatter without a device?
In the world of cannabis, if a dab concentrate melts it can be smoked any way you choose. Think of it this way: if you don't enjoy having a big glass bong around for your regular cannabis use, adding CBD shatter to your mix isn't going to change that.
We recommend using it your way
…that you stick to what you know best. If you like to roll then defer to the method of sprinkling a little bit of shatter into your joint or blunt. Our unique blend of terpenes will do the rest and will offer up a truly excellent taste and smell profile that enhances any combo. We hope you love this one as much as we do.
What is Girl Scout Cookies CBD shatter, anyway?
As the question applies to Steve's Goods, the answer is simple: Powerful, potent, pure formulations of CBD dabs made from the finest Colorado hemp extract isolate CBD concentrate.
Steve has always believed that in order to produce a quality product, quality ingredients are necessary for the recipe. And that's why we call on the best farms for hemp, the best labs for extraction, and the best testing available to ensure the quality of our CBD dabs products.
Steve wants every cannabis user to feel from these products
Maybe a little happier and a little better off, whatever your purpose for using them. This Girl Scout Cookies CBD shatter is one of our favorite inventions and we hope you enjoy it, too.
Does CBD shatter work?
Yes, CBD shatter 'works.' For what purpose is a better question, and is one that depends on answers to a number of different, and person-to-person health considerations. Steve's Goods does not recommend our Girl Scout Cookies CBD shatter as suitable replacements for prescriptions, treatments, or medications.
We encourage all customers to research hemp and to consult with a doctor or medical professional in advance of using products along with prescriptions or other medicines.
Who Does Girl Scout Cookies CBD shatter work for?
Our typical customer for this product is a combo cannabis user. That is broad in definition and includes a variety of cannabis consumption methods, device type preferences, flavor prejudices, and product combo possibilities. These types of users are typically after cannabinoid balance, taste enhancement, or just have a THC restriction professionally or personally.
How much CBD is there in a gram of Girl Scout Cookies CBD Shatter from Steve's Goods?
Our CBD shatters contain 900 mg of CBD in each gram unit. Our half gram units are the same formulation, so they contain half the CBD or 450 mg.
How long does a gram of CBD shatter last?
Most people (average cannabis users) get a week or two out of a gram.
Why choose Steve's Goods CBD Dab shatter?
CBD concentrates was Steve's first endeavor in the hemp products industry. Every shatter we make is based on an award-winning formulation of broad-spectrum CBD wax. Every shatter we make contains the very same fruit and floral terpenes profile that won our awards for us, but in a CBD isolate extract formulation. We may not enter our shatters in many contests, but you can bet that if we did they would win, too.
A Note On Dabbing:
Temperature is (really) important when dabbing; you want to figure out the ideal low temp for your dab tolerance. Make sure to follow the directions listed on your device if you choose to go the Girl Scout Cookie CBD shatter dab route!
We offer discounts to armed service members…
…disabled customers, and of course, our seniors. And, here's something you might not know — Steve's Goods is employee-owned! Everyone is invested to work together to bring you the very best. And we always welcome feedback.
Thank you for choosing Girl Scout Cookies CBD Shatter and CBD Concentrates, by Steve's Goods!
We worked hard to make sure you could find us, and we are glad you did! Please feel free to browse our other CBD products for suitability to your needs and wants in a Colorado hemp product. Know that we are always innovating, and that means you will find that we bring new products to market all the time.
~Steve's Goods is on Social Media!~
Check us out on Instagram and Facebook!
-If you would like to join our affiliate program…
…please find our portal here.
-If you are interested in bulk and wholesale options for this product…
…please find our wholesale program here.
-For copies of our recent lab test results…
…visit our Certificates of Analysis on this page.
This product is not for use by or sale to persons under the age of 18. This product should be used only as directed on the label. It should not be used if you are pregnant or nursing. Consult with a physician before use if you have a serious medical condition or use prescription medications. All trademarks and copyrights are property of Steve's Distributing LLC. These statements have not been evaluated by the FDA. This product is not intended to diagnose, treat, cure or prevent any disease. Individual weight loss results will vary. By using this site, you agree to follow the Privacy Policy and all Terms & Conditions printed on this site. Void Where Prohibited by Law.