Description:
Pineapple Express CBD Shatters by Steve's Goods are the isolate dabs spin on our "Golden Child" CBD wax formulation. This product has stood the test of time as an annual best-seller and tastes too good to believe.
Product Details:
1/2 g – 1 g units
Rich Pineapple Express plant terpenes
Colorado hemp extracted CBD isolate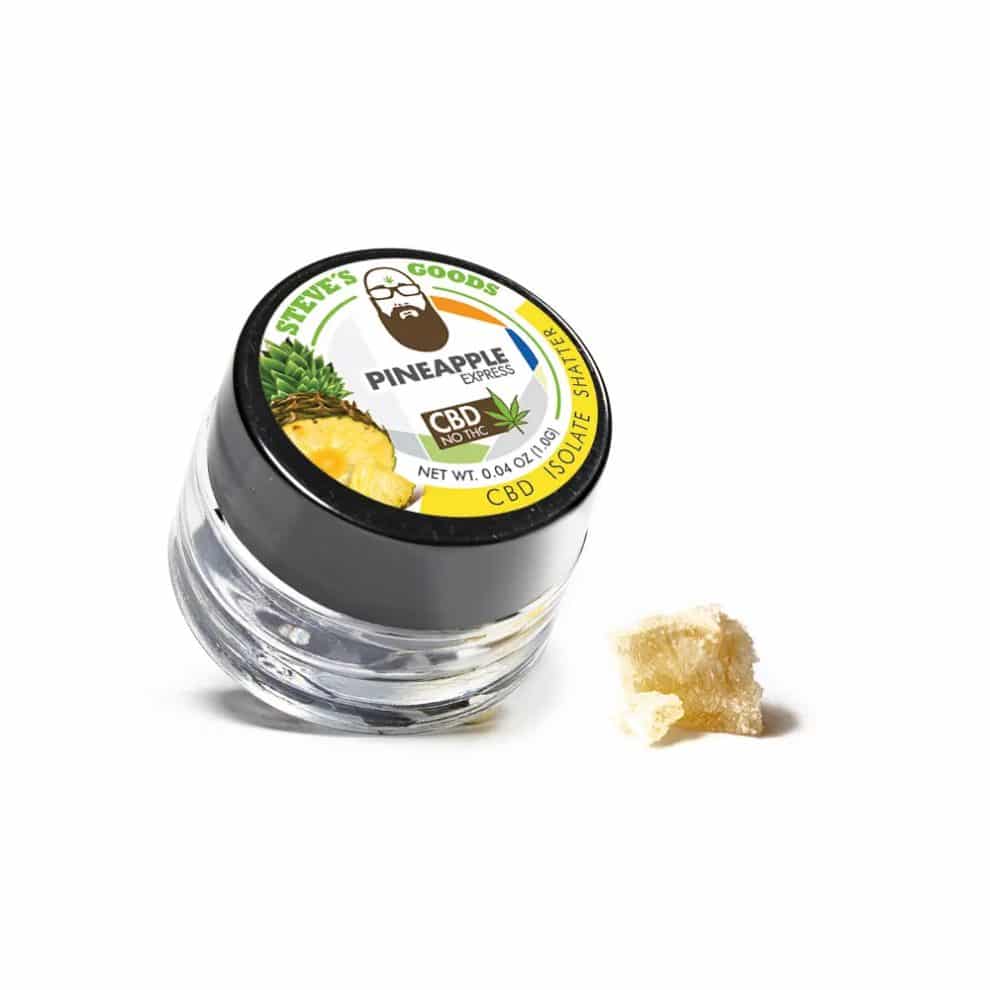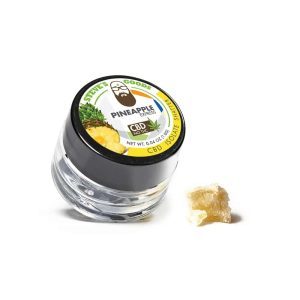 Ingredients:
Extracted hemp cannabidiol (CBD) isolate, Pure plant pineapple terpenes
How to Use:
Break off a piece of this CBD Concentrate and sprinkle it directly onto, or mix it into, your cannabis (bowl, joint, device)
We recommend a dab rig, dab pen, or other devices used for consuming hemp concentrates.
This product is also easily consumed using our famous CBD Starter Pack.
Warning from the Manufacturer
Our CBD dabs are intended for use by adults or with adult supervision. Keep out of reach of children and minors.
More About Pineapple Express Hemp Shatter
This is Steve's Goods' CBD isolate dabs spin on our "Golden Child" CBD wax formulation. Since the wax won awards and got the attention it did, it seemed like a no-brainer to offer this. CBD shatters are another of our CBD dab specialties, Pineapple Express has certainly stood the test of time as an annual best-seller.
Are Pineapple Express CBD Shatter dabs from Steve's Goods worth the money?
Inspired by our most-featured and most-coveted CBD dab wax, Pineapple Express might just be our finest CBD shatter product, too. This CBD concentrate was inspired by a wax that has finished 1st in Rooster Magazine's THC Classic awards, has placed 1st in numerous expos, and has even been ranked 3rd in the World in Amsterdam in competition for "Best CBD wax."
Like any other "Pineapple Express" product…
…this one is the best in its industry for a reason: pineapple is worthy. We will save the rest of the fluff for imagination. This product is crystalline in texture and swimming in floral terpenes sauce. It is also so obviously pure that even the naked eye can see it. Pineapple Express CBD Shatter balances a flavor and terpene profile that is globally-known and locally-owned. Get some of Colorado's best CBD shatter here.
What is the best way to consume Pineapple Express CBD Shatter Dabs?
CBD Shatters from Steve's Goods are CBD isolate-based which means that they are by definition legal CBD shatter dabs. That goes beyond Farm Bill requirements and limits as zero THC is present in this product. Enjoy them wherever, in a setting-appropriate fashion. We offer a few other various options below. We offer a few devices below for those who need something to use this product with.
We offer Dip Devices – Evri pen…
…which matches well with our products. It is a high-quality battery device and was designed to be a perfectly portable option for the dabs enthusiast on-the-go. The Evri device has different temp settings, few instructions to remember, three temperature settings, and an easy-to-clean construction. This is definitely a Pineapple Express CBD shatter-friendly e-device.
We also offer the best stationary device option on the market.
The EZ Bake E-nail is well-known and globally famous for its easy adaptation to glassware most cannabis users already keep at home. It is durable, safe, reliable for each use, flexible in heat. It also reaches set temperatures quickly after being turned on, and temperature adjusts quickly with a rolling dial and a digital gauge. This is also a CBD dabs-friendly device option.
We love both so much, we have a difficult time picking the better option, and many of our customers say the same thing.
Adding The Power of CBD To Your Dabs
THC dabs can be complemented and enhanced by a maneuver as simple as breaking off a piece of your favorite shatter. You also get the benefit of the plant terpenes that make our delicious flavors. They offer additional medicinal qualities, each according to their make-up.
Let's talk about terpenes for a moment
The popularity of CBD and hemp brings them into the limelight, and rightfully so. Terpenes are unsaturated hydrocarbons found in the oils of plants that give them their distinctive smells, tastes, and specific healing qualities. You can easily associate the pine smell of Christmas directly with them. And the medicinal smell of fresh rosemary. And, the individuality of cannabis strains; not to mention the refreshing scents of citrus.
What if I don't have a device for dabbing CBD shatters?
You aren't the first person to wonder this. We will let you in on a little secret: Steve actually prefers to use our CBD concentrates in combination with his regular cannabis consumption. So many people tell us after trying this product for the first time that they had no idea their bowl or joint could be better.
Regardless of the strain or genetics…
…you like to smoke, adding a sprinkle of Pineapple Express CBD Shatter to your blunt or pipe the next time you smoke well at the very least leave you with a flavor and pallet experience you have never had before. Again we aren't boasting or marketing, because this concentrate in particular is the CBD isolate version of our dabs that have literally been voted top in the state and top-3 in the world.
Other Common Questions about our Pineapple Express CBD Shatter:
What, exactly, are CBD shatter Dabs?
Steve's Goods answer is a little different, because it can only, ever include the highest quality Colorado ingredients in any formulation we offer. What that means for the customer is high-potency, top-quality, predictable award-winning combinations of CBD isolate and fruit and floral terpenes.
Pineapple Express CBD shatter in particular…
…is our isolate offering of the most award-winning CBD dab product we offer. Pineapple Express CBD from Steve's Goods has one local, national, and international top-praise and recognition. of all the products we offer at Steve's Goods, this is the most popular.
Steve has a mission…
…to make our products readily available to every American household within a few miles, and to accomplish this within a few years. Offering products like Pineapple Express CBD shatter is why we are on our way and we hope you agree with the industry experts and award shows as to how good this product is when you finally get to try it.
Do CBD shatter dabs work?
Yes, CBD shatter 'works.' For what purpose is a better question, and is one that depends on answers to a number of different, and person-to-person health considerations. Steve's Goods does not recommend our CBD shatter as suitable replacements for prescriptions, treatments, or medications.
We encourage all customers to research hemp and to consult with a doctor or medical professional in advance of using products along with prescriptions or other medicines.
Who Do CBD shatter dabs work for?
Our typical customer for this product is a combo cannabis user. That is broad in definition and includes a variety of cannabis consumption methods, device type preferences, flavor prejudices, and product combo possibilities. These types of users are typically after cannabinoid balance, taste enhancement, or just have a THC restriction professionally or personally.
Buying Options and How to Choose
Shatter comes in ½ gram or full gram dab units.
In addition to Pineapple Express CBD Shatter, Steve's Goods is proud to also offer a variety of flavors of this product, including Blueberry OG, Terpin Gorilla, Watermelon OG, and Girl Scout Cookies.
How much CBD is there in a gram of Pineapple Express CBD Shatter from Steve's Goods?
One gram contains 900 mg of CBD from hemp extract isolate. 450 mg half gram units are also available.
How fast do people go through a gram of CBD shatter?
This varies from person to person, but if you are an average cannabis user, you can estimate roughly a week.
Why choose Steve's Goods CBD Hemp Dabs?
This terpene formulation is a source of a lot of notoriety for us and is well-known on a global scale.
Pineapple Express fits nicely into any cannabis consumption routine and is easily enjoyable with or without dab hardware on hand. Considering we win awards for our CBD dabs, and that this is why we considered the best among them, we highly recommend new customers to our Pineapple Express CBD shatter as a place to start with Steve's Goods, and as a quick route to enhancing their cannabis smoking experience.
You'll be wondering: "Dude, where's my jar?!"
Thank you for choosing Pineapple Express CBD Shatter and CBD Concentrates, by Steve's Goods!
We worked hard to make sure you could find us, and we are glad you did! Please feel free to browse our other CBD products for suitability to your needs and wants in a Colorado hemp product. Know that we are always innovating, and that means you will find that we bring new products to market all the time.
~Steve's Goods is on Social Media!~
Check us out on Instagram and Facebook!
-If you would like to join our affiliate program…
…please find our portal here.
-If you are interested in bulk and wholesale options for this product…
…please find our wholesale program here.
-For copies of our recent lab test results…
…visit our Certificates of Analysis on this page.
This product is not for use by or sale to persons under the age of 18. This product should be used only as directed on the label. It should not be used if you are pregnant or nursing. Consult with a physician before use if you have a serious medical condition or use prescription medications. All trademarks and copyrights are property of Steve's Distributing LLC. These statements have not been evaluated by the FDA. This product is not intended to diagnose, treat, cure or prevent any disease. Individual weight loss results will vary. By using this site, you agree to follow the Privacy Policy and all Terms & Conditions printed on this site. Void Where Prohibited by Law.