Description:
Pineapple Express CBD Wax by Steve's Goods our "Golden Child" CBD dab wax formulation. This was our original award-winning CBD wax concentrate and has stood the test of time as an annual best-seller since we first began producing it. The feedback is always the same: Pineapple Express CBD Wax from Steve's Goods is a flagship flavor that hooks people from the first time they find it.
Product Details:
1/2 g – 1 g units
Broad spectrum formula
Sealed for freshness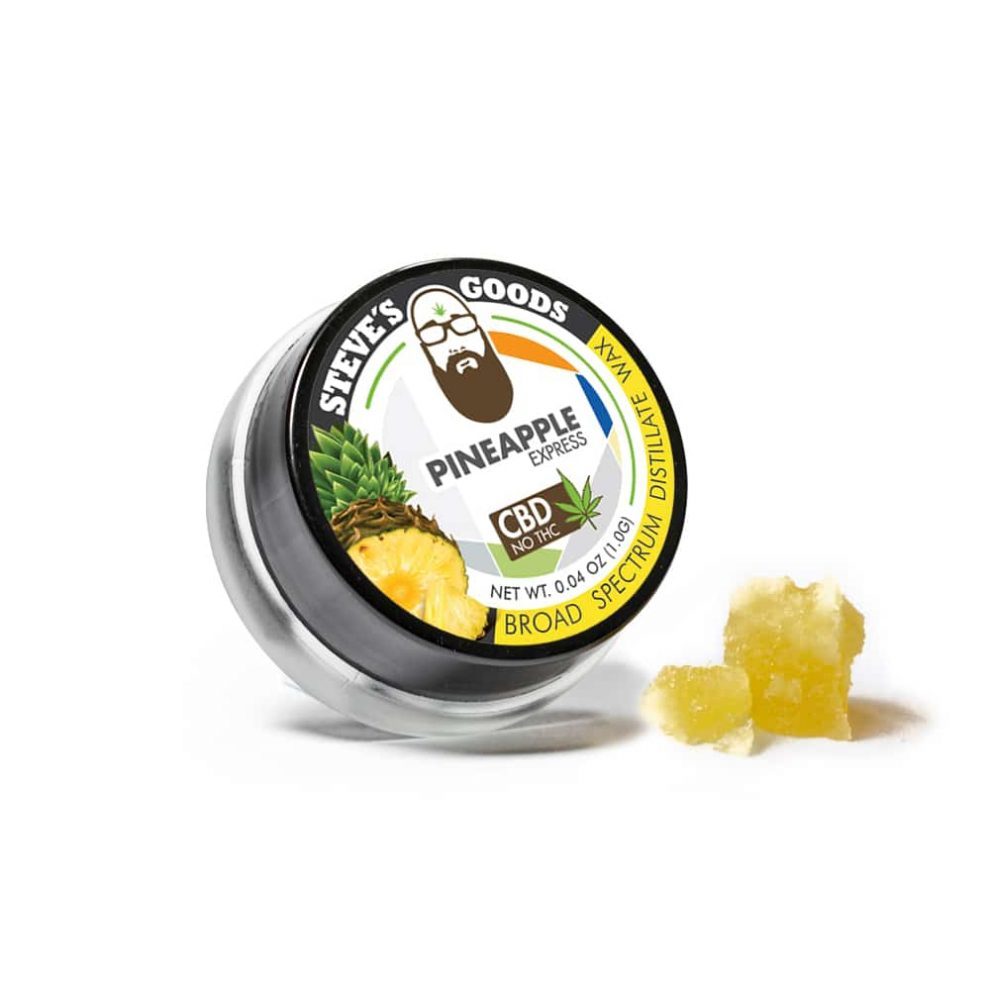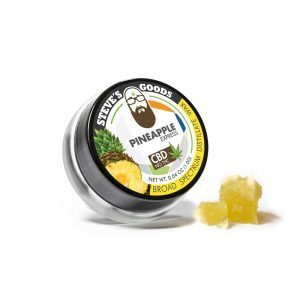 Ingredients:
THC-Free Distillate (broad spectrum) from Colorado hemp, Pure Pineapple Express plant terpenes
How to Use:
Break off a piece of the CBD Concentrate and sprinkle it directly on or mixed into your cannabis.
We recommend a dab rig, dab pen, or other devices used for consuming concentrations of cannabinoids, or even mixing it in with your joints or bowls.
This can be used with our famous CBD Starter Pack.
Warning from the Manufacturer
Our CBD dabs are intended for use by adults or with adult supervision. Keep out of reach of children and minors.
More About Pineapple Express CBD Wax
So why are Pineapple Express CBD Wax dabs from Steve's Goods worth the money?
Of all our featured CBD dab waxes, this is our finest CBD wax for sale at Steve's Goods. This CBD concentrate formulation placed 1st in Rooster Magazine's THC Classic awards, won 1st place in several industry expos, and even placed 3rd in the World in Amsterdam in competition for "Best CBD Wax."
Like any other product titled Pineapple Express…
…this is the best of its kind. We will save the rest of the fluff for the texture: Velvet and crystalline, and so obviously close to pure, that the naked eye can see it. Pineapple Express terpenes balance for a flavor and smell profile that is globally known and locally owned. Try Colorado's best CBD wax here.
What is the best way to consume Pineapple Express CBD Shatter Concentrate Dabs?
CBD concentrate waxes from Steve's Goods are broad-spectrum, meaning they are by definition legal CBD wax dabs beyond Farm Bill requirements. Enjoy them casually, wherever, in a setting-appropriate device. We offer a few options below.
We offer Dip Devices pens…
…which match our products in quality and which are a perfectly portable option for the hemp lover on the go. The Evri device has different temp settings, few instructions to remember, three temperature settings, and an easy-to-clean construction.
We also offer the best stationary device option on the market
The EZ Bake E-nail is famous for its ability to adapt to your glass at home and is reliable each and every time you need it to be. It heats up fast and boasts an insane, easily adjustable temperature range to match any dabber's preference. We love both so much, we have a difficult time picking the better option, and many of our customers say the same thing.
What if I don't have a device for dabbing CBD?
Have no fear. CBD dabs aren't a question of equipped or not; analog or digital. These hemp dab waxes are cannabis extracts, designed to melt and be inhaled in any way you can imagine. If you have smoked, try a combo joint, blunt, bowl, or even appropriate vaporizer for a pleasant change of pace from your routine. If you are new to smoking, or if you prefer not to, adding this CBD dab wax product to a favorite beverage, hot or cold, is always a winning idea. The major point being: a normal method is a good method, and your preference should determine how you choose to enjoy this wax. And we do hope you enjoy it!
More Common Questions about our Pineapple Express CBD Wax:
What, exactly, are CBD Wax Dabs?
At Steve's Goods, CBD wax can only mean one thing: Powerful, top-shelf ingredients formulated with broad-spectrum CBD wax from Colorado hemp.
We have pledged since day 1 that nothing else would be acceptable for our customers other than Colorado's best ingredients, combined in the formulation and careful recipes into our best possible end products.
These CBD dabs are a part of that proud legacy and have been since our beginning.
There is a reason people choose Steve's Goods; they agree with the experts who crowned us as the best in the business.
Do CBD waxes work?
Yes, Pineapple Express CBD wax 'works.' For what purpose is a more pointed question, and is one that depends on answers to a number of different, and person-to-person health considerations. Steve's Goods does not recommend our CBD waxes as suitable replacements for prescriptions, treatments, or medications.
We encourage all customers to research hemp and to consult with a doctor or medical professional in advance of using products along with prescriptions or other medicines.
How much CBD is there in a gram of Pineapple Express CBD wax from Steve's Goods?
One gram contains 850 mg of CBD from broad-spectrum distillate and 70 mg of CBG for added satisfaction.
How long will it last when I purchase a gram?
This varies from person to person, though our customers average roughly 1-2 weeks per gram of CBD concentrate wax.
Why choose Steve's Goods CBD Hemp Dabs?
Some things get better over time, and with practice. In 3 years of existence, if Steve's Goods has gotten better at only one thing (and we have most certainly improved throughout our inventory) we have come very close to perfecting CBD concentrates, and our resume shows as much. Awards, expos, features, tv interviews, and run-ins with the biggest names in cannabis all resulted from curiosity regarding the delicious Pineapple Express CBD wax dabs we create.
We worked hard to make sure you could find us, and we are glad you did! Please feel free to browse our other CBD products for suitability to your needs and wants in a Colorado hemp product.
Know that we are always innovating, and that means you will find that we bring new products to market all the time.
~Steve's Goods is on Social Media!~
Check us out on Instagram and Facebook!
-If you would like to join our affiliate program…
…please find our portal here.
-If you are interested in bulk and wholesale options for this product…
…please find our wholesale program here.
-For copies of our recent lab test results…
…visit our Certificates of Analysis on this page.
This product is not for use by or sale to persons under the age of 18. This product should be used only as directed on the label. It should not be used if you are pregnant or nursing. Consult with a physician before use if you have a serious medical condition or use prescription medications. All trademarks and copyrights are property of Steve's Distributing LLC. These statements have not been evaluated by the FDA. This product is not intended to diagnose, treat, cure or prevent any disease. Individual weight loss results will vary. By using this site, you agree to follow the Privacy Policy and all Terms & Conditions printed on this site. Void Where Prohibited by Law.