Description:
StrawNana CBD Wax by Steve's Goods began as a small-batch, limited-edition CBD dab wax offering. We had no idea when we launched it that so many people would love it and rave about it, or we would have just led with its full-time inclusion in our CBD dabs selection. Made from the finest hemp-extracted, broad-spectrum CBD concentrates on the market in Colorado. We cannot wait to compete in our next live CBD expo, as we are positive this is our next award winner. You will know what we mean from the first time you try it.
Keep in mind we also have delta 8 wax in 3 different flavors.
Product Details:
1/2 g – 1 g units
Broad spectrum formula
Sealed for freshness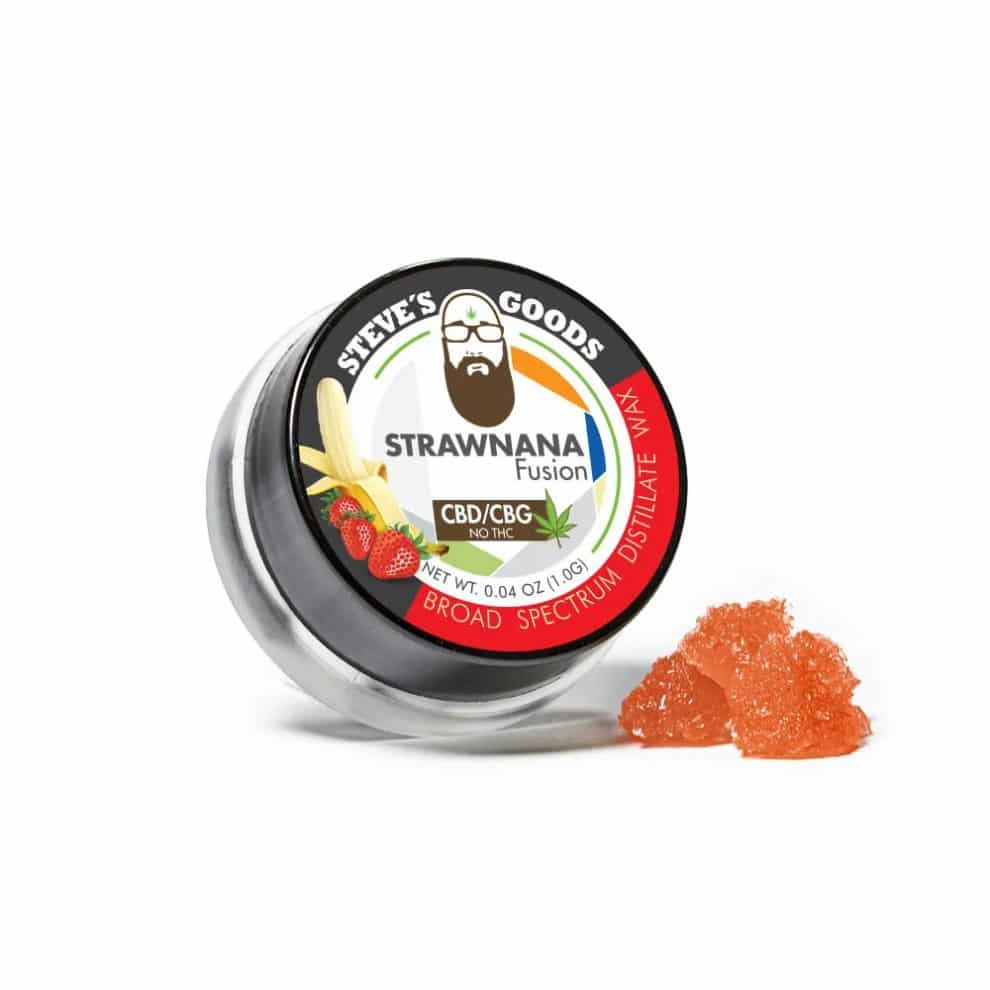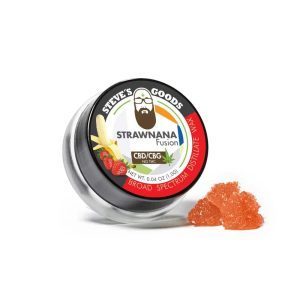 Ingredients:
THC-Free Distillate (broad spectrum) from Colorado hemp, Pure Strawnana plant terpenes
How to Use:
Break off a piece of the CBD Concentrate and sprinkle it directly on or mixed into your cannabis.
We recommend a dab rig, dab pen, or other devices used for consuming concentrations of cannabinoids, or even mixing it in with your joints or bowls.
This can be used with our famous CBD Starter Pack.
Warning from the Manufacturer
Our CBD dabs are intended for use by adults or with adult supervision. Keep out of reach of children and minors.
More About StrawNana CBD Wax
So why are StrawNana CBD Wax dabs from Steve's Goods worth investing in?
StrawNana CBD wax dabs are Steve's personal favorite, but not solely for the delicious terpene flavor profile. Of all the CBD wax for sale at Steve's Goods, this is the only accidental fan-favorite CBD concentrate we have ever offered. The truth is, the year 2020 left us with extra time on our hands, and time to focus our attention on the things we do best.
We combined numerous terpenes…
…and we even surveyed our favorite customer advocates to choose a combo for a limited-edition wax batch. StrawNana was one of many sampled, and the irony is that we were attempting to formulate a tropical or Pina Colada blend, and happed upon this one instead. And by popular demand, we had no choice but to include this in our full-time CBD concentrates line-up. Enjoy one and know that somewhere, Steve is, too!
What is the best way to consume StrawNana CBD Concentrate Dabs?
All legal CBD wax concentrates are permitted publicly, wherever smoking is allowed. We say enjoy these as per your preference, as there is no THC present in our CBD waxes. If you have a rig, a bowl, or a battery device, you're ready to go. If you don't own any dab equipment, see some of our favorite device options below.
We offer Dip Devices pens…
…which match our products in quality and which are a perfectly portable option for the hemp lover on the go. The Evri device has different temp settings, few instructions to remember, three temperature settings, and an easy-to-clean construction.
We also offer the best stationary device option on the market.
The EZ Bake E-nail is famous for its ability to adapt to your glass at home and is reliable each and every time you need it to be. It heats up fast and boasts an insane, easily adjustable temperature range to match any dabber's preference. We love both so much, we have a difficult time picking the better option, and many of our customers say the same thing.
What if I don't smoke cannabis with a device?
Simple answer: If you smoke cannabis or know how to do so, you are prepared to enjoy StrawNana CBD dab waxes as soon as your next smoke session. Joints, pipes, bowls, blunts… All the ways you could think to smoke are up for consideration. Steve's Goods CBD concentrates are the missing ingredient most folks don't even realize they have been missing out on until they try us and can't enjoy smoking without after. This feedback is commonplace for us, and we love it every time.
Your method is a good method…
…so long as it ends in relaxation and enjoyment we specifically formulated this product to bolster. Enjoy responsibly and safely, and you are doing it right.
More Common Questions about our StrawNana CBD Waxes:
What, exactly, are CBD Wax Dabs?
In our case, this is a simple answer: High-quality CBD distillate formulated with the best fruit and floral terpenes on the market and produced using our proprietary process.
That has been our pledge since our very beginning – Steve's Goods spares no expense to offer products that are supreme in quality due to the top quality of every ingredient involved in their making. StrawNana CBD wax is made with this kind of care and consideration.
Steve wants the world to be a little more satisfied…
…and a little more at ease, and knows what role quality hemp products play in working toward that vision. StrawNana CBD waxes from Steve's Goods are a culmination of that approach, and we hope you enjoy using them as much as we enjoy making them available.
Do CBD waxes work?
Yes, CBD wax 'works.' For what purpose is a more pointed question, and is one that depends on answers to a number of different, and person-to-person health considerations. Steve's Goods does not recommend our StrawNana CBD wax as a suitable replacement for prescriptions, treatments, or medications.
We encourage all customers to research hemp and to consult with a doctor or medical professional in advance of using products along with prescriptions or other medicines.
How much CBD is there in a gram of StrawNana CBD wax from Steve's Goods?
Every gram of CBD dab wax from Steve's Goods contains 850 mg of CBD and 70 mg of CBG, all derived from hemp.
How long will it last when I purchase a gram?
Though consumption habits of each customer vary, we typically estimate a gram unit of our CBD concentrate dabs as a 1-2 weeks supply.
Why choose Steve's Goods StrawNana CBD wax dabs over others'?
Mastery is a gradual learning process. In 3 years of pursuing the crown in hemp dabs, we have been all but crowned, and several times over. Numerous awards, countless formulations, process experimentation, and unwavering commitment all come together as obvious components when you try one of our CBD concentrates for the first time. We like to label all our hard work simply as "love," and we really enjoy recapping the amount of love we put into this CBD dab product for you to enjoy.
We worked hard to make sure you could find us, and we are glad you did! Please feel free to browse our other CBD products for suitability to your needs and wants in a Colorado hemp product.
Know that we are always innovating, and that means you will find that we bring new products to market all the time.
~Steve's Goods is on Social Media!~
Check us out on Instagram and Facebook!
-If you would like to join our affiliate program…
…please find our portal here.
-If you are interested in bulk and wholesale options for this product…
…please find our wholesale program here.
-For copies of our recent lab test results…
…visit our Certificates of Analysis on this page.
This product is not for use by or sale to persons under the age of 18. This product should be used only as directed on the label. It should not be used if you are pregnant or nursing. Consult with a physician before use if you have a serious medical condition or use prescription medications. All trademarks and copyrights are property of Steve's Distributing LLC. These statements have not been evaluated by the FDA. This product is not intended to diagnose, treat, cure or prevent any disease. Individual weight loss results will vary. By using this site, you agree to follow the Privacy Policy and all Terms & Conditions printed on this site. Void Where Prohibited by Law.