Description
CBG Slab from Steve's Goods is pretty close to perfect. This product might be the very first of its kind in existence. So what does that mean? It's difficult to describe CBG, often alluded to as the 'Mother-of-all Cannabinoids.'
Product Details:
1/2 g – Assorted Units
Colorado Hemp
99% Pure Isolate Extract
Great Taste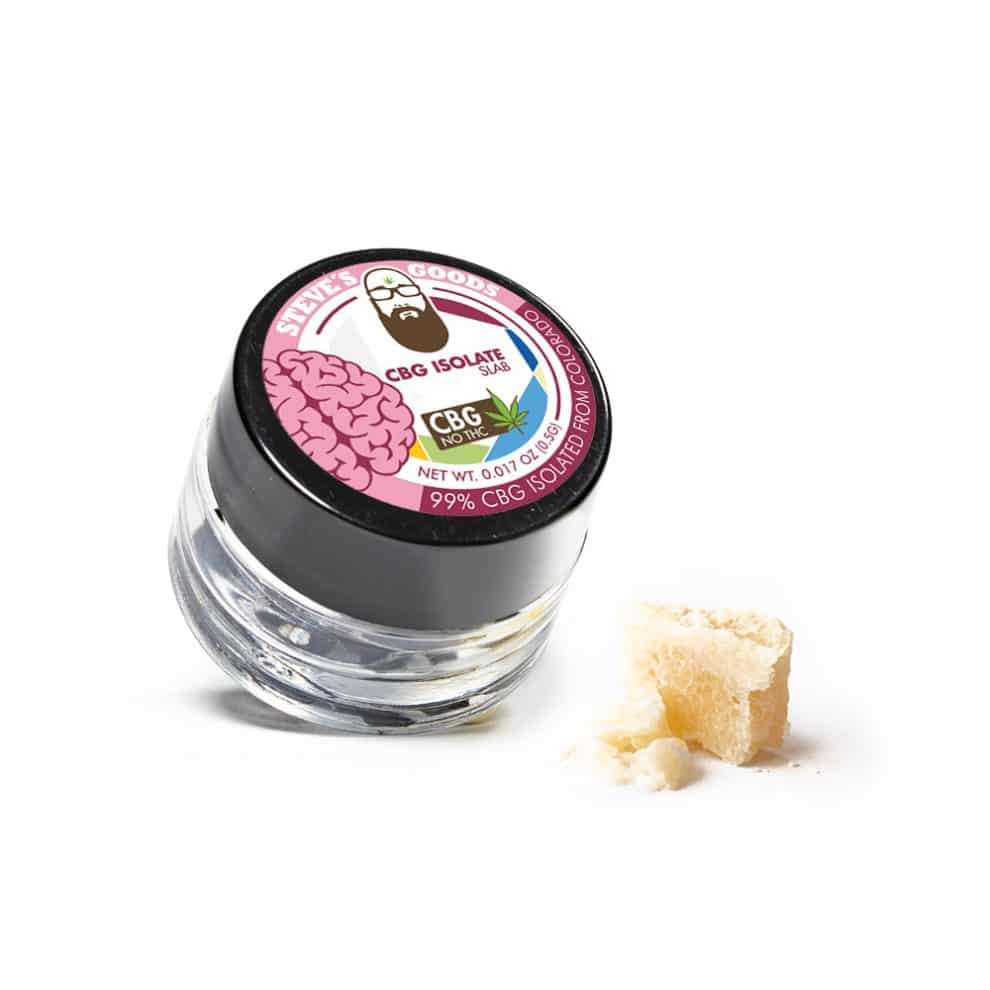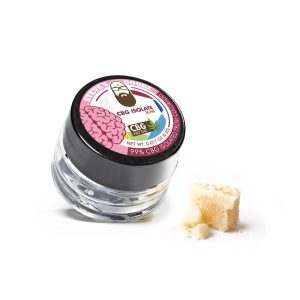 Ingredients:
99% pure, fine powder Cannabigerol (CBG) extract from Colorado hemp
How to Use
This is ideal for mixing in with your other cannabinoids like THC, CBD, or CBC. This product can be used to craft your own CBG products at home. Try making a CBD, CBG, THC tincture at home with your favorite carrier oil.
Warning from the Manufacturer
CBG Isolate Slab Dabs is intended for use by adults or with adult supervision. Keep out of reach of children and minors.
More On CBG Isolate Slab Dabs
 

 From Steve's Goods

Steve's Goods is one of the only place we know where you can find this terpene-free, natural dose of "act right" that will grab you by the brainstem and fix your mentality, without a high feeling, and without psychoactive effects.

CBG Slab from Steve's Goods is different. You will know what we mean within seconds.
Our pure, Colorado CBG Isolate gets transformed…
…into CBG Isolate slab dabs in a matter of hours. Transformed into a smokable, dab-able, state-of-the-art cannabis concentrate with a fresh and familiar taste that will leave you curious as to why you cannot pinpoint a similarity to anything else.
We put our hearts and souls into the invention of this, and we could not be more proud to offer it to our customers.
CBG Isolate Slab Dabs From Steve's Goods Is Special, eh? Why?
It took a year's worth of R&D and many failed attempts before we perfected the process and got the taste & smell right where we wanted them.
Our quality is consistent and will not be surpassed. We are the source, the manufacturer, and the distributor, and we obsess over getting it right at each step in our process.
Our people love it, many of us swear by it, and it should be noted that we are a tough crowd when it comes to what we offer to our customers & clients.
What is the best way to consume this product?
Steve's Goods CBG Isolate Slab dabs are ready to be enjoyed in a whole host of ways. It is probably most common for folks to melt and inhale them using some preferred choice glass, metal, or battery-operated rig.
We offer the world's favorite Dip Devices pens
Dip Devices offers several devices that we are pleased to keep in stock at Steve's Goods. We find them to be an ideal partner in offering for consumption of our CBD dab wax and other hemp dabs, and mainly because they approach the issue of quality as seriously and passionately as we do.
We also offer the best stationary device option on the market
EZ Bake's E-nail is globally known for its range of adaptivity to existing glass hardware people use regularly at home. It includes an easy-adjust rolling wide temperature range, that is easily adjustable to match perfectly the preference of any dabber.
We love both so much, we have a difficult time picking the better option between the two. Many of our customers say the same thing, and many of them own both
Can I use CBD dabs without a device?
Of course, you can. Our CBD dab wax and shatter burns, regardless of the flavor or terpene profile, so we absolutely encourage customers to embrace what's familiar to them in use. In other words, stay with your routine. For people who love flowers, for instance, CBG isolate Slab is excellent to enjoy when mixed into a joint, and in Steve's opinion, Sativa is best (that's just an opinion… he may have wanted that mention in here).
In fact, combos are Steve's favorite cannabis consumption method, and this is mostly because he is an advocate of balanced cannabinoid profiles for cannabis users. We hope you enjoy experimenting with CBG isolate Slab as much as we do!
More Common Questions about our CBG Slab:
What, exactly, are CBG Slab Dabs?
Our answer is simple: A potent and pure formulation of the best of the highest-quality Colorado hemp extract formulated by our proprietary process into smooth and soapy-textured brilliant final hemp dab product.
Maintain our pledge to formulate exclusively from Colorado hemp ingredients, we do the same for this fine CBG offering.
Does CBG slab work?
Yes, CBG wax dabs 'work.' What the customer intends for results when purchasing this product is more the question to be answered. Steve's Goods does not recommend our CBG slab as a suitable replacement for medical treatments or for prescribed medications.
We encourage all customers to research hemp and to consult with a doctor or medical professional in advance of using products along with prescriptions or other medicines.
Who Does CBG work for?
Our typical happy customer is a person who is health-conscious and who is called upon to meet physical demands in his/her day-to-day activities. That is broad in definition and includes a variety of labor-intensive career types, sports enthusiasts, and outdoor hobbyists.
Why is Locally Grown Colorado Hemp More Trusted Among Consumers?
You might be thinking to yourself, hemp is hemp. Why does it matter who grows it and where?
Many factors account for "quality" as it pertains to hemp
Such factors include soil, temperature, nutrients, time of harvest, etc. Hemp isn't all equal. The preparation of it and the love that goes into its production cannot be understated.
We track the industrial hemp used in our products from seed to sale
We've met the farmers and been to their farms. We are even growing and harvesting thousands of our own hemp plants for our products. Nothing but the best.
Buying local is supporting local
The newly re-ignited hemp business in the United States. You're showing farmers you stand by them while demonstrating to the economy of our country the importance of cultivating this vital & ancient staple crop.
We worked hard to make sure you could find us, and we are glad you did! Please feel free to browse our other CBG products for suitability to your needs and wants in Colorado hemp supplementation.
Know that we are always innovating, and that means you will find that we bring new products to market all the time.
~Steve's Goods is on Social Media!~
Check us out on Instagram and Facebook!
-If you would like to join our affiliate program…
…please find our portal here.
-If you are interested in bulk and wholesale options for this product…
…please find our wholesale program here.
-For copies of our recent lab test results…
…visit our Certificates of Analysis on this page.
This product is not for use by or sale to persons under the age of 18. This product should be used only as directed on the label. It should not be used if you are pregnant or nursing. Consult with a physician before use if you have a serious medical condition or use prescription medications. All trademarks and copyrights are property of Steve's Distributing LLC. These statements have not been evaluated by the FDA. This product is not intended to diagnose, treat, cure or prevent any disease. Individual weight loss results will vary. By using this site, you agree to follow the Privacy Policy and all Terms & Conditions printed on this site. Void Where Prohibited by Law.