Where is the best place to buy CBN Gummies?
At Steve's Goods we offer the highest quality CBN Gummies on the market. We've been working with Cannabinol (CBN) isolate since 2019, and we have found that its products are helpful before bedtime. If you've tried CBD to relax, but it didn't help you sleep, then you might try supplementing with CBN gummies.
For day time gummies we recommend checking out CBG.
Product Details:
45pk 5mg CBN gummies
Strawberry
Watermelon
Pineapple
Yummy!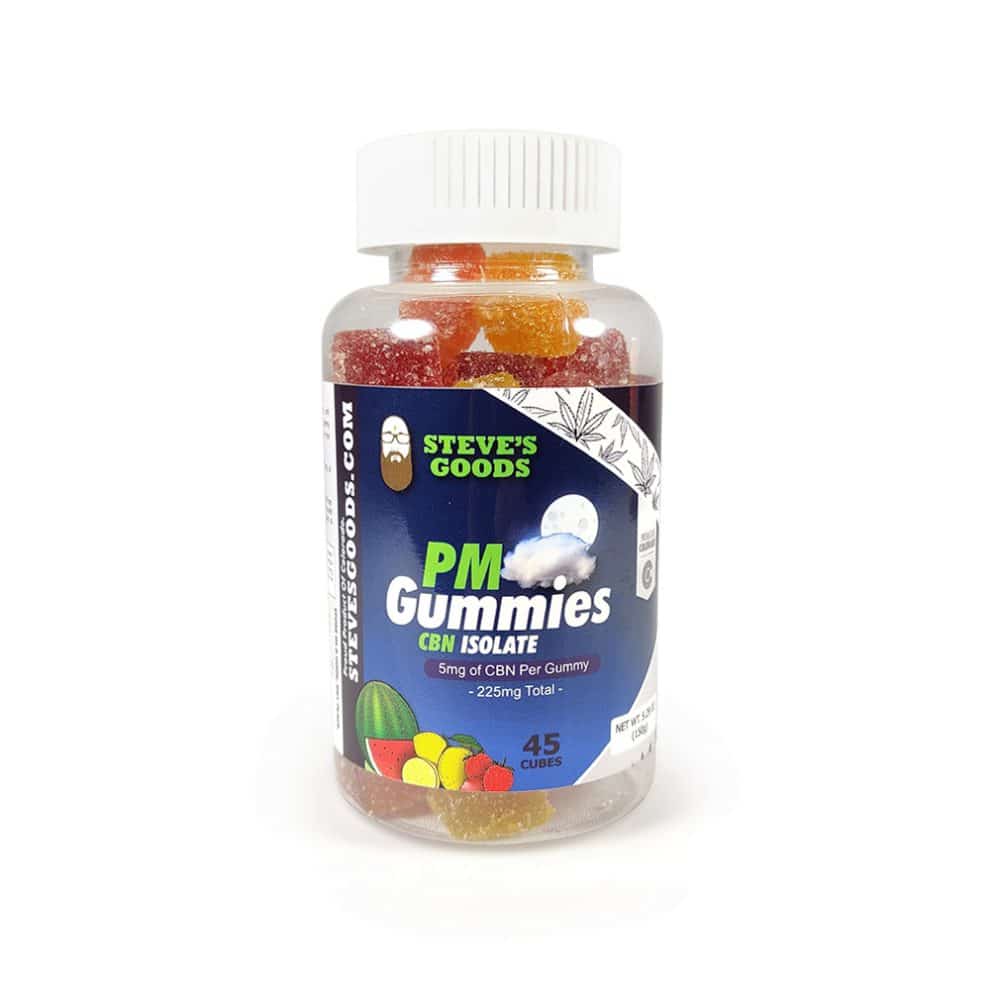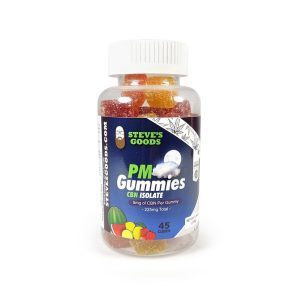 Ingredients:
Granulated Sugar, Filtered Water, Tapioca Syrup, Pectin, Citric Acid, Artificial Food Color, Artificial Flavors, and Colorado hemp extract.
How to Use:
Take one or two gummies daily, and preferably 30 minutes before bed. Each gummy contains 5mg cannabigerol (CBN), and is made from Colorado Hemp extracted isolate. 
More About CBN Gummies
What is CBN?
CBN comes from hemp. It is a cannabinoid that has been showing up in our raw material lab reports for years, but recently extraction labs have been able to isolate the cannabinoid to make CBN isolate. A lot of times, CBN is a by product of extracting CBD. You will find left over cannabinoids like THCA, THC, CBC, CBDA, and more. Sometimes it is convenience to convert the THC directly too CBN to stay in compliance.
Can you say Cannabinol?
Cannabinol or CBN for short is our newest cannabinoid at Steve's Goods. We pride ourselves on our CBN products. These products are the most affordable CBN gummies on the market. Try one at night, and see how you sleep.
Our CBN Product quality
Our CBN Gummies have been third party tested and verified for potency and purity. We have stopped at nothing to bring you the highest quality CBN products on the market.
PM CBN Gummies by Steve's Goods are made from Colorado hemp and hemp-extracted Cannabinol (CBN) isolate. We offer our gummies in bottles of 45 cube in assorted Watermelon, Pineapple, and Strawberry flavors. Steve has nothing to offer the finest gummy formulation Colorado can offer.
Why Choose CBN Gummies?
PM gummies from Steve's Goods are meant to offer a natural option to folks who are healthy and want short term supplemental hemp support in getting rest. 
Are CBN Gummies Right For Me?
Are you healthy? If yes, do you have a THC restriction, or any other reason not to use a hemp product? Then maybe. 
This product IS NOT medication, should not be used in tandem with medication, and cannot replace medical prescriptions or advice for treating any type of disorder or condition, known or unknown. Consult with a doctor if you are unsure whether these or any hemp products are options for your short-term supplemental use.
How Much CBN Is There Per Bottle?
5 mg per gummy * 45 gummies per bottle = 225 mg total / bottle.
Will CBN Gummies Get Me "High?"
No, Cannabinol is not psychoactive, though it is (obviously) an optional natural rest supplement, and so we recommend not eating these gummies unless you are home, ready to rest, and not leaving or operating a vehicle or machinery.
We worked pretty hard to be sure you could find us on the web, so we are glad you made it here. Please look around our CBD shop if you have not yet found what you are searching for. We have dozens of products, and we are sure to have a few options that suit you. And if you have a good look, and don't locate anything you want, please leave us a suggestion. 
~Steve's Goods is on Social Media!~
Check us out on Instagram and Facebook!
-If you would like to join our affiliate program…
…please find our portal here.
-If you are interested in bulk and wholesale options for this product…
…please find our wholesale program here.
-For copies of our recent lab test results…
…visit our Certificates of Analysis on this page.
This product is not for use by or sale to persons under the age of 18. This product should be used only as directed on the label. It should not be used if you are pregnant or nursing. Consult with a physician before use if you have a serious medical condition or use prescription medications. All trademarks and copyrights are property of Steve's Distributing LLC. These statements have not been evaluated by the FDA. This product is not intended to diagnose, treat, cure or prevent any disease. Individual weight loss results will vary. By using this site, you agree to follow the Privacy Policy and all Terms & Conditions printed on this site. Void Where Prohibited by Law.