Blueberry OG CBG Oil | Fine Hemp Tincture Oil
Blueberry CBG Oil has both CBD and CBG in it. We use Blueberry terpenes and Blueberry natural flavoring mixed with monk fruit to give it a delicious taste. It's perfect for focusing or any other occasion when you need to calm down but don't want your taste buds to be left behind! 
New 10,000mg! That is four 2500mg oils in one bottle!
Free shipping on all domestic orders over $100

Products Details
Whats Includes
How Its Works
Products Details
Description:
Blueberry OG CBG Oil is a great value because it's made from pure broad-spectrum CBD concentrate. Steve's Goods whipped together the finest quality, award-winning Colorado hemp extract with some tasty terpenes and came up with this awesome Blueberry OG CBG oil that tastes like candy!
Not all CBG Oils are created equal. Some companies use just CBD to get the desired effects, but Blueberry OG CBG Oil is different. It comes with the benefits of both CBD and CBG, so you can expect to find a variety of health improvements that will surely tailor to your needs and wants. We've packed our Blueberry OG CBG Oil product with flavor as well with some added terpenes for an extra kick, making it taste great while also delivering potent cannabinoids in a new and exciting way!
Product Details:
500 mg – 2500 mg concentrations
15 mL or 30 mL bottles
Sealed for freshness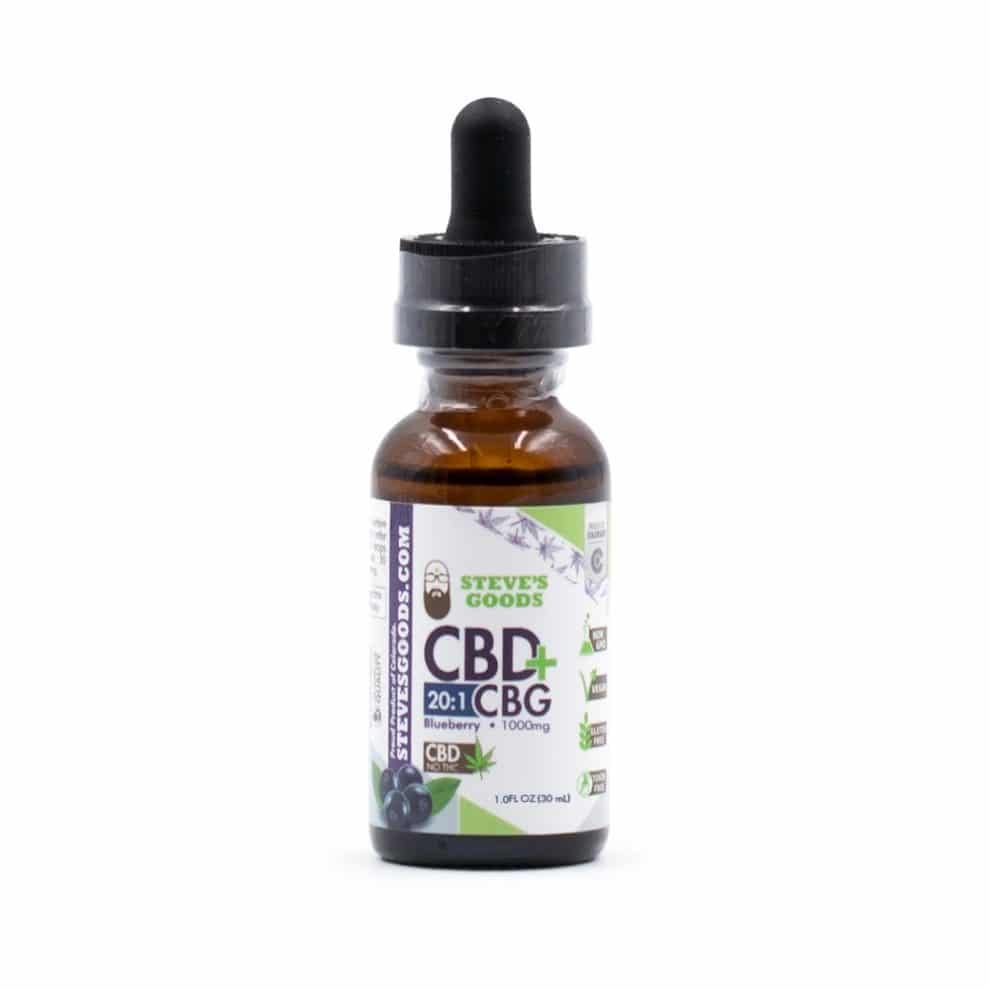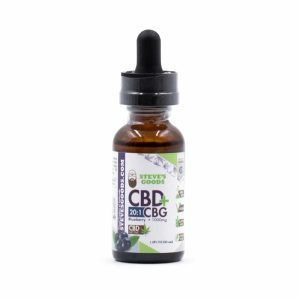 Whats Includes
THC Free distillate, Blueberry OG Terpenes, Blueberry Natural Flavoring (MCT Based), Monk Fruit.
How Its Works
Take one dropper once or twice per day. Shake well before each use. Use as needed (see serving size chart). Intended for short-term supplementation.
Serving Chart
250 mg / 15 mL
500 mg / 15 mL
1250 mg / 15 mL
500 mg / 30 mL
1000 mg / 30 mL
2500 mg / 30 mL
250 mg / 15 mL
Per Bottle – CBD 250 mg./ CBG 12.45 mg.
Per Dropper (1mL) – CBD 16.66 mg./ CBG .83 mg.
Per Drop – CBD .83 mg./ CBG .04 mg.
15 drops of 250 mg deliver 12 – 13 mg. of pure CBD and .6 mg. CBG
500 mg / 15 mL
Per Bottle – CBD 500 mg./ CBG 25 mg.
Per Dropper (1mL) – CBD 33.33 mg./ CBG 1.67 mg.
Per Drop – CBD 1.66 mg./ CBG .08 mg.
15 drops of 500 mg deliver 24.9 mg. of pure CBD and 1.2 mg. CBG
1250 mg / 15 mL
Per Bottle – CBD 1250 mg./ CBG 62.55 mg.
Per Dropper (1mL) – CBD 83.33 mg./ CBG 0.42 mg.
Per Drop – CBD 4.16 mg./ CBG 0.2 mg.
15 drops of 500 mg deliver 21.9 mg. of pure CBD and 2 mg. CBG
500 mg / 30 mL
Per Bottle – CBD 500 mg./ CBG 25 mg.
Per Dropper (1mL) – CBD 16.66 mg./ CBG .83 mg.
Per Drop – CBD .83 mg./ CBG .04 mg.
15 drops of 500 mg deliver 12 – 13 mg. of pure CBD and .6 mg. CBG
1000 mg / 30 mL
Per Bottle – CBD 1000 mg./ CBG 50 mg.
Per Dropper – CBD 33.33 mg./ CBG 1.66 mg.
Per Drop – CBD 1.66 mg./ CBG .08 mg.
15 drops of 1000 mg deliver 24 – 25 mg. of pure CBD and .12 mg. CBG
2500 mg / 30 mL
Per Bottle – CBD 2500 mg./ CBG 150 mg.
Per Dropper – CBD 83.33 mg./ CBG 4.16 mg.
Per Drop – CBD 4.16 mg./ CBG .20 mg.
15 drops of 2500 mg deliver 49 – 50 mg. of pure CBD and .4 mg. CBG
This product is not for use by or sale to persons under the age of 18. * This product should be used only as directed on the label. It should not be used if you are pregnant or nursing. Consult with a physician before use if you have a serious medical condition or use prescription medications. All trademarks and copyrights are property of Steve's Distributing LLC. These statements have not been evaluated by the FDA. This product is not intended to diagnose, treat, cure or prevent any disease. Individual weight loss results will vary. By using this site, you agree to follow the Privacy Policy and all Terms & Conditions printed on this site. Void Where Prohibited by Law.