Product Details
Whats Includes
How Its Works
Product Details
Description:
AM CBG Gummies by Steve's Goods are made from Fine CBG Extract Isolate from Colorado hemp. We offer Watermelon, Pineapple, and Strawberry flavor cubes.
Product Details:
45pk of 5mg CBG Gummies.
Watermelon, Pineapple, Strawberry.
Vegan, Non-GMO, Gluten Free.
Sweetened With Real Sugar Cane.
Natural Color and Natural Flavors.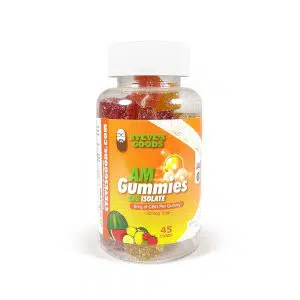 Whats Includes
Granulated Sugar, Filtered Water, Tapioca Syrup, Pectin, Citric Acid, Artificial Food Color, Artificial Flavors, and Colorado hemp extract.
How Its Works
Take one or two gummies daily, and preferably 30 minutes before bed. Each gummy contains 5mg of cannabinol (CBN), or cannabigerol (CBG), and is made from Colorado Hemp extracted isolate.