Steve's Hemp Farm | Steve's Goods Hemp
Steve's Goods has launched Steve's Hemp Farm in Fort Collins, Colorado. A 3-acre, Weld-County-licensed hemp farmer, Steven Schultheis has committed the last four years (since 2017) to bring the internet the best CBD products by growing high quality hemp and formulating high quality products like our CBG oil. Steve hand-picks the seed genetics to ensure we only grow the highest quality CBD seeds genetics from local breeders with a high degree of experience, research, and property development of each strain.

Below is the start of the Steve's Hemp Farm series S02E01. This video series will be hosted on YouTube but presented on this website. Here, you can find out all the news about Steve's Hemp Farm, and how the hemp plants are growing!

Following this video, you can find more information below like our 2021 blog post about Steve's Hemp Farm or even notes from Steve himself!
Quality Hemp Goods Start with Quality Hemp Farming at Steve's hemp farm
Posted: July 7th 2021
You are what you eat. You're also what you vape, dab, drop under your tongue, or rub onto your skin. 
To be your best, then, you need to start with the best ingredients. And the best ingredients come from conscious, sustainable farming. 
Steve's Goods knows this. That's why all of Steve's Goods CBD, CBG, CBN, and Delta 8 products are sourced directly from the company's organic hemp farm based in Fort Collins, Colorado. 
Know Your Source
Hemp has been legal nationwide since 2018. However, Colorado got a head start by legalizing hemp locally back in 2014. The Centennial State's groundbreaking hemp policies, coupled with the hardy environment of the Rocky Mountains, has produced some of the sturdiest, most potent hemp genetics known. There's a good reason why the rest of the world looks to Colorado for the highest-quality hemp seeds. 
Steve's Goods took Colorado's home field advantage for hemp farming to the next level. Its 3-acre, 15,000-plant farm is managed and operated by Colorodans with years of combined experience in organic farming practices. So only clean, healthy hemp goes into Steve's Goods products. 
"Our supplements go directly into your body," said Steve Schultheis, the founder, owner, and CEO of Steve's Goods. "We care about our products and our customers. To keep us honest, we need to stay true to the plant."
How Steve's Goods Stayed True and Elevated the Hemp Game
In Colorado, hemp is treated as any other agricultural product. As such, hemp is subjected to the same regulations as other crops, which means it can be cultivated with either modern industrial methods or, as Steve's Goods does it, purely by Mother-Nature-approved techniques. 
Steve's Goods grows its hemp with only all-natural, time-tested, and scientifically validated nutrients. Not a single drop of synthetic chemicals or pesticides touches the plants. 
So, how does the company grow some of the richest, most potent hemp? After four years of being in business, Steve's Goods' farmers and technicians have honed their process to near-perfection, though they're still always looking for new ways to improve.
First, the plants are fed composted sheep manure. Farmers have used sheep manure as a natural fertilizer for centuries, due to its abundant phosphorus and potassium levels. Not only do phosphorus and potassium help hemp grow strong with high yields, but these nutrients protect the plants from pests, as well.
To maintain lush soil quality, Steve's Goods supplements its all-natural fertilizer with pyrethrum evergreen compost teas. Enhancing the farm's microbiotic environment ensures the hemp absorbs nutrients at optimal levels, all day, every day.
The compost teas also contain minerals, beneficial soil bacteria, and baking soda to balance the environment's pH, which prevents molds and mildew from forming, too. 
And that's it. Steve's Goods keeps its hemp farm thriving with just water, sunlight, manure, and compost — exactly as nature intended.
Cultivating Premium Strains for a Top-Shelf Experience
What comes out of the soil is just as important as what goes into it. Nutrients and composts can only do so much. To maximize the most sought-after qualities from hemp, the hemp's strain genetics are a crucial factor, as well. 
Steve's Goods carefully curates its seed selections from hemp strains known to produce flowers packed with cannabinoids and terpenes. Right now, the farm focuses on raising Fruity Petals and Angie. The company is also testing with other promising strains in Colorado's soil, such as Super Cinco and Hybrid 5.
Why Fruity Petals and Angie, though? Because these strains offer the best of both worlds when it comes to high-quality hemp. 
Fruity Petals is known to grow "frosty" flowers, said Schultheis. The frost, in this case, refers to the hemp's trichomes, oily sacs that sprout across the flowers. Trichomes contain most of the plant's flavorful, aromatic terpenes and cannabinoids such as CBD.
Angie, on the other hand, is known for its incredibly high yields. Where Fruity Petals packs the most potency, Angie packs the most volume. Bigger plants means Steve's Goods can operate a small, sustainable farm locally while still meeting nationwide demand. The company then combines extracts from both strains to create powerhouse products filled with the good stuff, and only the good stuff.
Goods You Can Trust
How do you know that you're always getting Steve's Goods' safe and pure hemp products, whether they're gummies, concentrates, tinctures, or topicals? 
Two words: Vertical integration.
Vertical integration is a business model where everything Steve's Goods offers is made entirely in-house, from the farm to your table (or rig). The company grows its own hemp, processes and extracts the hemp, and produces its own products from start to finish. There are no middlemen, no third-party suppliers, and no hidden supply chains. 
Many companies source their CBD from third-party suppliers, so there's no guarantee on quality control with those brands, and no assurance where their CBD came from or how its hemp was grown. 
With Steve's Goods, you'll always know that the hemp was sustainably and organically cultivated, with priorities on protecting our environment, safety, and our future first. 
Additionally, all of Steve's Goods products are lab tested for quality assurance. What you see on the packages and labels is exactly what you're going to get. 
They're called "goods" for a good reason. Do good first by being good to yourself. 
To purchase Steve's Goods hemp-derived goods online, click here. 
To learn more about cannabinoids, terpenes, and Steve's Goods' mission, check out the company's blog by clicking here. 
If you'd like to see what Steve's been up to lately, drop by Steve's Goods' YouTube channel!
Steve communicating to his plant that it will become powerful CBG oil
This is Steve of Steve's Goods at Steve's hemp farm holding a bottle of CBG oil next to a maturing hemp plant.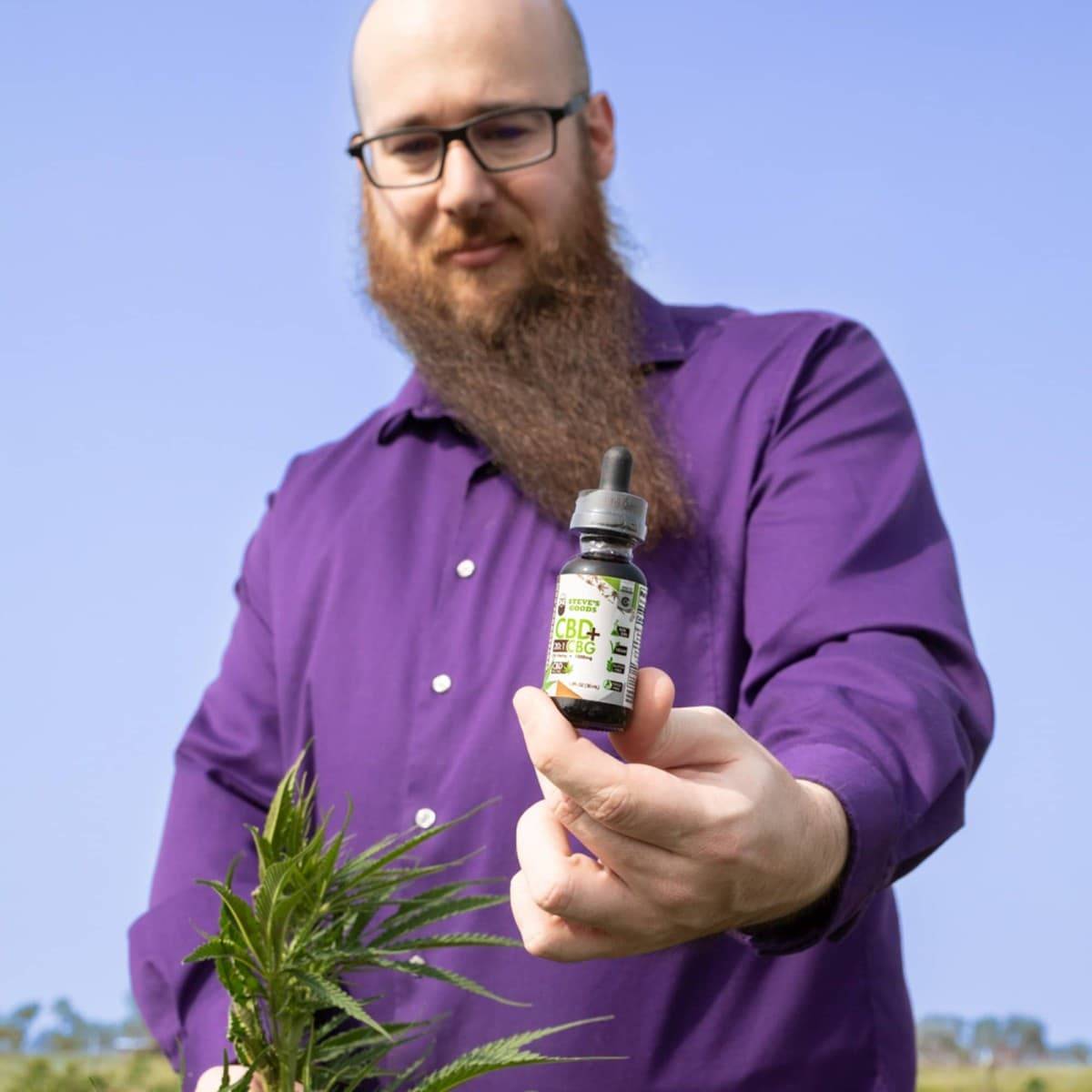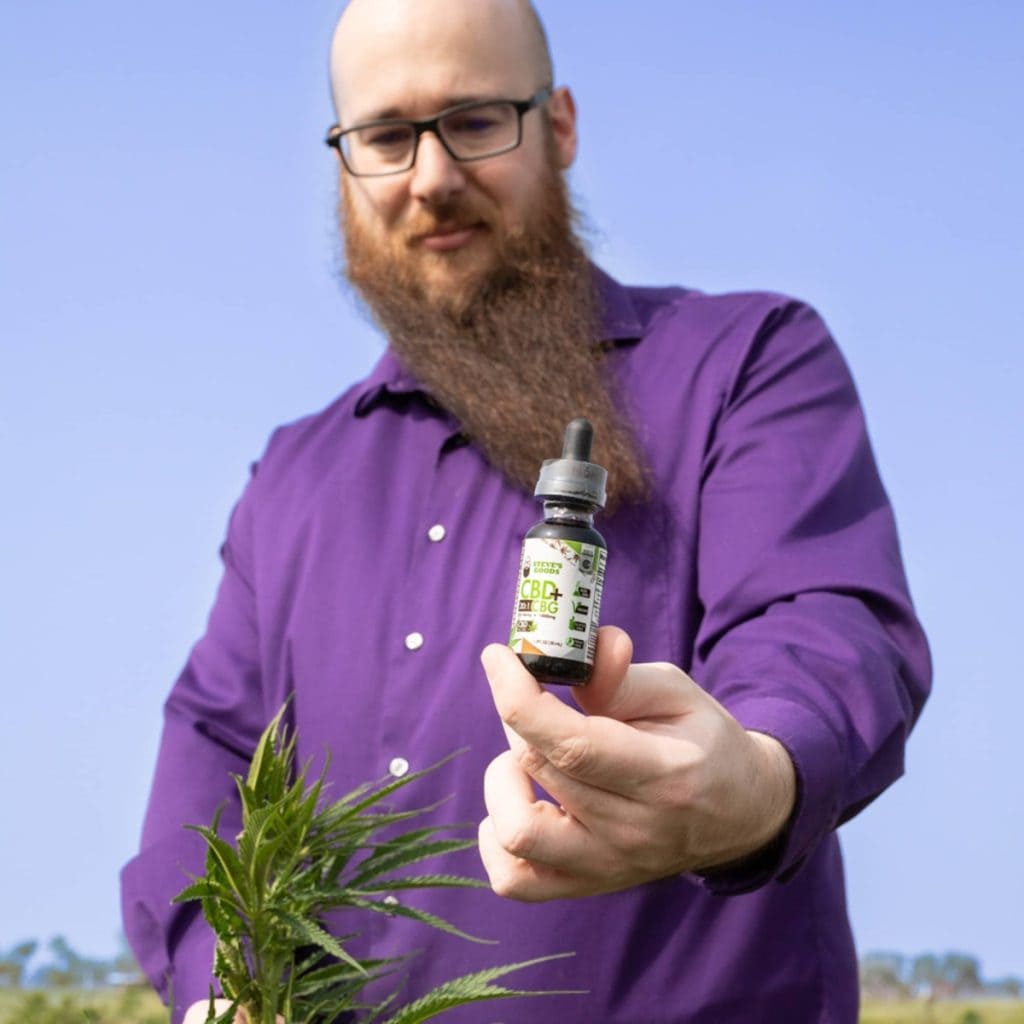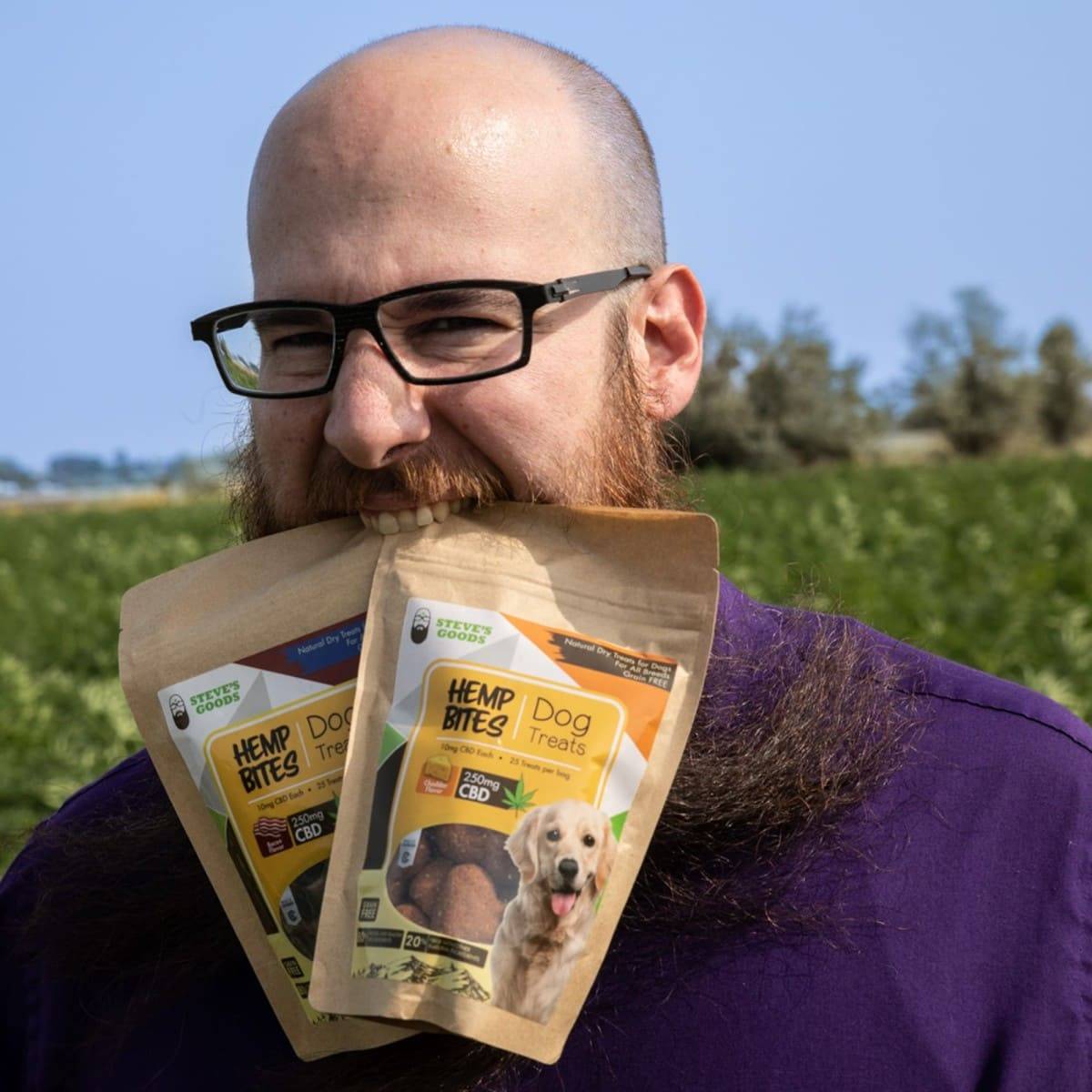 Woof Woof! - Steven Puppy
Woof Woof! That means these CBD Dog treats are made with only the highest quality hemp with two flavors in bacon and cheddar.
Vape pure hemp distillate and plant terpenes
Steve at Steve's Goods on Steve's hemp farm with our CBD Starter pack that is perfect for CBD 101 beginners.