Description:
EZ Bake is a high-quality, portable, electric nail that completely re-imagines the standard aromatherapy device. The innovative design has streamlined your entire experience – gone are the unnecessary tools and unwieldy or fragile pieces. EZ Bake is uncomplicated, comfortable, and beautiful — exactly what your chosen aromatherapy dab experience should be.
Product Details:
heats to 700 degrees in under 3 minutes.

display  the coil and target temperatures.

200/120v ac compatible with a standard household outlet.

Two year unit warranty

high quality, long-lasting, nichrome coil element.

5 foot weave wrapped, insulated lead cable.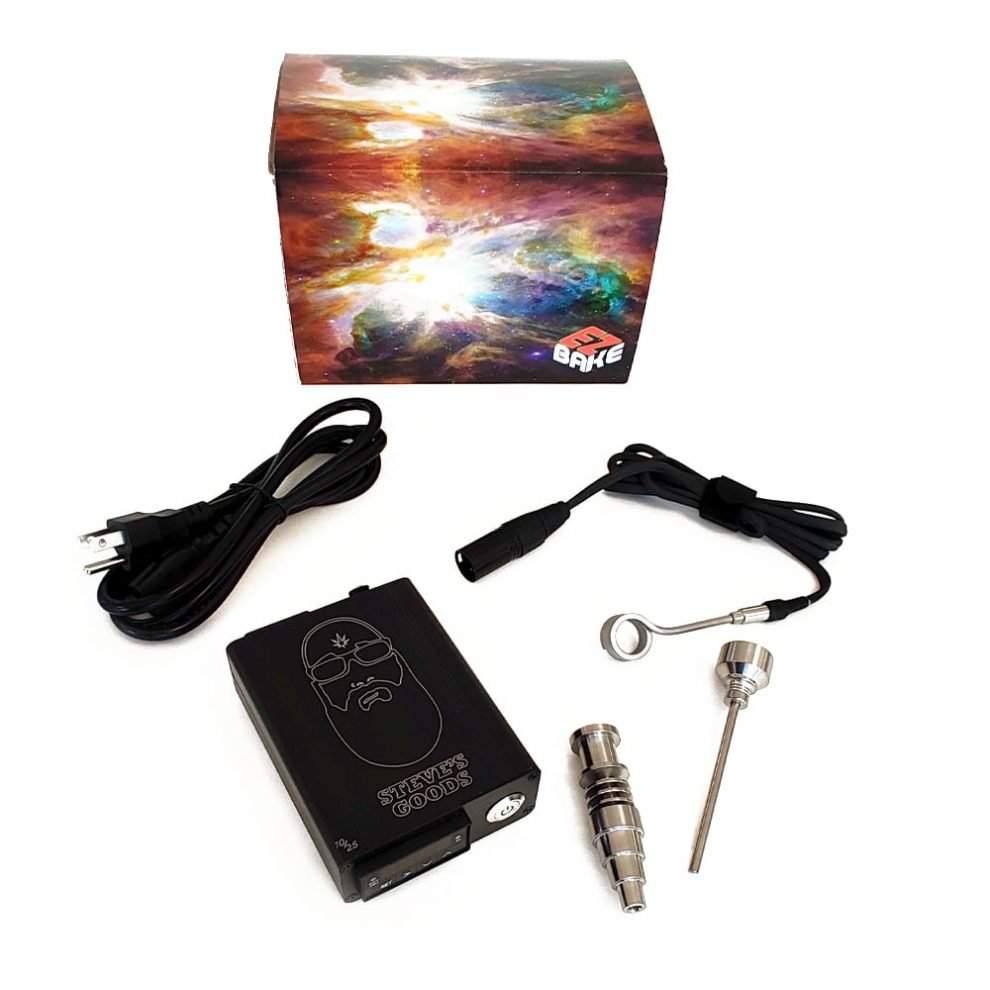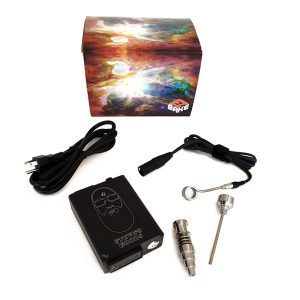 Includes:
Steve's Goods custom enail
Coil with connector
Wall Charger
Titanium Nail
Dab Tool
How to Use
Attach the coil connector to the titanium nail, and connect the other end directly into the Steve's Goods enail box. Turn on button and heat to 700 degrees.
More About The EZ Bake E-Nail
Common Questions about our EZ Bake E-Nail Kits from Steve's Goods:
Why choose the EZ Bake E-Nail Kit from Steve's Goods?
We are dedicated to the pursuit of perfect, repeatable and controlled dabbing. We want to always pioneer what it means to dab right, regardless of changes and advancements in the industry. This company was born and founded on CBD concentrates,  and has spent 3 years perfecting the way we do them. Our proven, tried-and-true formulations will leave you feeling more glad and steady than the moment when you ordered our stuff online.
How Does The EZ Bake E-Nail Kit Work?
Very simply put: Unbox, plug into the wall, plug into the device, situate the heating coil, and turn it on with the click of the power button. Adjust the temperature to your liking (start with 420 degrees 😉 and go from there if you aren't familiar. You will absolutely love this device, and it could not be simpler to use.
What is dabbing?
Dabbing (in the context of CBD) is the act of melting concentrates and/or other extracts of hemp cannabis on a hot surface, rig, or another device in an attempt to consume large, smokeable amounts quickly and efficiently. Ok, that's our definition, but it's still very good!
What Are CBD Concentrates?
As far as Steve's Goods is concerned, we can just let our products answer this question:
The EZ Bake E-Nail Kit Makes The Perfect Gift…
…for that someone special who loves to dab and consume cannabinoid concentrates. What better way to show your love and good intentions than to give the gift of relaxation and clear headedness to the one(s) you care for? We thought of gift-giving when we ordered this product line. We hope that you or someone special to you enjoys this thing, thoroughly.
Every single unit and package of our EZ Bake E-Nail Kits…
…was made to please, and to our customers thinking, "why haven't I always done it this way" We know our farmers. We grow a lot of our own hemp. We are committed to natural solutions. We try, hard, to stay ahead of trends. And most importantly, we include, lean-on, and feedback, and communications with our customers to offer the best-possible E-Dabbing device solution available. We really hope you love it as much as we do.
Thank you for choosing Steve's Goods EZ Bake E-nail Kit and Dab Devices.
~Steve's Goods is on Social Media!~
Check us out on Instagram and Facebook!
-If you would like to join our affiliate program…
…please find our portal here.
-If you are interested in bulk and wholesale options for this product…
…please find our wholesale program here.
-For copies of our recent lab test results…
…visit our Certificates of Analysis on this page.
This product is not for use by or sale to persons under the age of 18. This product should be used only as directed on the label. It should not be used if you are pregnant or nursing. Consult with a physician before use if you have a serious medical condition or use prescription medications. All trademarks and copyrights are property of Steve's Distributing LLC. These statements have not been evaluated by the FDA. This product is not intended to diagnose, treat, cure or prevent any disease. Individual weight loss results will vary. By using this site, you agree to follow the Privacy Policy and all Terms & Conditions printed on this site. Void Where Prohibited by Law.