What are Delta 8 gummies for sale?
The delta-8 gummies for sale at Steve's Goods are high-quality. Delta-8 THC product is offered in several forms. This can range from delta-8 gummies, and delta-8 vape cartridges, to delta-8 wax dabs. The delta-8 extract used to infuse these products can be found within our flagship Delta 8 products. These have been internally studied and developed for their natural benefits on mood along with other benefits.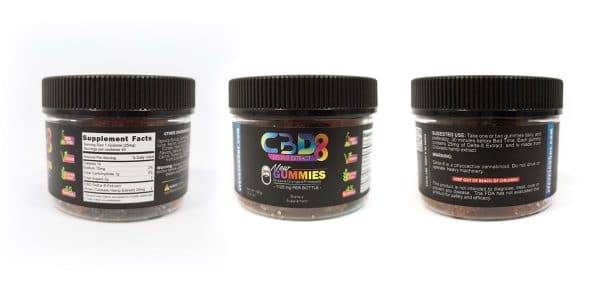 What are Delta-8 Gummies?
Delta-8 edibles are a form of consumable delta-8 extract. What makes these edibles unique is that they are designed for a more mellow and relaxing experience.
The two most common ways to consume delta-8 extract are sublingual ingestion (under the tongue) or oral ingestion. Delta-8 can also be consumed in other forms such as vape pens or wax dabs.
Why should you buy delta 8 gummies for sale?
Sometimes it can be difficult to find a product that works for everyone. Steve's Goods delta-8 gummies are made with a variety of flavors. Our tasty 25 mg gummies come in grape, pineapple, or orange flavors. No matter what mood strikes or where life takes you there is always something delicious waiting!
Our Delta 8 gummies are a fun and tasty way to consume delta 8 extract. Taking delta 8 extract orally is the most effective way to feel its effects, but with our gummies, it's easy and convenient too.
What is Delta-8 Extract?
Delta-8 extract is derived from 100% hemp CBD isolate. Therefore, Delta-8 fits within the parameters of the 2018 farm bill and is legal. The DEA has yet to comment on its legality but most regulators have deemed this product "grey" in nature because they haven't made any official statement about it.
What makes Steve's Goods the best delta-8 gummies for sale?
Steve's Goods has the best delta-8 gummies because they are made with 100% natural ingredients, taste great, and make it easy to take your daily dose of delta-8 extract. These gummies are free from heavy metals, and made only with the highest quality ingredients. Each gummy is packed with 25mg of Colorado-grown, delta-8 infused in a fruit snack gummy.
Is Delta 8 federally legal?
Thanks to a loophole in the 2018 farm bill, delta-8 THC is unregulated at the federal level. That legislation legalized hemp which is defined as a cannabis product that contains 0.3 percent of delta-9 THC or less – levels considered too low to have a psychoactive effect However, this does not address Delta 8th substance and it creates an opportunity for vendors who can sell with no oversight such as edibles vape cartridges and tinctures.
Can you order Delta 8 gummies for sale online?
Yes, you can order Delta 8 gummies for sale online from Steve's Goods! We recommend starting with a small single pack before buying our bulk delta 8 gummies in a 5 pack.
Can you buy bulk wholesale delta 8 gummies online?
Yes, you can order bulk wholesale delta 8 gummies online through our hemp wholesale portal. We offer white label options like Delta 8 Gummy Bears for those looking to sell them under their own brand name and private labeling so that we never disclose who they're created by. We also offer custom formulating if desired with the finest ingredients on hand from Colorado!
How do I get rid of Delta 8 high?
If you're not a regular smoker, then it's best to take slow deep breaths and wait for the effects of Delta 8 high. THC can be uncomfortable if your tolerance is low so we recommend only taking one 25mg gummy at first to see how much it takes to reach your desired effects.
Alternatively, you can also consume CBG isolate or take our CBG oil to lessen the psychoactive effect of delta 8 or delta 9. CBG will prioritize itself on your CB1 and CB2 receptors in your endocannabinoid system.
What other Delta 8 Products do you sell?
Steve's Goods sells the best and purest delta 8 carts (delta 8 vape cartridges) on the market with our award-winning process and flagship terpenes. We offer delta 8 vape cartridges in two flavors: Blueberry and Strawnana.
Steve's Goods sells the best and purest delta 8 wax dabs on the market with our award-winning process and flagship terpenes. We offer delta 8 wax dabs in three flavors: Blueberry, Pineapple, and Strawnana.
Where does your delta 8 extract come from?
100% Colorado hemp plant is grown at Steve's hemp farm in Fort Collins, Colorado. Here Steve grows all the hemp Steve's Goods will need each year.
Buy Steve's Goods Delta 8 Gummies Wholesale
Searching for bulk Delta 8 gummies? Steve's Goods Delta 8 gummies have 25mg of Delta 8 extract and come in three delicious flavors: Grape, Pineapple, and Orange, and you can buy them in bulk. Try our affordable Delta 8 gummies in a 45-pack.
Warning: This is a psychoactive product that tested above 25mg (see lab reports page). Each gummy contains 31.66mg of Delta 8 extract making it the strongest Delta 8 gummy on the market!
Delta 8 Gummies Bulk Wholesale Product Details:
45 gummies per container
25mg of Delta 8 Extract
Three Flavors: Grape, Pineapple, Orange
Vegan, Non-GMO, Gluten Free.
Sweetened With Real Sugar Cane.
Natural Color and Natural Flavors.
Ingredients:
Granulated Sugar, Filtered Water, Tapioca Syrup, Pectin, Citric Acid, Artificial Food Color, Artificial Flavors, and Colorado Hemp Extract.
How to Use Steve's Goods Gummies
Eat 1-2 gummies once or twice per day.

Beginner's recommendation: Try a single gummy and wait an hour. If it is manageable, take a second gummy. .
Frequently Asked Questions on Wholesale Delta 8 Gummies
What is a Delta 8 gummy?
Delta 8 gummies are a potent hemp edible that is infused with 25mg of Delta 8 extract. They come in three flavors: grape, pineapple, and orange.
What do Delta 8 gummies do?
Delta 8′s effects are milder iterations of those made famous by the more familiar Delta 9 THC. It is also less well known and not as potent, which makes it easier to start with for people who want to try cannabis without over doing it or experiencing a strong change in their moods.
Delta 8 can give you euphoria, relief from stress alongside dry mouth, bloodshot eyes and munchies just like its predecessor – minus some other side effects that many do not enjoy such as mood support attacks.
Delta 8's effect on users have been described by enthusiasts to be milder than what was experienced when consuming Delta 9 THC.
What is the strongest Delta 8 gummy?
A quick Google search would show you that a 20 mg gummy is the strongest Delta 8 gummy on the market — until now! Our 25mg gummies are the strongest gummies available and at only $49.99 for 45 25mg Delta 8 gummies.
Who sells the cheapest Delta 8 gummies?
Our Delta 8 gummies are the cheapest according to the top 3 sellers that average $2.5 per gummy! That is way too expensive! Our Delta 8 gummies are only $1.10 per gummy or as low as $0.90 per gummy if you buy 5 packs.
Are Steve's Goods products and Delta 8 gummies legit?
Our Delta 8 gummies are legit because they come from Colorado hemp extracted Delta 8. This extract is used to make edibles in our commercial kitchen. We only use the best ingredients in our gummies.
How long does it take for Delta 8 gummy to kick in?
You may not feel the effects of Delta 8 gummies for up to 2 hours, but they'll last much longer than other methods like dabbing Delta 8. Many people say that edibles are most effective around 2-4 hours after dosing and slowly wear off afterward. Our gummies fall into this category; with a high concentration of Delta 8 THC you can expect them to keep you feeling great for hours!
Can Delta 8 gummies get you high?
Delta 8 is a psychoactive cannabinoid that will give you the "high" feeling.
What are the best Delta 8 gummies?
Steve's Goods offers the most affordable and the best tasting Delta 8 gummies. Our natural flavors have been hand picked to ensure each gummy is as tasty as the last. With 25mg of Delta 8 extract per gummy, you will be saving money and enjoying your time more.
Is Delta 8 the same as CBD?
As a cannabis-based product, Delta 8 is not exactly what you would expect. It does not exhibit the psychoactive properties of weed.
How is Delta 8 different from Delta 9?
The difference between Delta 8 and Delta 9 is a specific atomic double-bond on one side of one of its rings. Delta 8 is almost chemically identical to Delta 9 except this double-bond is shared one atom over toward the other side of the ring. The position of this double-bond alters the molecule's properties. Delta 8 is psychoactive, but its effects are less intense compared to Delta 9 THC.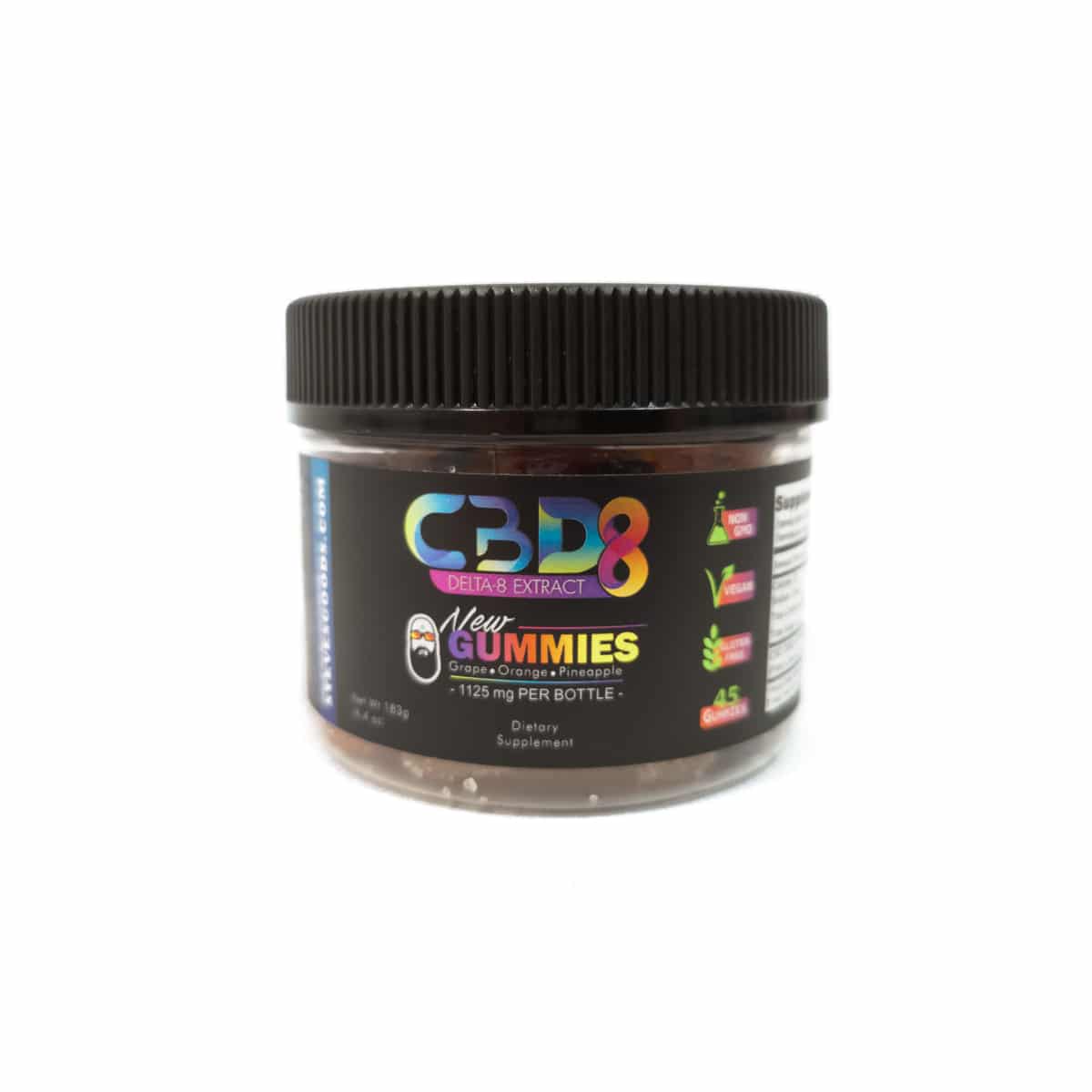 45k, 25mg gummies with flavors: Grape, Pineapple, Orange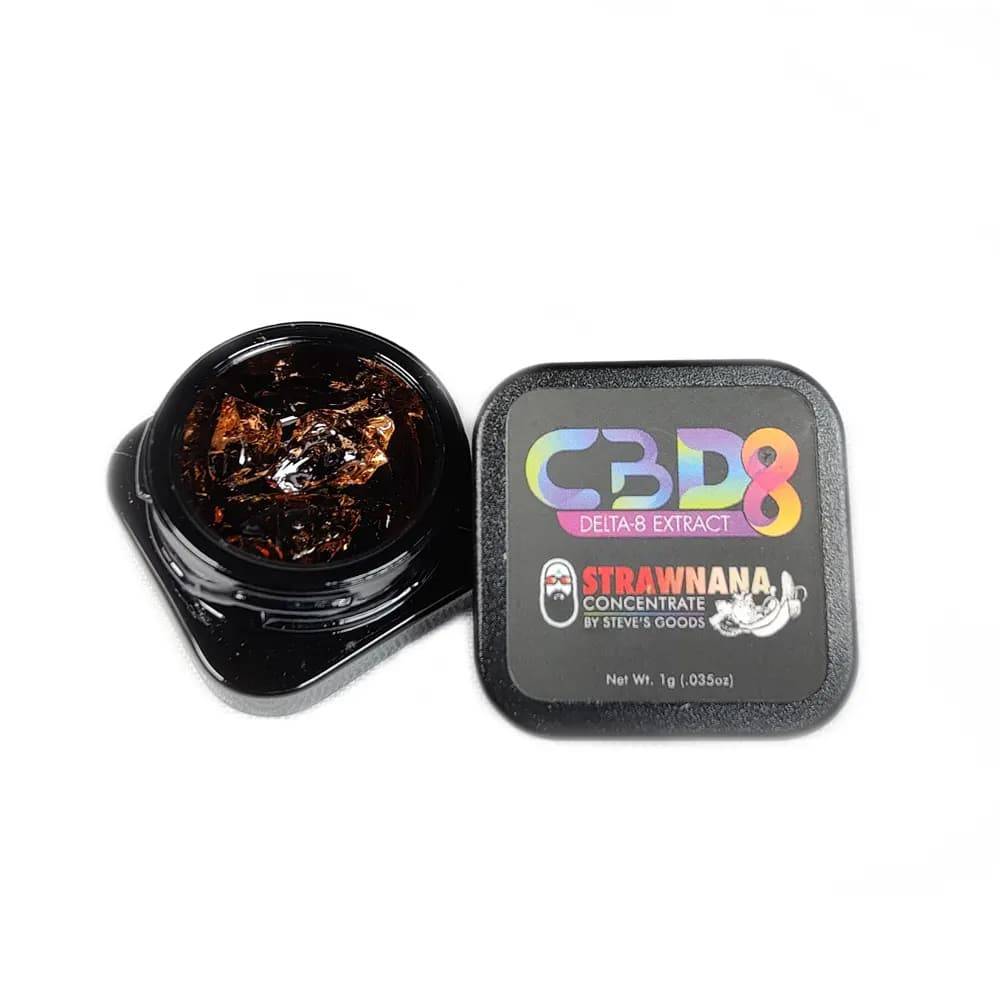 1 gram of wax dabs infused with terpenes: Blueberry, Pineapple, Strawnana
1 gram of vape distillate into a 510 thread cartridge