Is CBD Oil For Cats The Top Supplement Necessary To Help Your Feline Friend: Here's How
Since our customers use both terms, throughout this piece, we use hemp oil and CBD oil for cats interchangingly. Both refer to oil containing CBD. Hemp SEED oil is made from seeds and stems and is not the same. Don't get fooled.
Purrrrrrr. There is no better sound than when your cat is well and dousing you with love. CBD oil for cats has the potential to help you keep your cat that way, purring, happy and healthy.
Hemp oil for cats is gaining popularity; cat owners swear by the benefits.
Even though, just like humans, dogs and cats both have an endocannabinoid system. When it's out of balance, issues arise.
We recommend working with your veterinarian if you want to explore the effectiveness of CBD for your pet. Depending on the issues, you want to do it slowly with a tracking system in place to monitor results.
What is CBD Oil?
CBD, short for cannabinol, is one of many phytocannabinoids that comes from the hemp plant. It appears to benefit both humans and animals. When ingested customers report great benefit with little or no side effects for both their pets and themselves.
Hemp and marijuana come from the cannabis family. They look like twins but are very different in composition. Marijuana plants have high amounts of psychoactive THC and minuscule amounts of CBD. Hemp plants are the opposite; they have high amounts of CBD, which is non-psychoactive, and small amounts of THC. Products legal to sell in all 50 states must have less than .3% THC, an amount shown to have no psychoactive effects.
CBD for cats is extracted from sativa hemp plants and made into tinctures for humans and animals, concentrates, vape oils, edibles, skin care products, and more. Some products contain only CBD isolate and others, called full spectrum, have a wide range of beneficial cannabinoids that work together.
What is Full Spectrum CBD Oil and Why Is It Important For My Cat?
The benefits of taking a full spectrum CBD oil have shown to outweigh isolated cannabinoids. It's due to what's become known as The Entourage Effect; essential cannabinoids CBD, CBG, CBC, CBN, THC, and terpenes work together to provide longer lasting relief for both you and your pet.
Is CBD Oil For Cats Safe?
While cats and CBD haven't been the focus of scientific research, meow, more and more veterinarians are comfortable recommending it to their clients and deem it safe for animals.
However, the proper serving is essential. While the side effects are limited and easily stopped, they include drowsiness and gastrointestinal issues or upset tummy.
Is THC from MMJ Safe For Cats?
Unequivocally, no. Marijuana is not safe for cats. THC is psychoactive and has sent more than one pet for an overnight or more extended visit to the vets. CBD Oil for cats from Steve's Goods is derived from hemp, and minimizes the presence of THC for cat consumption.
What's the Difference Between CBD Hemp Products for Cats and CBD for Humans?
The most significant difference is the potency and the flavor. Salmon flavored CBD oil might not dance across your tongue and smoothly as your cat's. For easier measurement, our Pet CBD oil tinctures comes in 75 mg. and 150 mg., administering a much lower strength of CBD oil for cats or dogs than oil made for humans.
CBD Oil For Cats – Benefits
As long as your administering the proper dose, it appears the benefits are far and wide for your furry feline friend.
Dr. Angie at Boulder Holistic Vet is encouraged by the results she sees in her clients. She wants to be sure all cat parents know this natural option.
Some of the ways she uses it in her practice are:
Improves quality of life
Relieves tummy issues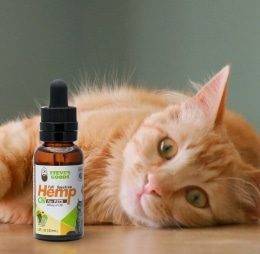 How Do I Begin Adding CBD Oil to My Cat's Diet?
When adding CBD to your pet's health regimen, the best way is to start slowly and increase the dose every few days, a process called titrating. If your cat is on pharmaceutical medications, it's vital to work with your vet and be sure to ask the right questions before discontinuing ANY prescription.
Some veterinarians are more comfortable with CBD than others. If yours doesn't abide by this natural option, don't let it stop you from the potential well-being of your pet. Seek out those knowledgeable in the protocols and talk with them. Perhaps you can work together with your vet to expand their views through achieving results.
Conclusion
While studies on cats have yet to take the forefront, anecdotal evidence piles up every day; stories of seemingly miraculous turnarounds.
We highly recommend working with your veterinarian when administering any supplement to your furry pal or gal pal, especially if they're prescribed pet pharmaceuticals of any kind.
Our CBD Oil for Pets comes from pure Colorado grown CBD. It is stocked full of omegas from a Wild Caught Alaskan Salmon Oil base and comes in two potencies, 75 mg. and 150 mg., for different sized pets.
We look forward to assisting you with all your pet CBD needs.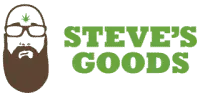 Thank you for choosing CBD for Cats from Steve's Goods!
For recent copies of our lab test results…
visit our Certificates of Analysis on this page.
Check us out on Instagram and Facebook!
If you would like to join our affiliate program…
…please find our portal here.
-For copies of our recent lab test results…
…visit our Certificates of Analysis on this page.