Descripción
Descripción
1 oz del Bálsamo de Alivio de CBD de Steve's Goods se mezcla para incluir ingredientes naturales de alta calidad utilizando hemp extraído de la cosecha de las mejores granjas y laboratorios de hemp de Colorado.
Detalles de Producto:
Frascos de 1 oz
250mg CBD
Ingredientes totalmente naturales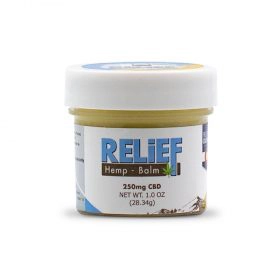 Ingredientes:
Aceite de palta natural,Manteca de karité, Cera de abejas,Aceite de semilla de hemp,Espectro completo organico, Extracto de flor de hemp, Vitamina E, Aceite de cajeput, Aceite de alcanfor, Aceite de lavanda, Aceite de eucalipto, Aceite esencial de menta de maíz
Cómo utilizar
Rompa un trozo del concentrado de CBD y espolvoréelo directamente sobre o mezcle con su canabis.
Recomendamos una plataforma de dab, un bolígrafo de dab u otros dispositivos utilizados para consumir cannabinoides concentrados, o incluso mezclarlo con sus cigarros de canabis o pipas.
Esto puede ser usado con nuestro famoso CBD Starter Pack.
So Why Is CBD Relief Balm from Steve's Goods a different kind of CBD Cream?
The differentiator for this CBD cream is that it is made with full-spectrum CBD (Cannabidiol), in high potency. CBD is a cannabinoid found within cannabis plants. CBD from hemp works entirely differently than does THC from marijuana. Perhaps the most distinctive difference is that CBD is non-psychoactive and will therefore not inhibit the user.
What, exactly, is a CBD-Infused Topical Cream?
Let me take you through the process of how such a miracle worker cream is created. First CBD is extracted from the Hemp plant through an Ethanol method, and then the CBD is blended with the desired ingredients, usually olive oil or coconut oil, along with some additives like essential oils to further amplify the relief, to form a CBD-infused topical cream.
Does CBD Relief Balm Work?
Yes, CBD balm works. For what? It depends on your health, experience, and a number of other issues. CBD Relief Balm is not a suitable replacement for prescriptions or medicinal treatments of any kind.
We encourage you to consult your doctor or medical professional in advance of making decisions to use our products in lieu of any others. E-Nail Wax and Shatter Bundle is sold and marketed as a bundle of supplements with a device for consumption of them.
Who Does CBD Work For?
Among hemp & CBD's largest customer audiences are blue-collar laborers, and fitness and work out enthusiasts. Those are a great percentage of Steve's Goods customers, and many of them love this balm.
How Much CBD Is There In 1 oz CBD Relief Balm jars from Steve's Goods?
250-500mg of full-spectrum CBD is contained in each unit.
How long will it last?
Daily Relief Balm users can expect a jar to last between 1-2 months.
Why choose Steve's Goods CBD Relief Balm?
We are committed to changing the hemp industry. For 3 years we have formulated and reformulated to get to these cornerstone products. Excellent products. Team dedication to the hemp movement. Steve's Goods CBD Relief Balms are different, and we encourage all hemp enthusiasts to experience that difference.
~Steve's Goods is on Social Media!~
Check us out on Instagram and Facebook!
-If you would like to join our affiliate program…
…please find our portal here.
-If you are interested in bulk and wholesale options for this product…
…please find our wholesale program here.
-For copies of our recent lab test results…
…visit our Certificates of Analysis on this page.
Este producto no debe ser usado ni vendido a personas menores de 18 años. Este producto debe usarse solo como se indica en la etiqueta. It should not be used if you are pregnant or nursing. Consulte con un médico antes de usarlo si tiene una afección médica grave o si usa medicamentos recetados. Todas las marcas comerciales y derechos de autor son propiedad de Steve's Distributing LLC. Estas declaraciones no han sido evaluadas por la FDA. Este producto no está destinado a diagnosticar, tratar, curar o prevenir ninguna enfermedad. Los resultados individuales de la pérdida de peso variarán. Al utilizar este sitio, acepta seguir la Política de privacidad y todos los Términos y condiciones impresos en este sitio. Nulo donde esté prohibido por la ley.