What Is CBD Shatter? Full Spectrum Blog | CBD Basics – Best of 2020
What is CBD Shatter? Look closely, though the answer is complex, it's actually quite simple to see. CBD isolate is the base and through various methods, it is changed into the form of hemp slab or shatter.
Hemp extracts in this state are glass-like in texture and solid like crumble CBD wax; the feel and consistency are definitely unique.

Legal CBD Dab Shatter Basics: Q&A
How is CBD Shatter made?
At Steve's Goods, we begin with fine Colorado-only hemp. We extract full spectrum hemp crude material from it. The resulting solution is then turned into a full spectrum CBD distillate, and from this, it becomes possible to filter isolate crystallized CBD in seclusion and for 99% purity.
The rest of the process involves light deprivation and proprietary methodology that differs from company to company.
What Is CBD Isolate Exactly? 
An isolate of CBD is a product that contains nothing from the hemp plant other than Cannabidiol. What is CBD shatter then? Isolate "shatterized."

Types of CBD Isolate Products
CBD Shatter –
CBD shatter is one type of finished product that can be considered CBD isolate based. The term shatter is thrown around differently from vendor to vendor, but the typical product is 90% or more CBD isolate. Sometimes terpenes are reintroduced for flavor and for nano and bioavailability. Such is the case with Steve's Goods CBD isolate shatters.
CBD Edibles –
CBD Isolate gummies are delicious. They are typically infused with hemp extract in one of two ways: by recipe or by spray-on. Both methodologies (can) produce top-notch products, though spray-on solutions typically distribute CBD differently depending on which gummies are closer/further from the spraying mechanism when coated. Steve's Goods favors top-recipe formulations, but in certain cases, spray-on gummies can be formulated better and produce the best product. We have offered both fully formulated CBD and spray on CBD gummies over time.
You can infuse any food with isolate –
Word of caution: sometimes this works out better than others. It typically works best to infuse with CBD isolate as opposed to broad spectrum or full spectrum concentrates. The more of the plant left in the extract, the more plant taste there is to account for in formulation. Isolate is commonly referred to as tasteless; believe us when we tell you that overdoing it definitely makes a difference in taste when it comes to CBD edibles. We recommend recipes that don't taste like hemp dabs after cooking.

CBD Capsules –
Pure CBD isolate crystals can also be encapsulated and can be offered as a daily supplemental ingestible. We offer these at Steve's Goods as well, and we are the source of the extract within. If you fancy a controlled and predictable CBD serving, this is an excellent option you need only wait to digest to feel.

How to Use CBD Shatter
Some people think that CBD shatter can be used in cooking if it is infused into butter. However, melting the shatter down can damage and destroy the isolated cannabinoid and make it less effective. If you're looking to cook with CBD isolates, then it's best to find crystals, powder, or an isolate tincture.
For the regular cannabis concentrate user, or for those who would love to be but cannot dab THC, CBD shatter may be the outlet you crave.
Far and away
CBD dabbing is the best way to consume this hemp concentrate and is a super speedy delivery method for high potencies of Cannabidiol.

What are the best methods for hemp dab shatter consumption?
Grab yourself a ½ gram or 1 gram container of Steve's Goods CBD shatter dabs, and heat it over a nail, an e nail, a battery device, some hash paddles, a dab rig, or even a joint or blunt as a sprinkling to make the ideal cannabis combo. Dab shatter solo or mix with "other" dabs for a ride down the tasty street with Steve.
Most seasoned dabbers who add our shatter to a mix end up ecstatic over the enhancement of our award-winning terpene profiles. THC or CBD isn't the question in this situation. The question is: why didn't you think to combo 90% potency CBD sooner?
Potential Benefits of CBD Shatter
The World Health Organization (WHO) has repeated multiple times since 2017 that CBD is safe.
It is non-psychoactive (nonintoxicating) and provides Cannabidiol to the endocannabinoid system in humans (and all mammals) that craves cannabinoids.
Most of our customers agree that small, regular, short-term supplementation of CBD is positive for them, and they come back for more due to the master formulations that win Steve's Goods our awards.
What to expect from Steve's Goods Shatter
What is CBD Shatter, ultimately? Fast delivery of CBD to the body. Supplementary benefits.
Steve's Goods does not recommend our shatter or products medically. CBD concentrates are not replacements for prescriptions or medical advice. If short term supplementation does not help with your desired outcome, consult a doctor. Do not add hemp products to your supplementation regimen prior to consulting your medical professional.
Closing Guidelines on CBD Shatter
What is CBD Shatter? It's a fan-favorite hemp concentrate from Steve's Goods and is part of a global award-winning family of products upon which we have built our global brand.
It can rush CBD into the body upon smoking and is a great product for combo cannabis users, and for those with a 'no THC' restriction day-to-day.
If you have no THC restriction, you might consider Steve's Goods' other waxes for a broad spectrum concert of hemp cannabinoids that is further balanced, diverse, and ready to provide the entourage effect in your hemp experience.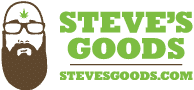 ~Steve's Goods is on Social Media!~
Check us out on Instagram and Facebook!
-If you would like to join our affiliate program…
…please find our portal here.
-If you are interested in bulk and wholesale options for this product…
…please find our wholesale program here.
-For copies of our recent lab test results…
visit our Certificates of Analysis on this page.