What Is CBD Shatter? Full Spectrum Blog | CBD Basics – Best of 2020
CBD Shatter is one of the first CBD concentrates to hit the market. CBD isolate and plant-based terpenes combine at a high temperature into a highly concentrated product. It's the purest form of concentrate on the market – up to 99% pure CBD.
This makes CBD Shatter differentiate from Full Spectrum CBD.
As a 2021 award winner of CBD concentrates, we consider ourselves one of the best CBD shatter brands available. We grow our own hemp and enhance our products with extra CBG to make our CBD shatter even stronger.

CBD Shatter: How To Use It
CBD shatter is solid, concentrated CBD. This makes it pure, and desirable for individuals that want a product without other cannabinoids. Just mix the CBD shatter with the CBG slab to get a well-rounded combo dab.
Hemp-plant-derived CBD shatter is perfect for adding to your other dabs or even adding to your cannabis or hemp flower to increase the potency.
That's why at Steve's Goods we specialize in CBD shatter with plant-derived terpenes. Additionally, we do this by using terpenes that taste and smell like real cannabis strains but without the high price of cannabis terpenes.
The hemp extract we use in every CBD Dab is pure and comes from our Colorado hemp farm. All of our products at Steve's Goods are Colordao-grown.
Pineapple Express CBD Isolate Shatter
Our isolate comes in an easy-to-use powder to be accessible in whatever form is easiest for you. Furthermore, CBD Isolate is the purest form of CBD by which to garner daily intake, whether sprinkle in a bowl, topping bong slides, added to joints, or rolled into blunts.
CBD Shatter comes from refining CBD Isolate powder. It is after we add plant-derived terpenes and heat, and let it settle, that it becomes CBD shatter.
No High Feeling from CBD Shatter
CBD concentrate shatter, or any pure form of CBD for that matter, will not produce the high effect of THC.
However, CBD shatter doesn't get users 'high,' because it is not psychoactive. Many users have described a "body high," associated with the relaxing feelings or a "focused state" of mind that follows consuming CBD shatter.
Terpenes play a role in the entourage effect, that can make some feel more uplifted and happy. Combining the two together will offer you an experience that has shown to be calming and focusing.
How To Use CBD Shatter
CBD Starter Pack
Are you looking for the best CBD device and goods on the market? Then look no further than our CBD Starter Pack. This dab pen device pack has 1 device, 1 gram of CBD Cartridge, and 1 gram of Blueberry OG CBD Shatter.
EZ-Bake Enail – Dab Nail
Do you need the perfect temperature without the fuss? Our custom dab nail is your best option. Just set it up with your favorite glass piece.
Therefore, it isn't the best idea, you can leave our custom dab nail on for 24 hours and it will still stay at the same heat the whole time. Be cautious about dab nail placement to avoid potential hazards. 
Little Dipper
For CBD shatter wax dabbers on the go. This dab pen is perfect for traveling. It's lightweight and can be easily transported. Just put the metal cap back on and it's ready to go back into your pocket, purse or backpack.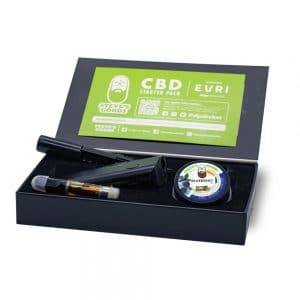 At Steve's Goods, we have some of the best CBD shatter flavors available. Our flagship terpene flavors include:
New flavors include:
 What's more, we also offer CBD isolate Slab that doesn't contain any terpenes.
Looking for CBD Shatter for sale? Browse through our assorted flavors or check out our other CBD concentrates today.
Undoubtedly, if you feel that advice should be sought from your medical professional, feel free to do so. CBD products are becoming more mainstream and the health benefits of modern CBD vastly outweigh the chance of any side effects.
Legal CBD Dab Shatter Basics: Q&A
How is CBD Shatter made?
At Steve's Goods, we begin with fine Colorado-only hemp. We extract full-spectrum hemp crude material from it. Even so resulting solution is then turned into a full-spectrum CBD distillate. From this, it becomes possible to filter isolate crystallized CBD in seclusion and for 99% purity.
The rest of the process involves light deprivation and proprietary methodology that differs from company to company.
What Is CBD Isolate Exactly?
An isolate of CBD is a product that contains nothing from the hemp plant other than Cannabidiol. But what is CBD shatter? Isolate "shatterized."

Types of CBD Isolate Products
CBD Shatter –
CBD shatter is one type of finished product that can be considered CBD isolate based. The term shatter is thrown around differently from vendor to vendor, but the typical product is 90% or more CBD isolate. Sometimes terpenes are reintroduced for flavor and for nano and bioavailability. Such is the case with Steve's Goods CBD isolate shatters.
CBD Edibles –
CBD Isolate gummies are delicious. They are typically infused with hemp extract in one of two ways: by recipe or by spray-on. In other words, both methodologies (can) produce top-notch products, though spray-on solutions typically distribute CBD differently depending on which gummies are closer/further from the spraying mechanism when coated. Steve's Goods favors top-recipe formulations, but in certain cases, spray-on gummies can be formulated better and produce the best product. We have offered both fully formulated CBD and spray on CBD gummies over time.
You can infuse any food with isolate –
Word of caution: sometimes this works out better than others. It typically works best to infuse with CBD isolate as opposed to broad spectrum or full spectrum concentrates. The more of the plant left in the extract, the more plant taste there is to account for in formulation. Isolate is commonly referred to as tasteless; believe us when we tell you that overdoing it definitely makes a difference in taste when it comes to CBD edibles. We recommend recipes that don't taste like hemp dabs after cooking.

CBD Capsules –
Pure CBD isolate crystals can also be encapsulated and can be offered as a daily supplemental ingestible. We offer these at Steve's Goods as well, and we are the source of the extract within. If you fancy a controlled and predictable CBD serving, this is an excellent option you need only wait to digest to feel.

Potential Benefits of CBD Shatter
The World Health Organization (WHO) has repeated multiple times since 2017 that CBD is safe.
It is non-psychoactive (nonintoxicating) and provides Cannabidiol to the endocannabinoid system in humans (and all mammals) that craves cannabinoids.
Most of our customers agree that small, regular, short-term supplementation of CBD is positive for them, and they come back for more due to the master formulations that win Steve's Goods our awards.
What to expect from Steve's Goods Shatter
What is CBD Shatter, ultimately? Fast delivery of CBD to the body. Supplementary benefits.
Steve's Goods does not recommend our shatter or products medically. CBD concentrates are not replacements for prescriptions or medical advice. If short term supplementation does not help with your desired outcome, consult a doctor. Do not add hemp products to your supplementation regimen prior to consulting your medical professional.
Closing Guidelines on CBD Shatter
What is CBD Shatter? It's a fan-favorite hemp concentrate from Steve's Goods and is part of a global award-winning family of products upon which we have built our global brand.
It can rush CBD into the body upon smoking and is a great product for combo cannabis users, and for those with a 'no THC' restriction day-to-day.
If you have no THC restriction, you might consider Steve's Goods' other waxes for a broad spectrum concert of hemp cannabinoids that is further balanced, diverse, and ready to provide the entourage effect in your hemp experience.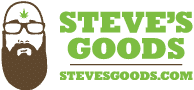 ~Steve's Goods is on Social Media!~
Check us out on Instagram and Facebook!
-If you would like to join our affiliate program…
…please find our portal here.
-If you are interested in bulk and wholesale options for this product…
…please find our wholesale program here.
-For copies of our recent lab test results…
visit our Certificates of Analysis on this page.