You don't have to be a kid to enjoy the pleasures of gummy candy. Cannabidiol Gummies combine the benefits of CBD with the deliciousness of classic gelatinous fruit-flavored candy. Health and sweetness combined in one luscious treat.
Plus, CBD gummies – can potentially help with a host of supplemental applications. Let's see where it all started.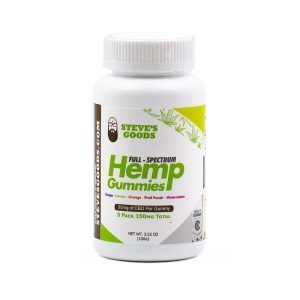 Where do gummies come from?
In Bon Appetit magazine's October 2014 article "A Brief History of Gummies," they explain that gummies, like every innovation, came from dissatisfaction and dream. "In 1920, Hans Riegel of Bonn, Germany, became frustrated with his dead-end job as a confectionary worker and started his own sweets company."
They didn't sell as well as he had hoped. He switched up and "produced a line of soft, gelatin-based, fruit-flavored treats in the shape of dancing bears (then a popular diversion at festivals in Europe). The name of his new business was a combination of the first two letters of his own first and last names and hometown: Hans Riegel of Bonn=Haribo."
CBD became popular quickly
It wasn't long after CBD went mainstream that it started showing up in different products, some more useful and effective than others. This is important because new CBD products are popping up every day. Not all of them are worth your time or money.
Doing your research is important when choosing CBD gummies. Just because it says CBD on the label, doesn't necessarily mean you're going to feel the effects of the most potent form of CBD. Sticking with a product that's made from pure, natural ingredients can make you feel better about what you're consuming while feeling the positive impact that comes from cannabidiol CBD.
What are the best CBD Gummies?
We worked with several companies over months to get our formula just right. Our full-spectrum CBD Gummies are made with pure Colorado-grown hemp. Each serving contains 30 mg. of CBD, a righteous dose delivered in a tasty package. Full Spectrum means they're made from the whole plant and provide all the beneficial cannabinoids and terpenes.
The Science Behind CBD Gummies
CBD Gummies themselves have not been studied, but more and more research is being done on CBD itself.
Research shows hemp is useful in many forms and applications. Eating it mixed in food or drink is proving to be an effective way to get relief. The difference in the delivery of CBD by utilizing it under your tongue, smoking it, or eating it is the length of time it takes to be assimilated by your body; either through digestion or directly into your bloodstream.
One of the most common questions people ask: Is CBD legal? The answer is yes, CBD is legal in any form as long as it's made from industrial hemp and contains less than 0.3% THC by weight. These types of edibles are very different from marijuana edibles; edibles with more than 0.3% THC are expected to produce a "high" feeling. CBD will not do the same.
Why Use CBD Gummies?
CBD comes from the hemp plant, and unflavored has a very green earthy taste. Some people love it. Some people not so much. Our CBD Gummies taste like fresh-picked fruit.
Our CBD Gummies won't leave you wrinkling your face or dreading the taste. Recalling the words of Mary Poppins, "A spoonful of sugar helps the medicine go down!"
Side effects from CBD are rare
When you take excessive amounts, you might get drowsy, experience dry mouth, or in extreme cases, diarrhea. On an interesting note, studies are finding that CBD may relieve the symptoms of overconsumption of THC.
Steve's Goods CBD Gummies
We offer two kinds of gummies; full spectrum gummy triangles complete with all the cannabinoids, and CBD isolate gummy bears filled with pure, straight CBD.
Full Spectrum Hemp Gummies
Steve's Goods Full Spectrum CBD Gummies give you not only 30 mg. of CBD per serving but offers the beneficial goodness of the whole plant.
Full Spectrum, these are the best CBD gummies for Rest in you're not concerned about taking minuscule amounts of THC, non-psychoactive in this amount. They come in Orange, Grape, Fruit Punch, Lemon, Watermelon. They're vegan and GMO-free.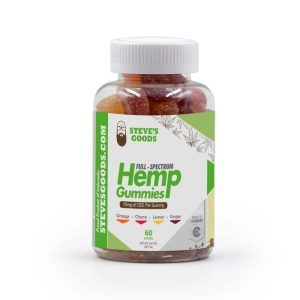 How Many CBD Gummies Should I Take?
If you already know how many milligrams of CBD put you in your sweet spot, go for it.
If not, we recommend starting slow and building your way up. It's called titrating. We explain it in our serving size guide here. We're not worried about you taking too many CBD Gummies, we don't want you to waste product, and once you've found relief, you don't need to eat more!
What If My CBD Serving Doesn't Work?
The ideal way to get to the perfect serving is using titration, the method mentioned above. If you follow those instructions, you'll get to an amount that works. Sometimes it takes a little experimentation.
Conclusion
The best CBD Gummies available are right here at Steve's Goods. CBD comes in different forms and products because we're unique in our desires, tastes, and needs. CBD gummies are a sweet and delicious way to make the supplement go down.
~Steve's Goods is on Social Media!~
Check us out on Instagram and Facebook!
-If you would like to join our affiliate program…
…please find our portal here.
-If you are interested in bulk and wholesale options for this product…
…please find our wholesale program here.
-For copies of our recent lab test results…
visit our Certificates of Analysis on this page.