Hemp Seed Oil vs CBD Oil: What You Should Know About the Differences Between the Two
Hemp is not new. It's a versatile plant and has been used for centuries in all sorts of ways, including for clothing, building, food, and other things. And now that's it been identified apart from its famous psychoactive cousin, marijuana, it's been reintroduced in the USA. Once again, this jack-of-all-trades plant is being accepted by mainstream channels. Slowly, but steadily.
Just as the differences between CBD from hemp and THC from marijuana are vast, the variance between hemp seed oil and CBD oil from hemp form a gorge. Hemp seed oil from only the seeds and stems doesn't have the same homeostasis inducing qualities as the CBD made from whole-plant material.
If you're looking for the purported relief CBD offers, hemp seed oil alone isn't going to cut it. But once you know what to look for, you won't get one when you want the other. Even googling the differences can be tricky. I know it's difficult to believe, but some websites don't even know what they're talking about!
Here's how to know what you're getting when you're purchasing oils made from the hemp plant.
Hemp Seed Oil Extract vs. Full Spectrum CBD Oil – How Do I Know What I'm Getting?
The most direct way is to check the ingredients on the bottle. Sativa Hemp Seed Oil without the word CBD anywhere within sight is your first clue. If the product doesn't list CBD or cannabidiol as an ingredient, it isn't CBD oil.
Another thing to look for is the price. Hemp Seed Oil is made from crushed seeds and stems. It's cheaper to produce and therefore much less expensive in the marketplace.
What is Hemp Seed Oil?
The seed is the keyword to look for to determine if you're getting an oil with or without CBD in it. Hemp oil made from seeds and stems does not contain CBD.
However, don't write off hemp seed oil on its own. It's good for you in an assortment of other ways. With a perfect balance of omega 3 and omega 6, it's good for your skin and provides you with a wide variety of minerals void in many diets. It's also rich in Vitamin E. It's a great base to create your own CBD products.
Here's a little hidden salad dressing tip. Mix hemp seed oil with umeboshi plum vinegar for a tangy treat!
What is Full Spectrum CBD Oil?
Full-Spectrum CBD Oil is extracted from the whole plant and contains a range of beneficial cannabinoids and terpenes that feed your endocannabinoid system (ECS). Discovered during the early 1990s, the ECS helps keep all of your body's systems working harmoniously via CB1 receptors in the brain and CB2 receptors throughout the organs.
Things to look for when purchasing CBD oil: Is it full-spectrum? How many milligrams of CBD is in the bottle? Where is the hemp sourced? Is there a certificate of analysis (COA) available on every batch of the product? And does the company have a customer service department you can get in touch with, have your questions intelligently answered, and feel like you're being taken care of?
We advise due diligence when choosing where to purchase your CBD Products. Just like there's a difference between Hemp SEED Oil and CBD Oil from hemp, there are essential and notable distinctions in CBD products. You see, the bottom line is, if you get turned off to CBD because you're taking an inferior product when a superior one would help you, you're potentially being robbed of your health and well-being.

Can Hemp Seed Oil Get You High?
No, so don't try it!
Neither hemp seed oil nor CBD oil has psychoactive properties; they will not get you high. Hemp Seed Oil made from seeds and stems contains no THC or CBD.
Full-spectrum CBD oil from industrial hemp contains 0.3% THC or less, a negligible amount that doesn't register on drug tests. If you're concerned about ingesting any amount of THC, Broad Spectrum products are THC-free but offer all the other cannabinoids of full-spectrum.
Does Hemp Seed Oil Have THC?
Hemp Seed Oil does not contain THC, and won't get you buzzed.
Is there CBD in Hemp Seeds?
Hemp Seed Oil does not contain CBD, nor does it provide the same relief.
How to Press Hemp Seeds For Oil?
The best answer we can come up with for this question is, in the words of Shirley Conran, "life is too short to stuff a mushroom." In other words, if you want to spend the precious time you have making hemp seed oil when there is plenty available at reasonable prices, we're not going to stop you. But, we're also not going to tell you how.
The Big Wrap-Up
Hemp seed oil and CBD oil from hemp both have their place on the shelves in your home, but for different reasons.
Hemp Oil made from hemp seeds and stems is a wonderful source for vitamins A and E, full of omegas 3 and 6, delicious in the kitchen, and can be used as a base in beauty products. But it doesn't feed your endocannabinoid system or bring balance to your body.
CBD Oil usually comes in 15 or 30 ml. bottles and costs more than you think it should for something that size. Until you start taking it, that is, then you can't believe you waited so long to try it.
Our pure, quality CBD oil is made from hemp grown in the United States. It's extracted according to the latest industry standards, and can "show you its stinkin' papers!!!" COA's come with every batch. The amount of CBD and whether it's full-spectrum, broad-spectrum, or isolate is clearly labeled on the package. We are the best CBD oil in Denver for a reason.
The article accessible by scrolling down on our homepage, "How to Buy CBD Online," explains what goes into making products, the hurdles CBD companies have to jump over, and ultimately why CBD products are priced as they are.
Our line of CBD goods is some of the highest quality for the lowest price on the market. We work with farmers, extraction facilities, and packers to follow our products from seed to sale. Our goal is to keep raising quality while lowering costs.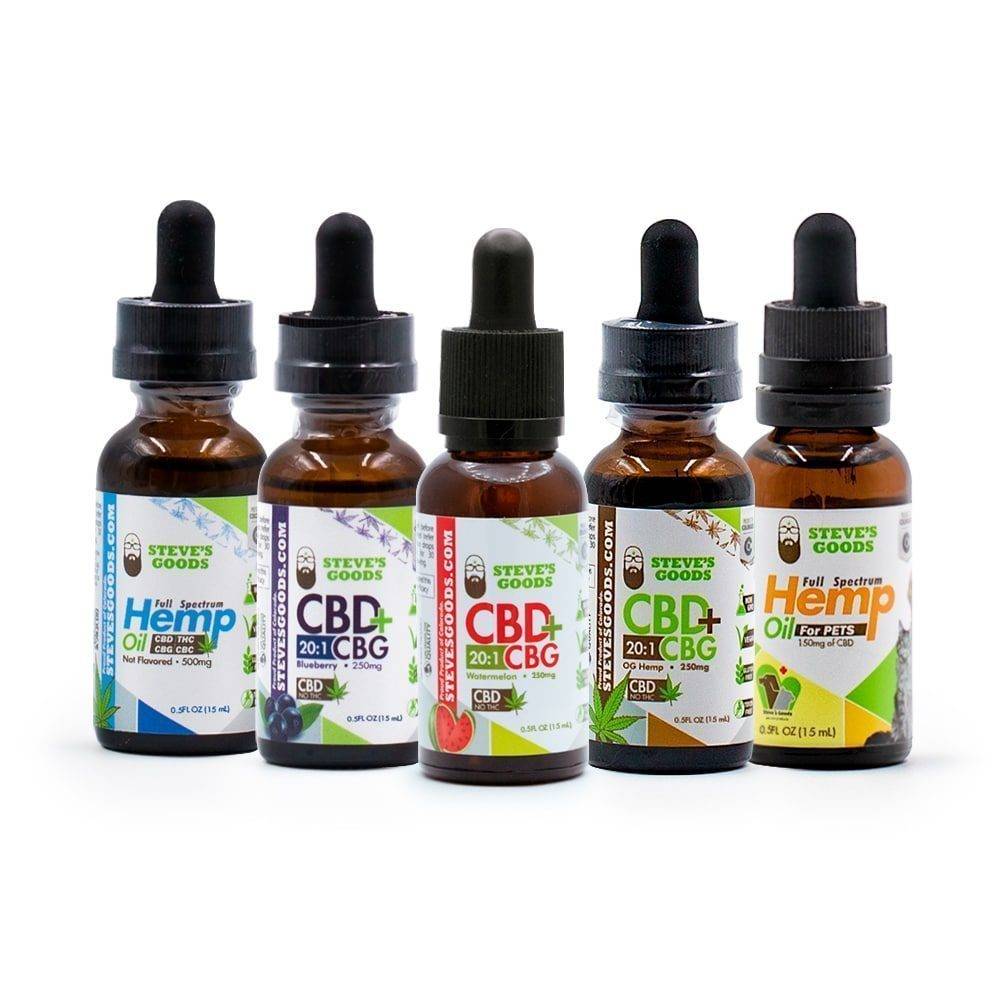 We look forward to assisting you in your quest for supplemental wellness.
~Steve's Goods is on Social Media!~
Check us out on Instagram and Facebook!
-If you would like to join our affiliate program…
…please find our portal here.
-If you are interested in bulk and wholesale options for this product…
…please find our wholesale program here.
-For copies of our recent lab test results…
…visit our Certificates of Analysis on this page.