Descripción
Descripción:
El aceite CBG de frambuesa azul de Steve's Goods es un clásico de culto entre nuestros clientes. Consideramos que esta es una tintura insignia y vendemos cada vez más a medida que pasa el tiempo. Elaborado con el mejor destilado de CBD de amplio espectro disponible en Colorado y luego mezclado cuidadosamente con terpenos de Frambuesa Azul. Este producto sin THC se encuentra entre los mejores de su clase. Es poderoso, potente y puro, y te encantará desde el momento en que lo pruebes por primera vez.
Detalles de Producto:
Concentrados de 500 mg a 2500 mg
Botellas de 15 mL o 30 mL
Sellado para la frescura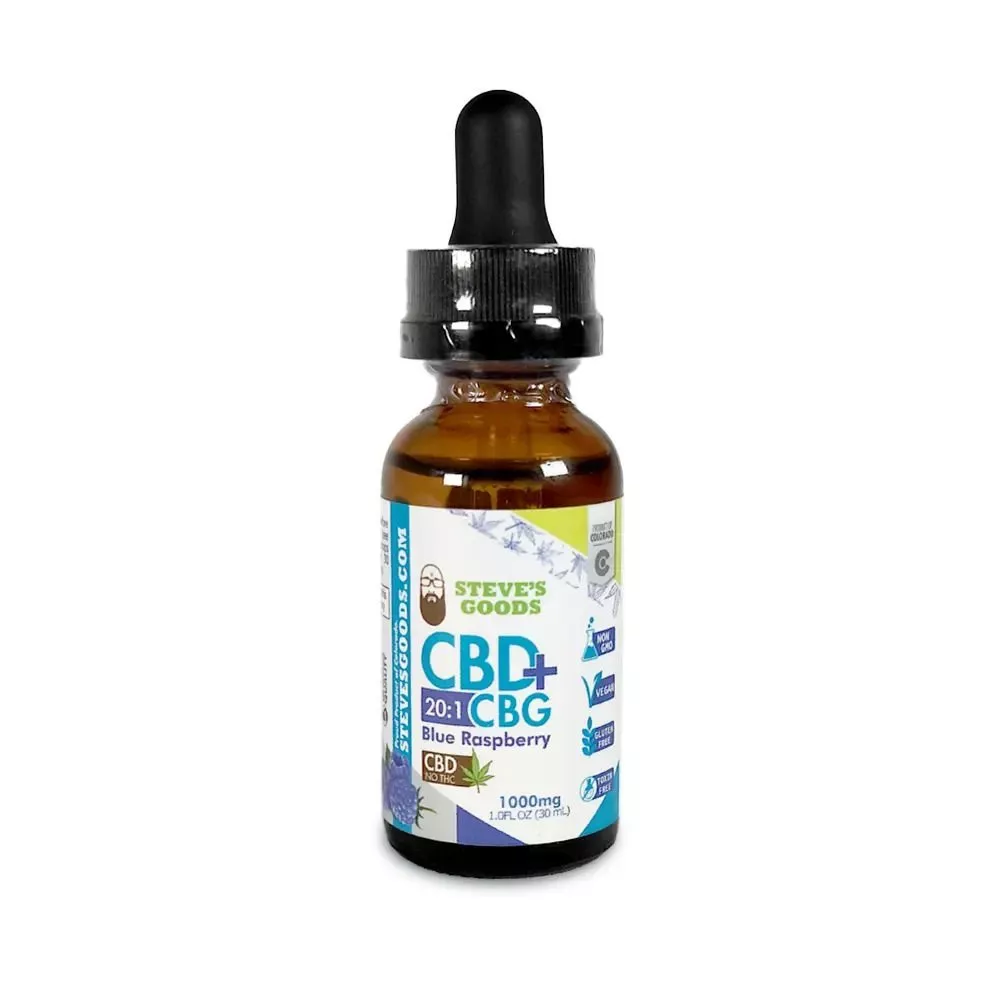 Ingredientes:
Destilado sin THC, frambuesa azul, aroma natural de frambuesa azul (a base de MCT), fruta de monje.
Cómo utilizar:
Tome un gotero una o dos veces al día. Agítese bien antes de cada uso. Úselo según sea necesario (consulte la tabla de tamaños de las porciones). Destinado a la suplementación a corto plazo.
Tabla de porciones
1000 mg / 30 mL
Por botella – CBD 1000 mg./ CBG 50 mg.
Por gotero – CBD 33.33 mg / CBG 1.66 mg.
Por gota – 1.66 mg de CBD / .08 mg de CBG.
15 gotas de 1000 mg administran de 24 a 25 mg. de puro CBD y 0.12 mg. CBG
More about Blue Raspberry CBG Oil
Why is Blue Raspberry CBG Oil from Steve's Goods a good value?
CBG Oils by Steve's Goods is our broad-spectrum CBD tincture based on the classic, award-winning CBD wax we first formulated. We whipped together the finest quality broad distillate CBD concentrate Colorado has to offer with a fruit and floral terpene blend that is out of this world, and the result is this delicious Blue Raspberry CBG oil.
Consider Blue Raspberry CBG oils
If you desire a very tasty, very pure, and very potent delivery method for a daily serving of necessary cannabinoids from hemp. from the moment you first try this product, this will be an obvious clearly good purchase, and you will understand why our customers love it so much.
When people experience lackluster products
Especially when those products accompany bad advice or inaccurate recommendations for application, they tend to give up CBD products altogether. The truth might be, you got a bum product, with no guarantees, and now you think it doesn't work! But that might not be the case. You might need a quality product. Perhaps CBD or CBG, supplemented according to your needs, could help you. But you have to stay curious and know your source.
What is the best way to consume Blue Raspberry CBG Oil?
Broad-spectrum CBG oils from Steve's Goods are made from THC-free distillate, meaning that all such products contain no THC. That makes these tinctures fully legal CBG Oil. Enjoy under the tongue, in a favorite non-alcoholic drink, or even added to a meal.
CBD vs CBG
Whether you are an experienced hemp supplements customer or you are just becoming curious about hemp and cannabinoids, we think you have made an excellent decision exploring Steve's Goods for answers.
Our Blue Raspberry CBG Oil is from a broad-spectrum CBD concentrate extract. By increasing the CBG from a minor ratio to the level of a notable ingredient as we do, we are able to magnify the entourage effects CBD is best-known for. CBG is commonly referred to as «the Mother of All Cannabinoids,» and we have to agree. In-concert with CBD, Cannabigerol is pleasantly potent and equally supportive.
By comparison…
…our Hemp Oil is made with full-spectrum hemp oil and is boosted in potency by pure CBD isolate. Being full-spectrum, CBD Hemp oil products include less than 0.3% THC, which helps for specific uses including supplemental relief and assistance with restlessness. It's a bit less expensive than CBG Oil and a great way to experience the direct benefits of full-spectrum CBD. It is also formulated with multiple types of the highest quality CBD concentrates.
I don't know if I believe in CBG oil. What now?
CBG oil products do work. How well depends on a number of factors including potency, purity, and power of formulation.
Steve's Goods Blue Raspberry CBG oil products, including this CBG oil tincture, are made from broad-spectrum quality CBD concentrate extracts. Our hemp is only, ever from Colorado. Our terpene blends are only, ever delicious and award-worthy. Our formulations win awards on a regular basis, so don't just take our word for it. And if you see the word blueberry next to any Steve's Goods product, you will know in advance that you were staring at something in a league of its own.
Steve's Goods does not recommend our Blue Raspberry CBG oil as a suitable replacement for prescriptions, treatments, or medications.
We encourage all customers to research hemp and to consult with a doctor or medical professional in advance of using products along with prescriptions or other medicines.
More Questions about our Blue Raspberry CBG Oil:
Who Do CBG Hemp Oils work for?
Our typical customer for this product is a combo cannabis user. That is broad in definition and includes a variety of cannabis consumption methods, device type preferences, flavor prejudices, and product combo possibilities. These types of users are typically after cannabinoid balance, taste enhancement, or just have a THC restriction professionally or personally.
Steve's Goods does not recommend our Blue Raspberry CBG oil as a suitable replacement for prescriptions, treatments, or medications.
We encourage all customers to research hemp and to consult with a doctor or medical professional in advance of using products along with prescriptions or other medicines.
Our CBD + CBG Oils: Guaranteed Pure and Tested for Potency
At Steve's Goods, we pride ourselves on offering some of the purest, most potent CBD available in the marketplace today. We source our hemp from local Colorado farmers, we track the quality of our products from seed to sale, with full traceability along the way.
Every batch is individually tested at a registered, state-of-the-art laboratory. We are happy to provide test results upon request. After the initial round of testing, the final product is sent to an independent lab to assure purity, consistency, and strength.
How much CBD is there in a bottle of Blue Raspberry CBG Oil from Steve's Goods?
250 mg – 2,500 mg of CBD are available in each bottle of CBD + CBG oil we sell.
For every 20 mg. of CBD in the bottle, there's 1 mg. of CBG. That's a 20 to 1 ratio.
The constant is every bottle has either 15 mL or 30 mL sizes only. This means, either 15-30 dropper fulls per container, each dropper contains 1 ml. and approximately 20 drops.
How long, on average, does a bottle of Blue Raspberry CBG Oil last?
Most people get 2-4 weeks of supplementation, depending on bottle size and formulation chosen.
Why choose Steve's Goods Blue Raspberry CBG Oil?
Lots of folks believe in the power of cannabis and have come to understand the benefits of CBD and CBG since all the buzz began. Still, plenty of folks find many CBD brands to be formulated for marketing more than effectiveness. Other folks might feel that hemp tastes terrible. For both of those types of people, we say this is the product for you. Discover the good taste and power of Steve's Goods in this Blue Raspberry CBG oil.
We have a 3-year history supplying our customers…
…with some of the most delicious and powerful CBG Oils on the market. As you know, tasting good is one thing; efficacy is another! Not a day goes by that we don't receive kudos from someone, somewhere, who has benefited from one of our products. And Blueberry CBG Oil is among people's favorites.
One of the common things we notice in reviews from our customers is how many other products they've tried before finding the satisfaction they receive with Steve's Goods tinctures. When products aren't made up to the quality and don't deliver it's hurtful in more ways than one.
Why is Locally Grown Colorado Hemp More Trusted Among Consumers?
You might be thinking to yourself, hemp is hemp. Why does it matter who grows it and where? And you might not be having that thought at all. But, if you are, here are some things to consider.
There are many factors in the mix when it comes to growing quality hemp. They include soil, temperature, nutrients, time of harvest, etc, etc. And, that's only the beginning of the story.
We track the industrial hemp used in our products
All of Steve's Goods products are made from locally grown hemp. Every batch is tested.
Thank you for choosing Blue Raspberry CBG Oil and CBG Products by Steve's Goods!
We worked pretty hard to be sure you could find us on the web, so we are glad you made it here. Please look around our CBD shop if you have not yet found what you are searching for. We have dozens of products, and we are sure to have a few options that suit you. And if you have a good look, and don't locate anything you want, please leave us a suggestion.
~Steve's Goods is on Social Media!~
Check us out on Instagram and Facebook!
-If you would like to join our affiliate program…
…please find our portal here.
-If you are interested in bulk and wholesale options for this product…
…please find our wholesale program here.
-For copies of our recent lab test results…
…visit our Certificates of Analysis on this page.
Este producto no debe ser usado ni vendido a personas menores de 18 años. Este producto debe usarse solo como se indica en la etiqueta. It should not be used if you are pregnant or nursing. Consulte con un médico antes de usarlo si tiene una afección médica grave o si usa medicamentos recetados. Todas las marcas comerciales y derechos de autor son propiedad de Steve's Distributing LLC. Estas declaraciones no han sido evaluadas por la FDA. Este producto no está destinado a diagnosticar, tratar, curar o prevenir ninguna enfermedad. Los resultados individuales de la pérdida de peso variarán. Al utilizar este sitio, acepta seguir la Política de privacidad y todos los Términos y condiciones impresos en este sitio. Nulo donde esté prohibido por la ley.