CBD for Pets
Steve's Goods Blog is dedicated to hemp education. Fortunately, Steve's Goods employees love dogs just as much as we love our plants. Enjoy our answers to the main curiosity that likely brought you here: How does CBD affect dogs?

A Brief History Of Dogs
We have had a history with Dogs for over 10,000 years. Ancient peoples formed relationships with wolves that were symbiotic and mutually beneficial. Through today, we make the companion trade with each others' ancestors. People provide dogs food, water, and shelter in exchange for a lifelong best friend. Dogs love us, and we love Dogs! For this reason, we want our dogs to be happy, healthy, and comfortable.
The Endocannabinoid System In Dogs
This bodily system has been around since the Cambrian Explosion 500-million years ago. The Endocannabinoid system (ECS) is responsible for regulating the body into a balanced state known as homeostasis. The ECS has evolved over the years, ever-increasing in complexity. All mammals, including dogs, have the ECS and it is remarkably similar to one another. Even though research is new it is showing that dogs and humans have virtually the same ECS as one another.
How Can CBD Help Dogs?
Every dog has its own personality and its own health challenges in life. Many common problems can affect dogs as they age. Luckily hemp products are bolstered with health benefits to alleviate many of your dog's day to day issues.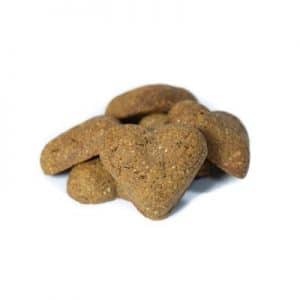 What kinds of issues can CBD help dogs with?
Dogs may feel uneasiness from loud noises such as fireworks or thunder. Some of our poor, lovable sidekicks hide in a corner and experience racing emotions and uncontrollable shaking until the said event passes. Thunderstorms can last from minutes to hours and we all feel horrible watching a beloved pet cower in fear. CBD products, especially full spectrum ones, maybe an option to help your pet find peace of mind in a moment of uneasiness.
Every pet gets older
It is sad to see; especially when they begin to experience physical wear and tear, normally manifesting in limited mobility. In the end, nothing can reverse or stop the aging process and physical deterioration of the body, because it takes a great amount of effort and energy for them to do what they used to. Your old friend will be able to get around better, for a little longer, and we smile thinking about that.
CBD Side Effects On Dogs
Every dog is different. Some dogs may not have any side effects while others may experience taste or other issues. It is important to discuss with your vet before giving your dog hemp products because some medications may not interact well with CBD and because research on pet CBD products in such interactions is lacking. Your vet will know if CBD may be able to make an adjustment to give your buddy optimal health. You should ask your vet specifics regarding your dog rather than generalizations like "how does CBD affect dogs."
When giving your pet Cannabidiol, you should look out for:
Drowsiness
Vomiting
Diarrhea
Itching
Dizziness
These are rare side effects, but they are possible and should be watched for. Most of the time side-effects are minor and fade away as the body processes hemp cannabinoids ongoing.
Will CBD Get My Dog High?
This is the most common second question behind: how does CBD affect dogs? By U.S. Federal Law hemp contains no more than 0.3% THC by volume. THC (tetrahydrocannabinol) is the psychoactive component to cannabis that is associated with but is different than CBD. The amount of 0.3% will not get your dog 'high.' Whether THC or CBD, your dog will process what cannabinoids it ingests from our pet products without psychoactive side effects.
In Short, NO hemp products will get your dog high.
CBD Serving Sizes For Dogs
This Section is a simple discussion. Speak with your veterinarian in order to determine what is best for your pet. Steve's Goods does not recommend our products as replacements for or stand-alone treatments for medically diagnosable or treatable conditions. Do not discontinue medications of any kind in favor of CBD products.

Our CBD dog treats have 10 mg of CBD per treat
The general rule is to determine the maximum daily serving of CBD for your dog (5 mg per 2.2 lbs). So, a 50 lbs dog would take a maximum serving of 113.6 mg ((50 lbs / 2.2 lbs)*5 mg = 113.6). It is best to start on the lower end of the Serving and slowly increase it until the desired effects are made.
It is important to note that consuming CBD orally takes around 30 minutes to begin to metabolize. Once in effect, it should last at least 4 hours.
Where Veterinarians Stand on CBD For Pets
Veterinarians have a lot of rules and regulations to comply with; specifically relating to the state of practice. Because of this many Vets are wary about discussing CBD use for pets. In some states, however, there may not be any restrictions and your vet may have an opinion on CBD and its appropriateness to help your pet.
Steve's Goods Hemp Bites – CBD Dog Treats
Your Dog will love our Hemp Bites. They're Grain-free! They are made with only 12 ingredients including Bacon Fat. Dogs get excited over either of our flavors, Bacon or Cheddar. There are 25 full spectrum treats per bag, ready to add 10mg of CBD per treat to your furry friend's routine. How does CBD affect dogs, again? In this case, it's really tasty!
CBD For Pets
Our dog CBD oil is a versatile tincture for pets. We formulate with  Wild Caught Alaskan Salmon Oil for a base and blend it proportionally with the finest Colorado full spectrum hemp extract.
Steve's Goods CBD pet tincture formulations come in 4 sizes and potencies:
15mL-75mg, 150mg
30mL-150mg, 300mg
We hope you let us know if you have questions and how your experience with Steve's Goods CBD pet products turns out. Thanks for reading "How does CBD affect dogs" from our Full Spectrum University Blog CBD Basics series!

~Steve's Goods is on Social Media!~
Check us out on Instagram and Facebook!
-If you would like to join our affiliate program…
…please find our portal here.
-If you are interested in bulk and wholesale options for this product…
…please find our wholesale program here.
-For copies of our recent lab test results…
visit our Certificates of Analysis on this page.