Everything you need to know about CBD wax
Discover the valuable benefits of CBD wax with this comprehensive resource page. Gain an understanding of how to use it and realize its potential for improving your lifestyle!
CBD wax is the consistency of the concentrated cannabinoid. Wax gets its name because it resembles "a sticky yellowish moldable substance secreted by honeybees as the material of honeycomb; beeswax." – Oxford Language.
CBD wax does not contain beeswax, but its name correlates to how it looks.
CBD wax comes from hemp-derived distillate. In most cases, this distillate is THC-Free. The removal of THC from a hemp-derived distillate uses chromatography. This process is how gas companies remove lead ions from gas. This technology was created back in 1900 by Italian-born scientist Mikhail Tsvet.
Now, over 120 years later, this technology is being used in the hemp industry. The same technology has allowed extraction labs to remove THC from the hemp-derived distillate. 
This technique is also called flash chromatography which is a system that targets the cannabinoid THC and removes it from the mixture, leaving a THC-Free distillate.
We observe that this process turns the wax yellowish and resembles a honeycomb or beeswax.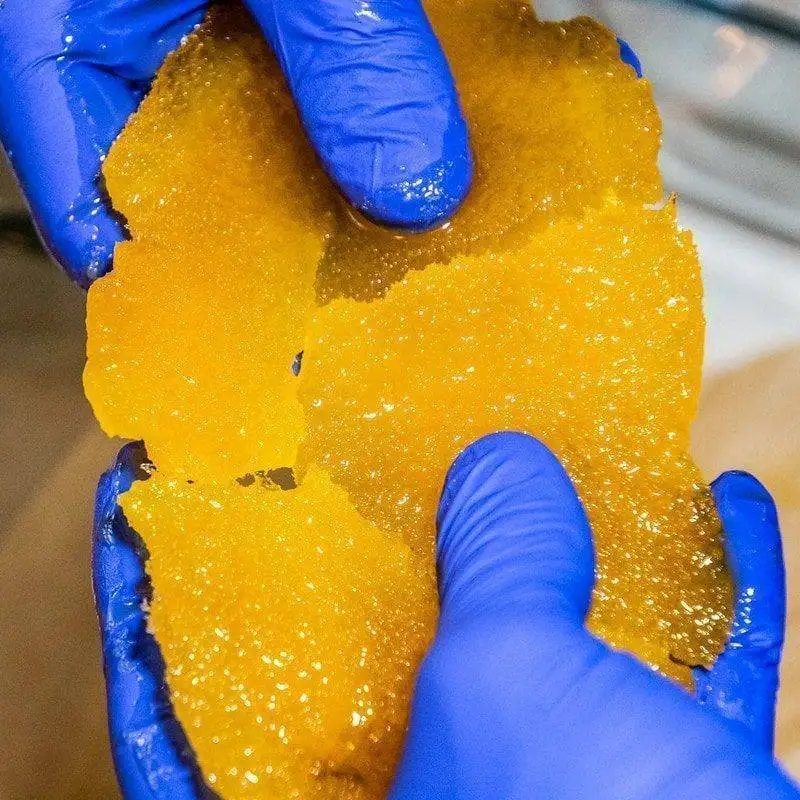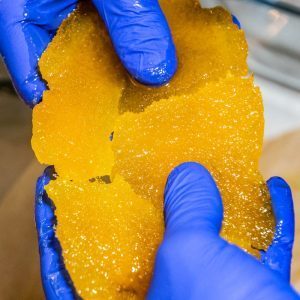 At Steve's Goods, our commitment to perfecting the art of CBD wax production spans five years. Our expertise and vast experience have enabled us to create a product that stands out among competitors – now we'd like you to find out why! Let us share with you our technique in order for your appreciation and understanding of this exceptional quality product.
After spending all year growing our hemp from Steve's Hemp Farm we take our biomass to the extraction lab. This lab will process our hemp into multiple forms of hemp extracts. Once the hemp extract has been turned into our THC-Free distillate. 
Note: This processes is handled inside our licensed clean room. License issues by the Colorado Department of Public Health & Environment (CDPHE).
We take the following steps:
Put non-bleached parchment paper into a Pyrex dish to prevent from sticking.
Weigh out 100 grams of THC-Free distillate.
Using a measured dropper, take out 15ml of plant-derived terpenes and pour it over the distillate.
Place the Pyrex dish into a vacuum oven at 180 Degrees.
Remove all the air in the vacuum oven using a vacuum pump.
Leave in for 1-hour or until everything is completely liquid.
Take it out of the oven and put in on the rack.
For faster recrystallization add in CBD isolate.
Let it sit overnight, and the next day either package it into gram units or put it in a bulk container.
Dab Rig
You'll need a torch, a nail, a carb cap, a dab rig, and a dab tool. The torch's function is to warm the pin. Using the dab tool, you place the CBD wax into the heated nail. You may inhale the vaporized dabs through the rig's mouthpiece because of the heat. The dabs can also be electrically vaporized using a wax vaporizer or pens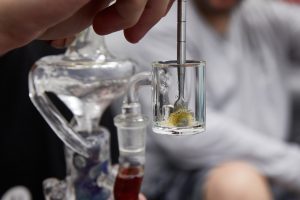 Dab Pen
You can use dab pen devices with CBD wax by inserting the dab inside the device, turning it on to the desired heat setting, and taking a hit from the mouthpiece. These pens are a discrete way to consume CBD.
Little Dipper
This dab pen device, Little Dipper, is perfect for taking a hit of any wax dab. Just turn the device on to the desired heat settings, and put the dab straw tip onto the concentrate directly.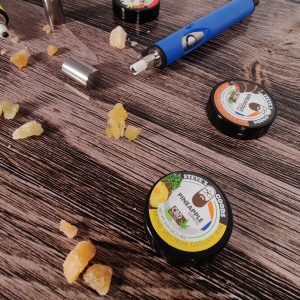 Evri
The Evri featured in our CBD Starter Pack is a multi-purpose device that allows you to take a dab with the dab straw, install a 510-thread vape cartridge, and use a pod cartridge.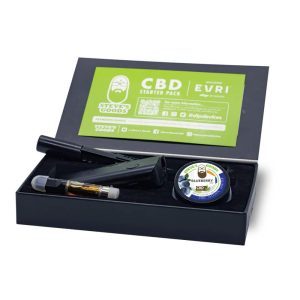 Lunar
The Lunar is a small dab pen perfect for dropping in pieces of concentrated CBD wax inside it. You need to turn it on and take a hit.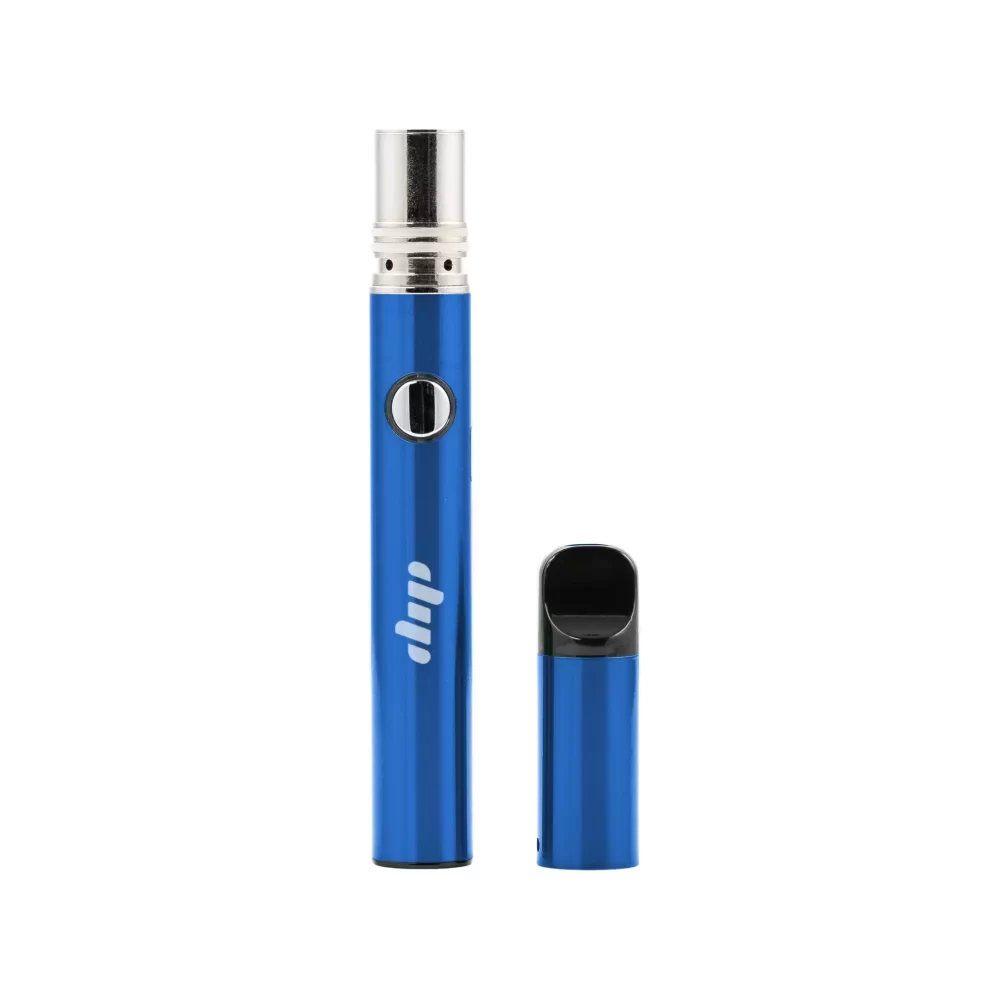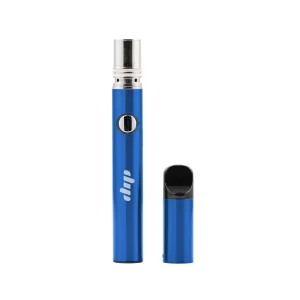 What are the CBD wax flavors?
Strawnana
Pineapple Express
Girl Scout Cookies
Strawnana
Strawnana CBD wax:
Award-Winning: Yes
Explain Flavor: Tastes like strawberries, and bananas. 
Best time to take: During the day.
Best activity to do after: Hiking.
Pineapple Express
Girl Scout Cookies
Badawy NA, El-Bayaa AA, Abdel-Aal AY, Garamon SE. Chromatographic separations and recovery of lead ions from a synthetic binary mixtures of some heavy metal using cation exchange resin. J Hazard Mater. 2009 Jul 30;166(2-3):1266-71. doi: 10.1016/j.jhazmat.2008.12.044. Epub 2008 Dec 11. PMID: 19136204.
Chromatography. (2022, December 7). In Wikipedia. https://en.wikipedia.org/wiki/Chromatography
THC Remediation. In Lab Society. https://labsociety.com/thc-remediation/