Product Details
Whats Includes
How Its Works
Product Details
Description:
This Limited Edition Toker Poker is a case that holds your Bic lighter. It has a useful tool on it that is metal and slides out of its crease to allow you to debowl a glass slide that you can use to remove consumed Cannabis.
Our Toker Poker is very special and our limited edition Golden Case Toker Poker features the Steve's Goods logo on it with a metal poker.
Product Details:
1 Golden Limited Edition Toker Poker
Cardboard Insert
Lighter NOT included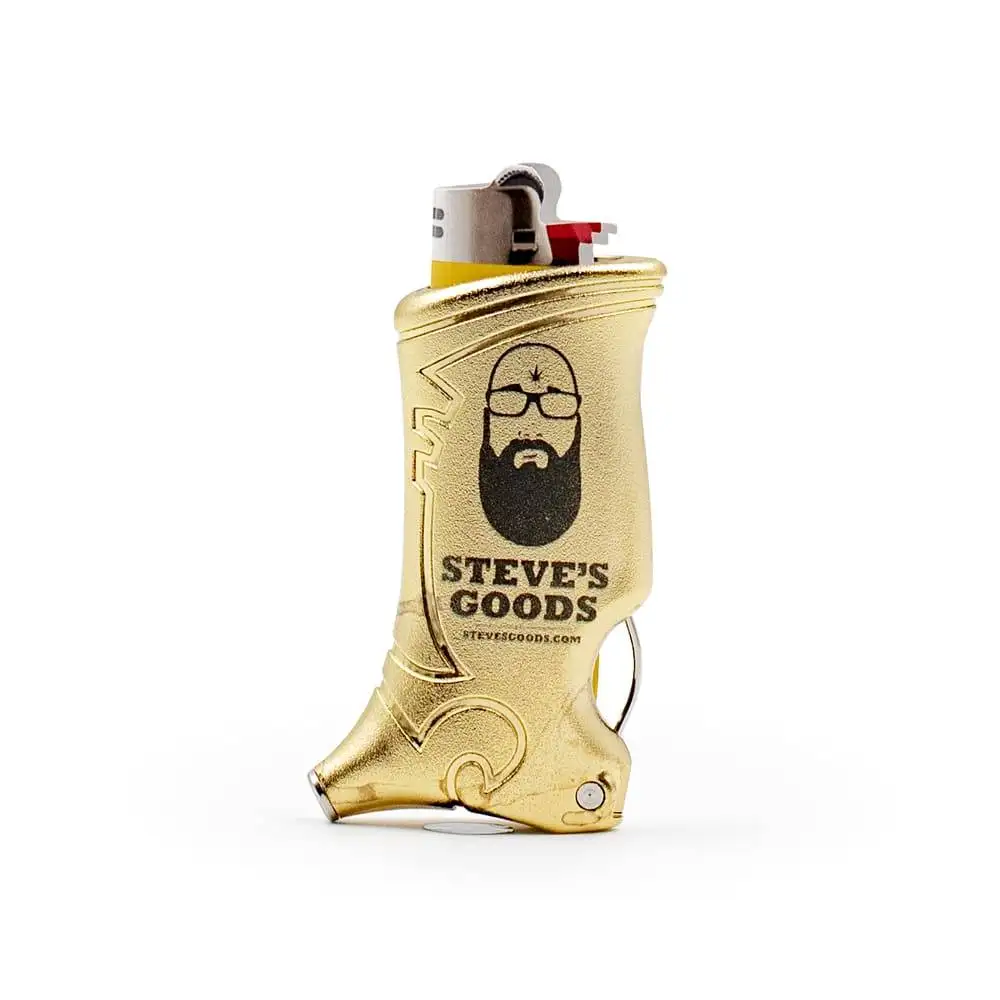 Whats Includes
Fidgeting is free – As pictured, this thing is somewhere between a fidget spinner, a swiss army knife, and a utility for smoking.
How Its Works
Remove cardboard insert. Put your favorite lighter inside. Bend out the metal poker and use it as a toking device. Clean poker extension before storing.
This product is not for use by or sale to persons under the age of 18. This product should be used only as directed on the label. It should not be used if you are pregnant or nursing. Consult with a physician before use if you have a serious medical condition or use prescription medications. All trademarks and copyrights are property of Steve's Distributing LLC. These statements have not been evaluated by the FDA. This product is not intended to diagnose, treat, cure or prevent any disease. Individual weight loss results will vary. By using this site, you agree to follow the Privacy Policy and all Terms & Conditions printed on this site. Void Where Prohibited by Law.
Okay, it is Thanksgiving eve, if that is a thing. I'm sitting here in my chair in the normal slouching position cramming to get everything done before I go home for the night. No one else is here and everyone has left for the day, all excited for Thanksgiving. Turkey, and all the fixings, mmmmm.
My experience with this product is pure joy, but there have been moments of pure agony (when I lose my Toker Poker). I'm a cannabis consumer, you know that from how we represent my brand. I smoke every day, and I would never be ashamed of that fact. My favorite way is when I smoke a bowl, I will add CBD Concentrates in it to add effectiveness (typically in the middle of the bowl). When I'm done smoking the bowl, I use the Toker Poker as a de-bowler. It helps me easily remove the consumed cannabis flower with delightful terpene profiles, and repack and fresh one!
Now imagine, you have a super cool de-bowler with my logo on it that is shiny gold! It won't be easy for your friends to bic!
Much love,
Steve
We worked pretty hard to be sure you could find us on the web, so we are glad you made it here. Please look around our CBD shop if you have not yet found what you are searching for. We have dozens of products, and we are sure to have a few options that suit you. And if you have a good look, and don't locate anything you want, please leave us a suggestion.
~Steve's Goods is on Social Media!~
Check us out on Instagram and Facebook!
-If you would like to join our affiliate program…
…please find our portal here.
-If you are interested in bulk and wholesale options for this product…
…please find our wholesale program here.
-For copies of our recent lab test results…
…visit our Certificates of Analysis on this page.