Do you struggle to find high quality Delta 8 cartridges? Are you having a hard time finding a delicious flavor without the artificial additives? If so, we have what you need! At Steve's Goods, we sell the best Delta 8 cartridges on the market.
Below are some of our most frequently asked questions about Delta 8 vape cartridges:
What are Delta 8 Vape Cartridges?
Delta 8 cartridges are made with pure Delta 8 extract and plant terpenes. They come in an array of flavors for any tastes!
After months of research, we have found the perfect formula to create these cartridges and concentrates.
Are Delta 8 Cartridges Legal?
These cartridges are legal to buy, sell and use for adults in the United States. This is because they do not contain the illegal form of THC.
What Type of Vape Device Can I Use With Delta 8 Cartridges?
The Delta8 cartridges are made to be low temperature and compatible with any 510 threaded battery, so you can use them with your favorite vaporizer! These cartridges also contain pure oil that has been distilled at a lower temperature to preserve all the terpenes from the hemp plant. We recommend using it with our new Wax Pen, which features a ceramic coil atomizer for an even smoother experience than ever before!
These 1 gram, stainless steel cartridges are compatible with 510 thread batteries, and they come with a sterile mouthpiece. Each cart is packed inside our Eco-friendly ocean plastic tubes. These recycle tubes are better for the environment than traditional plastic tubes.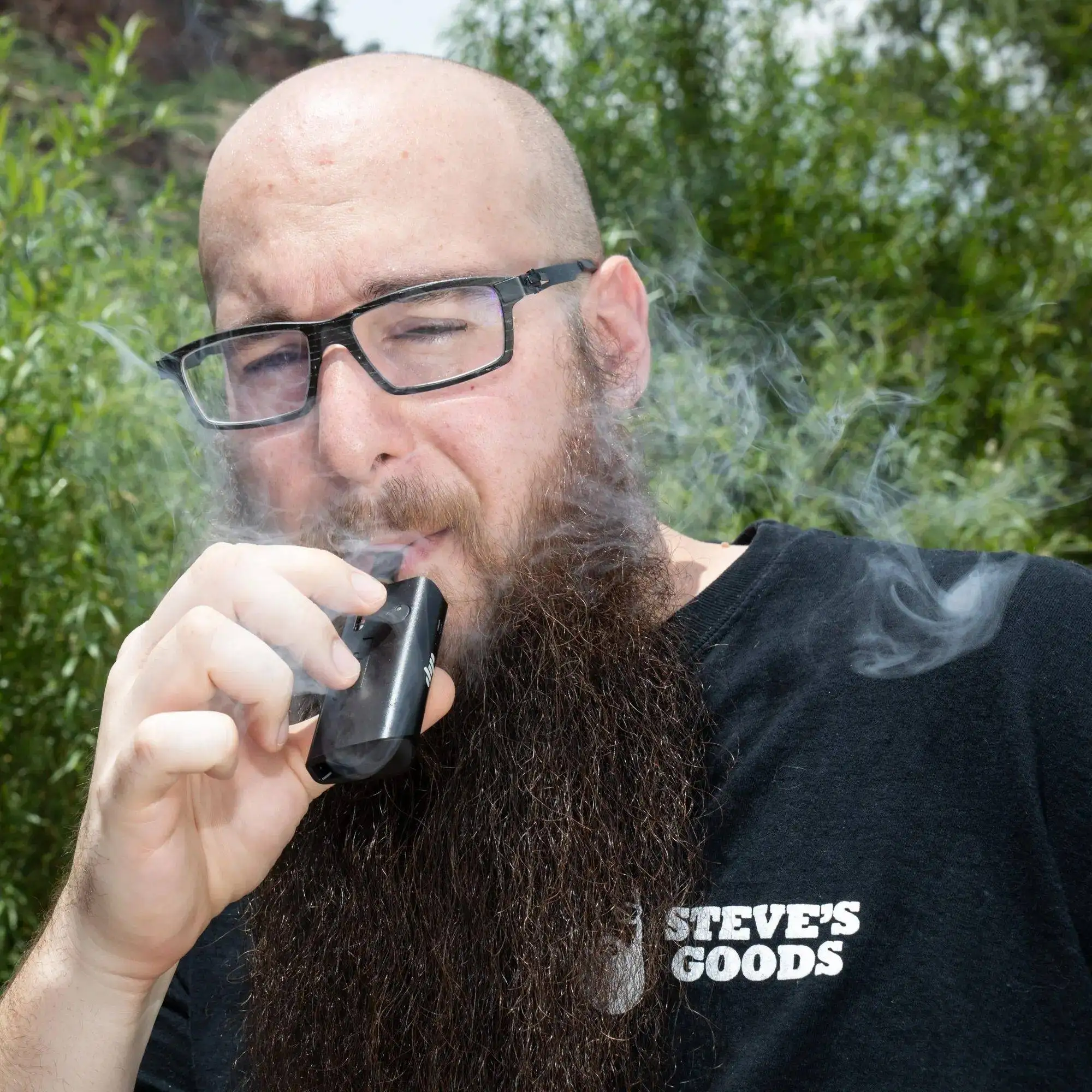 What are the Best Delta 8 Cart Flavors?
My personal favorite flavors are strawberry banana and blueberry because they're bold and fruity. At Steve's Goods, we don't use any artificial additives like coloring or flavoring to make our cartridgesdelicious. We only use natural flavors and pure plant terpenes to ensure you have a safe smoking experience. The best way to use delta 8 carts is by using a dab pen with them, that way you can be sure of the quality.
Why Buy Delta 8 Cartridges?
Our Delta 8 cartridges use high quality, terpene infused extract. We have the highest standards in our industry and a long history of providing customers with top-quality CBD Concentrates so you can trust that your order will be as good or even better than what you're used to at Steve's Goods.
A Delta 8 cartridge is a perfect choice for those who are new to THC vape cartridges, or just want more of a mellow experience compared to the feeling that comes directly from smoking cannabis plants. It also offers an easy way to medicate discreetly without having the telltale signs that traditional cannabis use can often leave behind. The best part about using these carts? You get pure plant terpenes.
How Do You Use A Delta 8 Cartridge?
To use delta 8 carts, you can buy our dab pen and simply screw the cartridge on. When it's charged up, just press the mouthpiece button to release vapor!
What are Dab Pens?
A dab pen is a handheld device that you can use to consume CBD oil, all types of cart carts or THC extracts. They are designed with an atomizer and coil system so they work similarly to vape pens but have the added functionality to combust your hemp extract (dabs) for extra potency! We sell some really amazing devices for all your dabbing needs.
A Delta 8 pen is a vape cartridge device that operates on the same principle as other vaporizers. They are designed to be compatible with 510 thread batteries, and they can also work powerful tanks which means you'll get some really big hits!
We also offer the Little Dippers, CBD Starter Pack featuring the EVRI, and our EZBake custom e-nail.
What Do I Need to Know About Hemp Pens?
Delta 8 pen cartridges don't have any nicotine or other additives so you're getting the most pure vaping experience possible. We never use any fillers like vitamin E oil that can be dangerous for your health.
Cartridges are some of the most convenient and discrete way to consume psychoactive cannabinoids on the go and never worry about running out of your favorite flavor.
Delta cartridges are made from the highest quality and purest extract on the market with no harmful additives, fillers or chemicals.
Steve's Goods is a leading manufacturer of one of the best delta 8 products for vapes. Our products are guaranteed to be pure, safe, and the best quality on the market.
What Other Delta 8 Products Do You Offer?
Beyond our CBD products and Delta 9 THC products, Steve's Goods carries the widest variety of Delta 8 products on the market. We offer vapes, gummies, lollipops, oils, vape pens, dab pens, wax, and cartridges in two ranges of flavors that are always increasing with new additions to our collection. Our company is also very conscious about releasing new products to the market.
Can I Buy Delta 8 Cartridges and Dab Pens Online?
Delta 8 cartridges are available online on our website at our Delta 8 products page. These products are available for fast and discreet  shipping directly to your doorstep.
The new cartridges have arrived just in time, with their sleek design and powerful features they will make grocery-shopping trips much more enjoyable than ever before.
Our pens are available at many dispensaries or online, but you should only buy from trusted wholesalers like award winning hemp manufacturer Steve's Goods. We have the highest quality delta 8 extracts to make the best pens on the market.
With fast and free Shipping on orders over $75 from Steve's Goods, you can get these products with ease while staying safe and sound at home or work – no need be brave buying your extracts from a gas station.
Does Steve's Goods Sell Wholesale Carts?
Currently, we don't sell our Delta 8 cartridges in bulk. However, we currently sell our Delta 8 gummies wholesale!
Shop Steve's Goods Today
We offer the best  cartridges around. If you are looking for a quality and reliable product, then we have it in stock. Our company is Steve's Goods and our products come with free shipping of orders $75+ all over the U.S.! Buy now to get your next order of Delta 8 vape cartridges shipped today!
1 gram 510 thread cartridge with delta 8 extract and plant derived terpenes mixed.