Descripción
Descripción
Nuestro Gel Limpiador de CBD es un producto suave, elaborado para eliminar el exceso de grasa y suciedad y para eliminar suavemente el maquillaje con la ayuda de solo agua. ¿Por qué hay extracto de hemp en este producto? Creemos que la piel del rostro puede utilizar otro punto de contacto con CBD antes de acostarse.
Detalles de Producto:
Suave y Gentil
Elimina el maquillaje
Ingredientes Naturales
150 mg | Cannabidiol de espectro completo (CBD)
Ingredientes:
Aqua (agua), cocamidopropil betaína, extracto de cannabis sativa (Hemp), tartrato de coco glucósido de sodio, citrato de coco glucósido disódico, fenoxietanol, lavandula angustifolia (agua de flor de lavanda orgánica), Anthemis Nobilis (agua de flor de manzanilla romana), carbón activado, Dimetilaminoetanol, bitartrato (DMAE bitartrato), glicerina, proteína de trigo hidrolizada, DL-pantenol (provitamina B5), Aspalathus Linearis (hoja de rooibos orgánica), Saccharum officinarum (extracto orgánico de caña de azúcar), Vaccinium Myrtillus (extracto de fruta de arándano rojo) (Extracto de arce de azúcar orgánico), Citrus Sinensis (Extracto de cáscara de naranja orgánica), Citrus Limon (Extracto de cáscara de limón orgánico), Vaccinium Macrocarpon (Extracto de fruta de arándano orgánico), Melaleuca Alternifolia (Aceite de hoja de árbol de té), Goma de xantano, Alcohol orgánico, Tetrasodio Diacetato de glutamato
Cómo utilizar
Use el Gel Limpiador de Carbón Activado dos veces al día para obtener mejores resultados: una vez por la mañana y otra por la tarde. Humedezca la cara antes de usar. Presione una o dos veces en las manos mojadas, frotándose las manos hasta formar una espuma ligera.
Masajee suavemente el rostro y el cuello durante 30 segundos para activar los antioxidantes. Enjuague bien con agua tibia para completar el lavado.
Advertencia del fabricante
El Gel Limpiador de Carbón Activado es solo para uso externo. Evitar contacto visual. Si se produce contacto con los ojos, enjuáguelos con abundante agua. Suspenda su uso y consulte a un médico si se desarrolla irritación. Mantener fuera del alcance de los niños. En caso de ingestión, busque ayuda médica o comuníquese con un centro de control de intoxicaciones de inmediato.
CBD Cleansing Wash From EndoBloom
CBD Cleansing Wash by EndoBloom works well in complementing each of our skincare products, and usually equally well with products from most any other brand. This wash is not only gentle, but pleasant, and aids in leaving skin feeling oil-free and dainty. We cannot wait to hear back from our EndoBloom customers about this one.
Why Choose EndoBloom Cleanser?
The value proposition is right. The formulation is perfect. The brand is proud and the manufacturer made this powerful product just for folks like you. Our customers keep coming back for our fine Colorado hemp products, and our quality is well-documented.
How Much CBD Is There Per Bottle?
We designed this product and all EndoBloom skincare system products, to be predictable and impactful. Each bottle of EndoBloom skincare, including this CBD cleansing wash, contains 150 mg of full spectrum hemp CBD.
Is CBD Cleansing Wash Right For Me?
We certainly hope to win you over, and we think we have done enough with this product, and the entire EndoBloom line, that we should appeal to the needs and values of most folks out there. Let us know if you have questions.
EndoBloom cleansing wash also makes the perfect gift for that someone special if you happen to be in the market for such an item. What better way to express well-wishes than to give the gift of relaxation to the one you love to comfort? We thought of gift-giving when we designed this product line.
What Is EndoBloom CBD Skincare?
Steve's Goods spent the better part of 3 years developing our all-new skincare brand, EndoBloom. It even brought us to the retirement of our legacy beauty products brand, Enflower.
After an extensive development process involving 4 different formulators, several facilities, tons of feedback from our customers.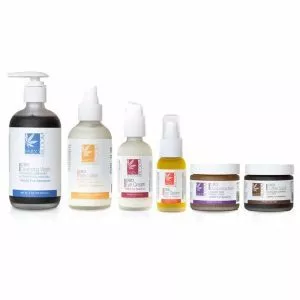 Into The Future
Today we are more than excited to offer EndoBloom to the world. 2021 means reopening and rejuvenation, and EndoBloom will be a huge part of that for us. We hope this CBD cleansing wash, and all our other skincare products do the same for a whole lot of folks out there.
We Appreciate Your Business
Thank you for choosing CBD Cleansing Wash, and EndoBloom CBD Skincare by Steve's Goods!
~Steve's Goods is on Social Media!~
Check us out on Instagram and Facebook!
-If you would like to join our affiliate program…
…please find our portal here.
-If you are interested in bulk and wholesale options for this product…
…please find our wholesale program here.
-For copies of our recent lab test results…
…visit our Certificates of Analysis on this page.
Este producto no debe ser usado ni vendido a personas menores de 18 años. Este producto debe usarse solo como se indica en la etiqueta. It should not be used if you are pregnant or nursing. Consulte con un médico antes de usarlo si tiene una afección médica grave o si usa medicamentos recetados. Todas las marcas comerciales y derechos de autor son propiedad de Steve's Distributing LLC. Estas declaraciones no han sido evaluadas por la FDA. Este producto no está destinado a diagnosticar, tratar, curar o prevenir ninguna enfermedad. Los resultados individuales de la pérdida de peso variarán. Al utilizar este sitio, acepta seguir la Política de privacidad y todos los Términos y condiciones impresos en este sitio. Nulo donde esté prohibido por la ley.