Descripción
Descripción
La crema de CBD (bálsamo de alivio) de Steve's Goods está formulada para proporcionar un suministro natural y potente de CBD a las personas que buscan un suplemento dérmico para lidiar con los altibajos de la rutina diaria.
Detalles de Producto:
Frascos de 1 oz
500mg CBD
Ingredientes totalmente naturales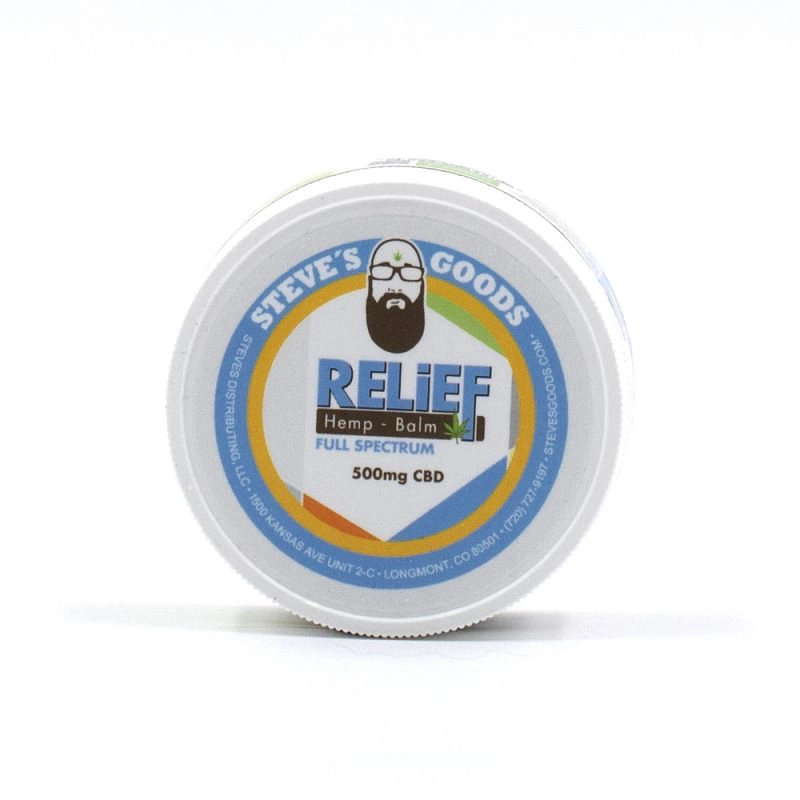 Ingredientes:
Aceite de palta natural,Manteca de karité, Cera de abejas,Aceite de semilla de hemp,Espectro completo organico, Extracto de flor de hemp, Vitamina E, Aceite de cajeput, Aceite de alcanfor, Aceite de lavanda, Aceite de eucalipto, Aceite esencial de menta de maíz
Cómo utilizar:
Aplicar una fina capa en la zona deseada de la piel, alisando ligeramente con movimientos circulares. Continúe hasta que se absorba completamente y hasta que esté satisfecho con la cobertura.
Advertencia del fabricante
La crema de CBD (bálsamo de alivio) está destinada únicamente para uso externo. Evitar contacto visual. Si se produce contacto con los ojos, enjuáguelos con abundante agua.
Suspenda su uso y consulte a un médico si se desarrolla irritación. Mantener fuera del alcance de los niños. En caso de ingestión, busque ayuda médica o comuníquese con un centro de control de intoxicaciones de inmediato.
Is CBD Cream Legit?
What is «CBD Discomfort cream?» Well, that is more or less a subjective question. Instead of speaking about Discomfort, which is subjective and in many cases personally relevant, Steve's Goods prefers to speak to relief, and how CBD Relief Balms and topicals actually work in a variety of applications! We have yet to find someone that doesn't benefit from our CBD cream. It is great for reducing irritation and day-to-day soreness, and when you rub this on a specific spot, you are essentially doing just that.
How does CBD Cream work?
To prevent sounding like a broken record, I will say that no one really knows exactly. We know CBD connects to our Cannabinoid receptors, but we don't know how that is reducing Irritation. So, we essentially understand the what, but not the why, and that is pretty common for short-term supplements.
Is this the same thing as Wowzer Balm?
Yes. We are glad you liked it, even prior to our new labels and name concept. Here's a funny one for you: head over to your favorite search engine that begins with the letter «G.» Perform a search for the word 'Wowzer.' Yikes! Therein lies the answer to why we changed the name. We hope you enjoyed this message. LOL.
How Does CBD Balm Work?
Skin is very porous, making it an excellent pathway for CBD absorption. Among the functionalities within the human body are two different types of cannabinoid receptors: CB1 and CB2. These are connected to what is known as the Endocannabinoid System, the cannabinoid-driven system which is mostly known for supplementation of homeostasis.
Who Does CBD Cream Work For?
Among hemp & CBD's largest customer audiences are the middle class, manual laborers, and workers. Secondarily among that audience are fitness and workout lifestylers. Those types of folks are definitely represented of Steve's Goods CBD Cream (Relief Balm) customers, and many of them love this particular balm product. But that isn't to say the CBD is the only ingredient within our CBD balm that soothes and assists: a tough and proven blend of pure essential oils and vitamin E oil makes for a CBD cream loaded with goodies for your skin.
How Much CBD Is There In 2 oz CBD Cream jars from Steve's Goods?
500 mg – 1000 mg of full-spectrum CBD is contained in each unit. That's a lot of CBD. And it doesn't smell like plants, or like someone formulated to cover up the scent of plants. It smells like a gift from nature, in all the best ways we can express that.
How long will it last?
Daily CBD cream users can expect a jar to last between 2-4 months. This depends on a number of different answers: like how often you apply topicals, and how cavalier you tend to be with topical amounts applied in a single sitting.
Why choose Steve's Goods CBD Cream (Relief Balm)?
We are committed to shaking things up in our industry. For 3 years we have worked tirelessly to develop and offer what are now our cornerstone products. Excellent is the word we would use internally for each of these products. Steve's Goods CBD Relief Creams are different, and we encourage all interested people to experience how definitive that difference is.
We Appreciate Your Business
Thank you for choosing CBD Cream by Steve's Goods!
~Steve's Goods is on Social Media!~
Check us out on Instagram and Facebook!
-If you would like to join our affiliate program…
…please find our portal here.
-If you are interested in bulk and wholesale options for this product…
…please find our wholesale program here.
-For copies of our recent lab test results…
…visit our Certificates of Analysis on this page.
Este producto no debe ser usado ni vendido a personas menores de 18 años. Este producto debe usarse solo como se indica en la etiqueta. It should not be used if you are pregnant or nursing. Consulte con un médico antes de usarlo si tiene una afección médica grave o si usa medicamentos recetados. Todas las marcas comerciales y derechos de autor son propiedad de Steve's Distributing LLC. Estas declaraciones no han sido evaluadas por la FDA. Este producto no está destinado a diagnosticar, tratar, curar o prevenir ninguna enfermedad. Los resultados individuales de la pérdida de peso variarán. Al utilizar este sitio, acepta seguir la Política de privacidad y todos los Términos y condiciones impresos en este sitio. Nulo donde esté prohibido por la ley.