Description
Description:
Silver Mint CBD Oil is our newest formulation full-spectrum hemp tincture. It has all the same grade characteristics of our CBD Hemp Oil, only this was blended for an enhanced taste that can only be characterized as Silver Mint. We created this formulation with a "mountain mint" idea in mind. Experience the power of the cannabinoid entourage effect, enhanced only by the mastery of award-winning Steve's Goods' terpene formulation. You will love this product from the moment you try it.
Product Details:
500 mg – 2000 mg concentrations
15 mL or 30 mL bottles
Sealed for freshness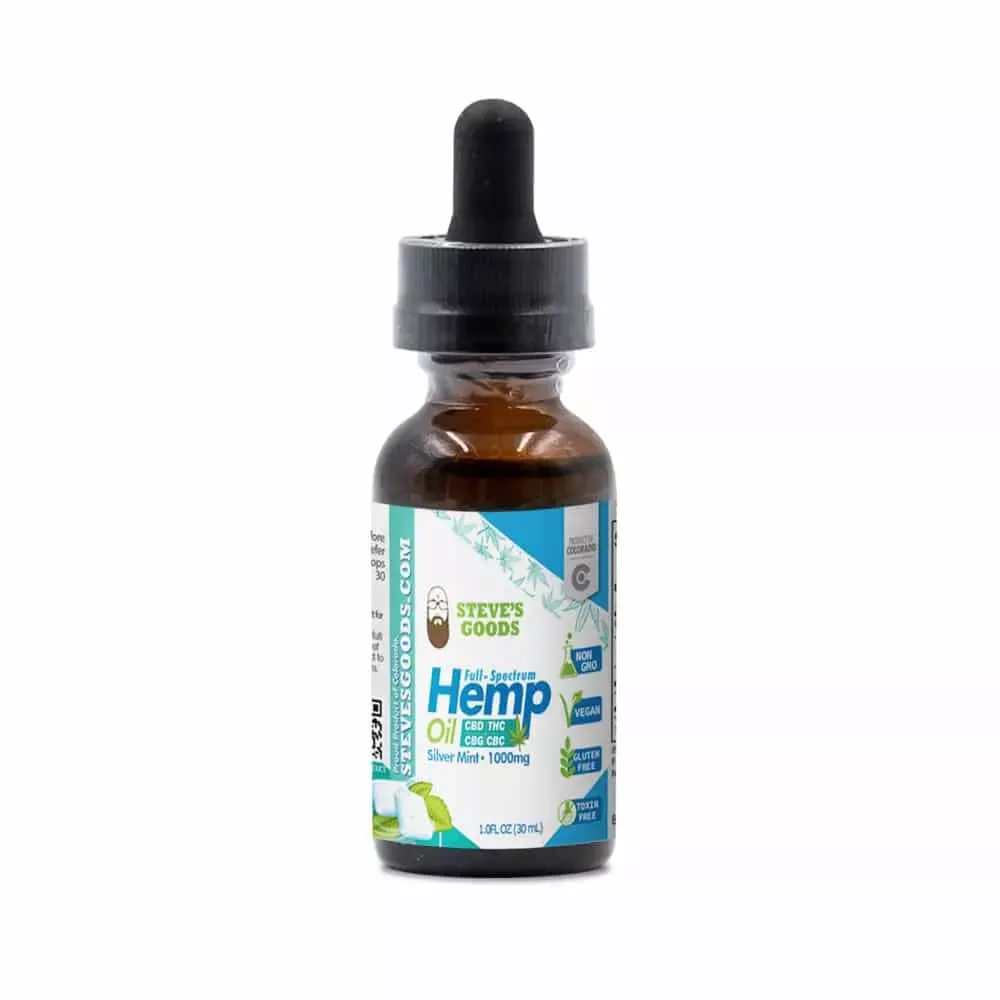 Ingredients:
MCT (Medium Chain Triglycerides) derived from Coconuts, Cold-Pressed Hemp Seed Oil, extracted full-spectrum raw CBD Hemp Oil, Extracted CBD isolate, Local Colorado raw honey, terpenes derived from plants
How to Use:
Take one dropper once or twice per day. Shake well before each use. Use as needed (see serving size chart). Intended for short-term supplementation.
Serving Chart
250 mg / 15 mL
500 mg / 15 mL
1250 mg / 15 mL
500 mg / 30 mL
1000 mg / 30 mL
2500 mg / 30 mL
250 mg / 15 mL
Per Bottle – CBD 250 mg./ CBG 12.45 mg.
Per Dropper (1mL) – CBD 16.66 mg./ CBG .83 mg.
Per Drop – CBD .83 mg./ CBG .04 mg.
15 drops of 250 mg deliver 12 – 13 mg. of pure CBD and .6 mg. CBG
500 mg / 15 mL
1250 mg / 15 mL
500 mg / 30 mL
1000 mg / 30 mL
2500 mg / 30 mL
More About Full Spectrum Silver Mint CBD Oil
So why is full spectrum Silver Mint CBD Oil worth the purchase?
Silver mint CBD hemp oil by Steve's Goods began as an idea for a new limited edition small batch CBD wax. Happy to report that we created that wax, and that be the result was a formulation so delicious that we immediately knew it would balance well in a CBD oil tincture. Made from Colorado only full spectrum distillate, combined with other CBD concentrate extracts, all in concert with the ideal blend of fruit and floral terpenes for a refreshing taste that doesn't require a mint or piece of gum as a follow-up from use.
Silver Mint CBD Oil Contains Trace THC
This product contains a farm bill compliant amount of THC, which balance is well with the other cannabinoids available for the perfect entourage effect. We hope you enjoy Silver Mint as much as we enjoyed making it available for you.
What is the best way to consume Silver Mint CBD Oil?
All our CBG oil products contain zero THC making these products fully legal CBD hemp oil. These CBD Hemp Oils are permitted publicly, wherever smoking is allowed. We say enjoy per your preference, meaning that if you administer daily servings of tinctures under the tongue, you should do that with this product, also. Many people simply add this hemp oil to a favorite (non-alcoholic) drink.
What if full-spectrum hemp oil isn't effective enough for me?
In a world of confusing cannabis marketing, it can be difficult to decipher which hemp products are effective versus others. There are many pretenders' products available.
Silver Mint CBD oil is the same reliable tincture blend we have always made, within an enhanced terpene taste profile for maximum enjoyment.
Does CBD Hemp Oil Work?
For many causes and reasons, certain people benefit from hemp oil more than others. If you know hemp oil to be a helpful supplement in your routine, this particular formulation should be a delicious help. It is powerful, pure, and extremely potent, and is available in 15 mL and 30 mL bottles, which vary and strength.
More Questions about our Silver Mint CBD Oils:
Who Do CBD Oils work for?
Our typical customer for this product is a combo cannabis user. That is broad in definition and includes a variety of cannabis consumption methods, device type preferences, flavor prejudices, and product combo possibilities. These types of users are typically after cannabinoid balance, taste enhancement, or just have a THC restriction professionally or personally.
How much CBD is there in a bottle of Silver Mint CBD Oil from Steve's Goods?
Bottles of Silver Mint CBD Hemp Oil range in potency strength from 250 mg to 2,000 mg.
How long will a bottle of Silver Mint CBD Oil hold you over?
Most folks see between 2-4 weeks of use per bottle, and that average depends on bottle size, personal serving size, and frequency of use.
Why choose Steve's Goods CBD tinctures over other brands?
Silver Mint is our newest formulation of full spectrum oil. It is also our tasty alternative to the pure hemp version of this recipe that has been a flagship product for Steve's Goods since the start. We love it in the feedback has been flattering. It is powerful and delicious. For anyone seeking either or both of those attributes, we say you have found the best option on the market. We hope you enjoy this refreshing version of a classic supplement.
What Else Is New At Steve's Goods
We are constantly formulating and innovating, meaning if we don't have it now, there is a great chance we will very soon. Please reach out if you need further context in terms of anything you see here. We how you enjoy your shopping experience.
What about the ingredients in Steve's Goods' Silver Mint CBD Oil?
When comparing ingredients notice, we don't add any artificial flavors or ingredients to our products. If you'd like to understand the core differences between Hemp Seed Oil and CBD Oil, check out our blog post here for more information.
We worked hard to make sure you could find us, and we are glad you did! Please feel free to browse our other CBD products for suitability to your needs and wants in a Colorado hemp product. Know that we are always innovating, and that means you will find that we bring new products to market all the time. As always, make sure and reach out to a member of our staff in the event you need answers or context. We can't wait to hear how you loved Steve's Goods' shopping experience.
~Steve's Goods is on Social Media!~
Check us out on Instagram and Facebook!
-If you would like to join our affiliate program…
…please find our portal here.
-If you are interested in bulk and wholesale options for this product…
…please find our wholesale program here.
-For copies of our recent lab test results…
…visit our Certificates of Analysis on this page.
This product is not for use by or sale to persons under the age of 18. This product should be used only as directed on the label. It should not be used if you are pregnant or nursing. Consult with a physician before use if you have a serious medical condition or use prescription medications. All trademarks and copyrights are property of Steve's Distributing LLC. These statements have not been evaluated by the FDA. This product is not intended to diagnose, treat, cure or prevent any disease. Individual weight loss results will vary. By using this site, you agree to follow the Privacy Policy and all Terms & Conditions printed on this site. Void Where Prohibited by Law.