Silver Mint CBD Oil | Fine Hemp Tincture Oil
Silver Mint CBD oil is engineered for anyone who prefers the minty sweetness of hemp with all its benefits and desires a light, refreshing flavor.
Deliciously aromatic and refreshing as a mint of an exhilarating drop of liquid sunshine by any other name. Some call it honey mint–we call it Silver Mint CBD Oil.
New 8,000mg! That is four 2,000mg oils in one bottle!
Free shipping on all domestic orders over $100

Product Details
whats Includes
How Its Work
Product Details
Description:
Silver Mint CBD Oil is a new formulation by Steve's Goods. It has all the same grade characteristics of our CBD Hemp Oil, only this was blended for an enhanced taste that can only be characterized as Silver Mint. Experience the power of the cannabinoid entourage effect, enhanced only by the mastery of award-winning Steve's Goods' terpene formulation. You will love this product from the moment you try it.
Not only does the silver mint CBD oil offer an enhanced flavor, but it is a full-spectrum hemp tincture oil. This means that you are getting all the benefits of CBD Hemp Oil with trace amounts of THC.
Product Details:
500mg, 1000mg, 2000mg concentrations
30 mL bottles
Sealed for freshness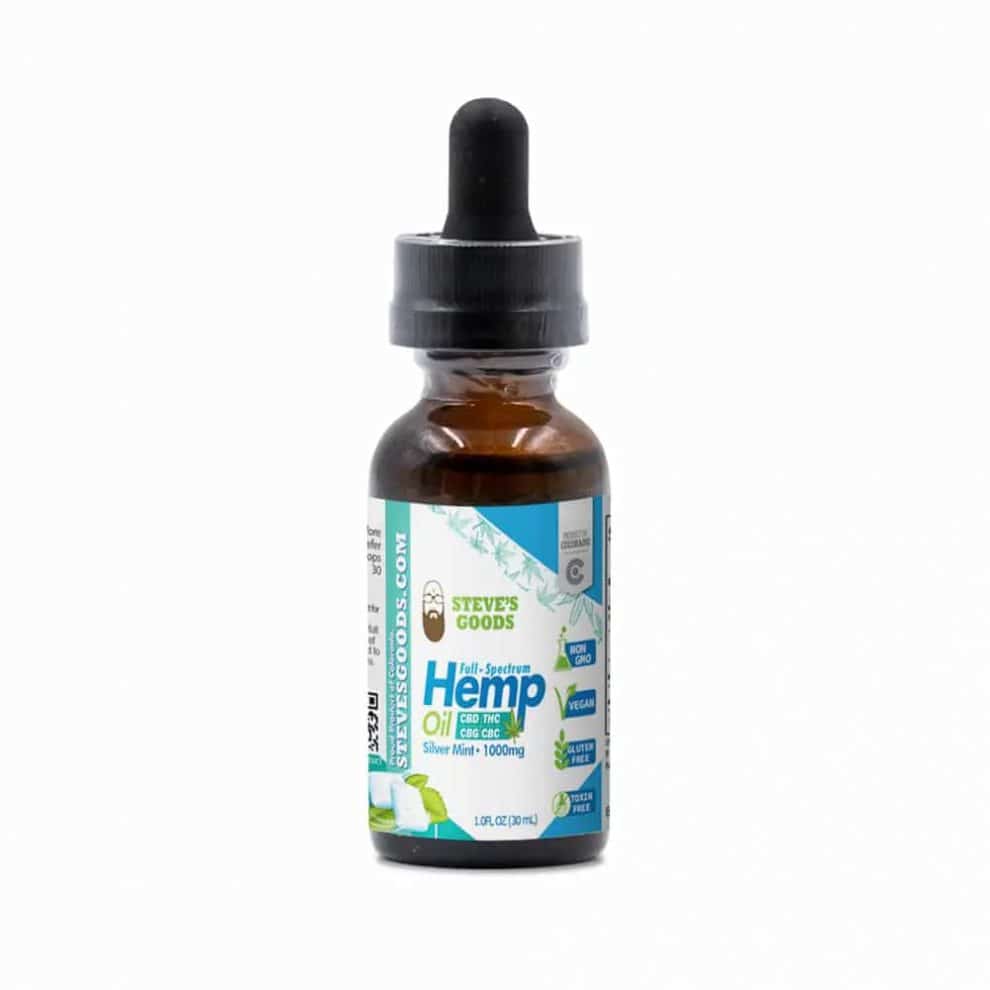 whats Includes
MCT (Medium Chain Triglycerides) derived from Coconuts, Cold-Pressed Hemp Seed Oil, extracted full-spectrum raw CBD Hemp Oil, Extracted CBD isolate, Local Colorado raw honey, terpenes derived from plants
How Its Work
Take one dropper once or twice per day. Shake well before each use. Use as needed (see serving size chart). Intended for short-term supplementation.
Serving Chart
250 mg / 15 mL
500 mg / 15 mL
1250 mg / 15 mL
500 mg / 30 mL
1000 mg / 30 mL
2500 mg / 30 mL
250 mg / 15 mL
Per Bottle – CBD 250 mg./ CBG 12.45 mg.
Per Dropper (1mL) – CBD 16.66 mg./ CBG .83 mg.
Per Drop – CBD .83 mg./ CBG .04 mg.
15 drops of 250 mg deliver 12 – 13 mg. of pure CBD and .6 mg. CBG
500 mg / 15 mL
Per Bottle – CBD 500 mg./ CBG 25 mg.
Per Dropper (1mL) – CBD 33.33 mg./ CBG 1.67 mg.
Per Drop – CBD 1.66 mg./ CBG .08 mg.
15 drops of 500 mg deliver 24.9 mg. of pure CBD and 1.2 mg. CBG
1250 mg / 15 mL
Per Bottle – CBD 1250 mg./ CBG 62.55 mg.
Per Dropper (1mL) – CBD 83.33 mg./ CBG 0.42 mg.
Per Drop – CBD 4.16 mg./ CBG 0.2 mg.
15 drops of 500 mg deliver 21.9 mg. of pure CBD and 2 mg. CBG
500 mg / 30 mL
Per Bottle – CBD 500 mg./ CBG 25 mg.
Per Dropper (1mL) – CBD 16.66 mg./ CBG .83 mg.
Per Drop – CBD .83 mg./ CBG .04 mg.
15 drops of 500 mg deliver 12 – 13 mg. of pure CBD and .6 mg. CBG
1000 mg / 30 mL
Per Bottle – CBD 1000 mg./ CBG 50 mg.
Per Dropper – CBD 33.33 mg./ CBG 1.66 mg.
Per Drop – CBD 1.66 mg./ CBG .08 mg.
15 drops of 1000 mg deliver 24 – 25 mg. of pure CBD and .12 mg. CBG
2500 mg / 30 mL
Per Bottle – CBD 2500 mg./ CBG 150 mg.
Per Dropper – CBD 83.33 mg./ CBG 4.16 mg.
Per Drop – CBD 4.16 mg./ CBG .20 mg.
15 drops of 2500 mg deliver 49 – 50 mg. of pure CBD and .4 mg. CBG
This product is not for use by or sale to persons under the age of 18. * This product should be used only as directed on the label. It should not be used if you are pregnant or nursing. Consult with a physician before use if you have a serious medical condition or use prescription medications. All trademarks and copyrights are property of Steve's Distributing LLC. These statements have not been evaluated by the FDA. This product is not intended to diagnose, treat, cure or prevent any disease. Individual weight loss results will vary. By using this site, you agree to follow the Privacy Policy and all Terms & Conditions printed on this site. Void Where Prohibited by Law.