Product Details
What's Included
How it works
Product Details
Description
This is a Blueberry CBD delta 8 oil with CBG. This is an extra full-spectrum oil that will offer a psychoactive effect.
It contains:
Full-Spectrum CBD Extract – 2,375mg of CBD (83.33mg per ml)
Delta-8 Extract – 500mg of Delta-8 (16.66mg per ml)
CBG isolate – 125mg of CBG (4.16mg per ml)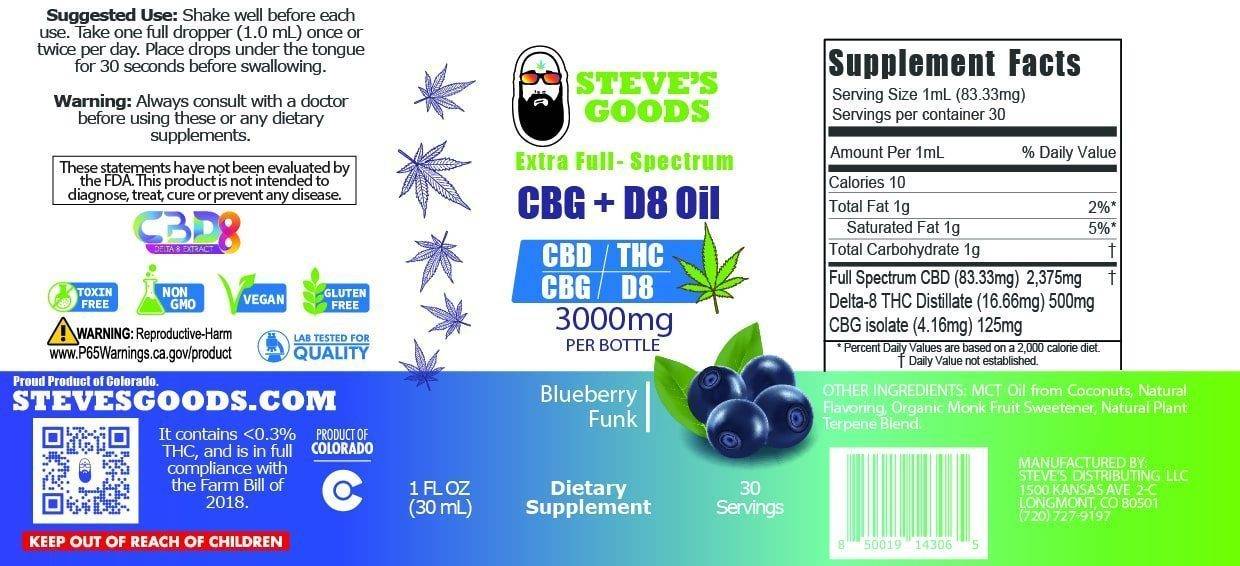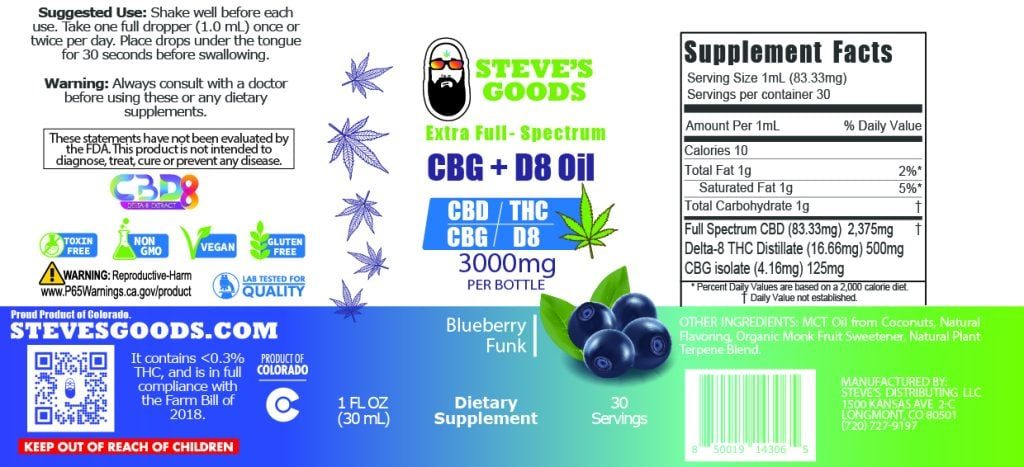 What's Included
Full Spectrum distillate, CBG isolate, Delta-8 extract, MCT oil, monk fruit, natural flavoring, natural terpenes.
How it works
Take 1 ml per day under the tongue. Let sit for up to 30 seconds for faster effects.
While CBD and Delta-8 offer similar benefits, they are two distinct cannabinoids in the cannabis family tree. Unlike many other compounds found within hemp plants, the non-psychoactive compound of CBD is favored for its calming effects without a high. While delta-8 offers a psycho-high effect.
With the increasing popularity of Delta-8, many consumers are wondering if CBD products and Delta-8 have a relationship. The answer is yes – by transforming cannabinoid CBD isolate into its cousin compound, known as delta 8 THC (not to be confused with delta 9), companies can create this latest craze in cannabis options.
Delta 8 CBD is referring to Delta 8 THC which is created in the lab and converted from CBD. We have made a Delta-8 product that also contains CBD. This allows you to enjoy both cannabinoids.
Yes. This is a full-spectrum CBD oil with delta-8 extract added to the tincture.