Description
CBD Cream (Relief Balm) from Steve's Goods is formulated to provide natural, powerful, delivery of CBD to people in search of a dermal supplement for dealing with the highs and lows of the daily grind.
Product Details:
1 oz Jars
500mg CBD
All-Natural Ingredients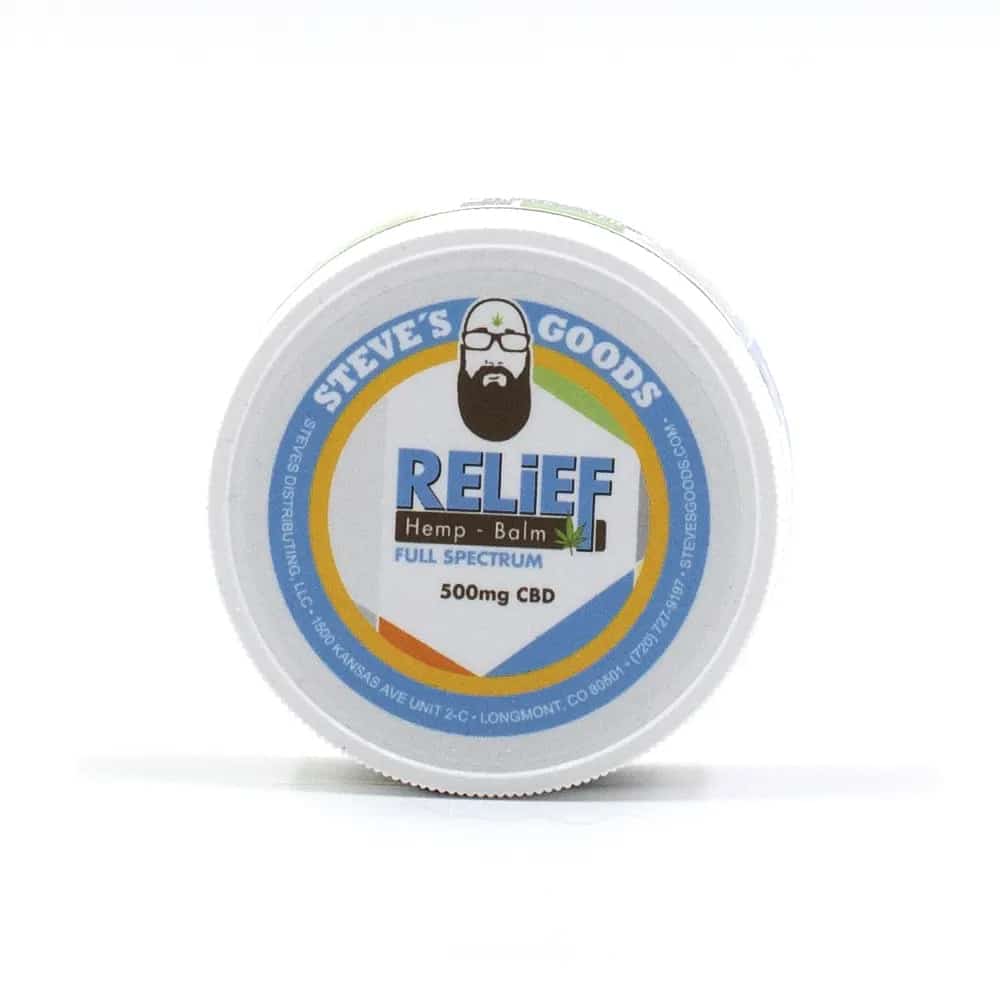 Ingredients:
Natural Avocado Oil, Shea Butter, Beeswax, Hemp Seed Oil, Organic Full Spectrum, Hemp Flower Extract, Vitamin E, Cajeput Oil, Camphor Oil, Lavender Oil, Eucalyptus Oil, Corn Mint Essential Oil
How to Use:
Apply a thin layer to the desired area of the skin, lightly smoothing in a circular motion.  Continue until fully absorbed and until satisfied with the coverage.
Warning from the Manufacturer
CBD Cream (Relief Balm) is intended for External Use Only. Avoid contact with eyes. If eye contact occurs, flush gently and thoroughly with water.
Discontinue use and consult a physician if irritation develops. Keep out of reach of children. If swallowed, get medical help or contact a Poison Control Center immediately.
Is CBD Cream Legit?
What is "CBD Discomfort cream?" Well, that is more or less a subjective question. Instead of speaking about Discomfort, which is subjective and in many cases personally relevant, Steve's Goods prefers to speak to relief, and how CBD Relief Balms and topicals actually work in a variety of applications! We have yet to find someone that doesn't benefit from our CBD cream. It is great for reducing irritation and day-to-day soreness, and when you rub this on a specific spot, you are essentially doing just that.
How does CBD Cream work?
To prevent sounding like a broken record, I will say that no one really knows exactly. We know CBD connects to our Cannabinoid receptors, but we don't know how that is reducing Irritation. So, we essentially understand the what, but not the why, and that is pretty common for short-term supplements.
Is this the same thing as Wowzer Balm?
Yes. We are glad you liked it, even prior to our new labels and name concept. Here's a funny one for you: head over to your favorite search engine that begins with the letter "G." Perform a search for the word 'Wowzer.' Yikes! Therein lies the answer to why we changed the name. We hope you enjoyed this message. LOL.
How Does CBD Balm Work?
Skin is very porous, making it an excellent pathway for CBD absorption. Among the functionalities within the human body are two different types of cannabinoid receptors: CB1 and CB2. These are connected to what is known as the Endocannabinoid System, the cannabinoid-driven system which is mostly known for supplementation of homeostasis.
Who Does CBD Cream Work For?
Among hemp & CBD's largest customer audiences are the middle class, manual laborers, and workers. Secondarily among that audience are fitness and workout lifestylers. Those types of folks are definitely represented of Steve's Goods CBD Cream (Relief Balm) customers, and many of them love this particular balm product. But that isn't to say the CBD is the only ingredient within our CBD balm that soothes and assists: a tough and proven blend of pure essential oils and vitamin E oil makes for a CBD cream loaded with goodies for your skin.
How Much CBD Is There In 2 oz CBD Cream jars from Steve's Goods?
500 mg – 1000 mg of full-spectrum CBD is contained in each unit. That's a lot of CBD. And it doesn't smell like plants, or like someone formulated to cover up the scent of plants. It smells like a gift from nature, in all the best ways we can express that.
How long will it last?
Daily CBD cream users can expect a jar to last between 2-4 months. This depends on a number of different answers: like how often you apply topicals, and how cavalier you tend to be with topical amounts applied in a single sitting.
Why choose Steve's Goods CBD Cream (Relief Balm)?
We are committed to shaking things up in our industry. For 3 years we have worked tirelessly to develop and offer what are now our cornerstone products. Excellent is the word we would use internally for each of these products. Steve's Goods CBD Relief Creams are different, and we encourage all interested people to experience how definitive that difference is.
We Appreciate Your Business
Thank you for choosing CBD Cream by Steve's Goods!
~Steve's Goods is on Social Media!~
Check us out on Instagram and Facebook!
-If you would like to join our affiliate program…
…please find our portal here.
-If you are interested in bulk and wholesale options for this product…
…please find our wholesale program here.
-For copies of our recent lab test results…
…visit our Certificates of Analysis on this page.
This product is not for use by or sale to persons under the age of 18. This product should be used only as directed on the label. It should not be used if you are pregnant or nursing. Consult with a physician before use if you have a serious medical condition or use prescription medications. All trademarks and copyrights are property of Steve's Distributing LLC. These statements have not been evaluated by the FDA. This product is not intended to diagnose, treat, cure or prevent any disease. Individual weight loss results will vary. By using this site, you agree to follow the Privacy Policy and all Terms & Conditions printed on this site. Void Where Prohibited by Law.