Description:
Velvet Mint CBD Concentrate Wax from Steve's Goods is a holiday-fresh taste only we could conjure up. In fact, Velvet Mint CBD dab wax is this Winter's new exclusive secret. Each container has over 1275 mg of fine Colorado CBD within.
Product Details:
1.5 g units
Rich Velvet Mint plant terpenes
Colorado broad spectrum CBD extract
CBG Fusion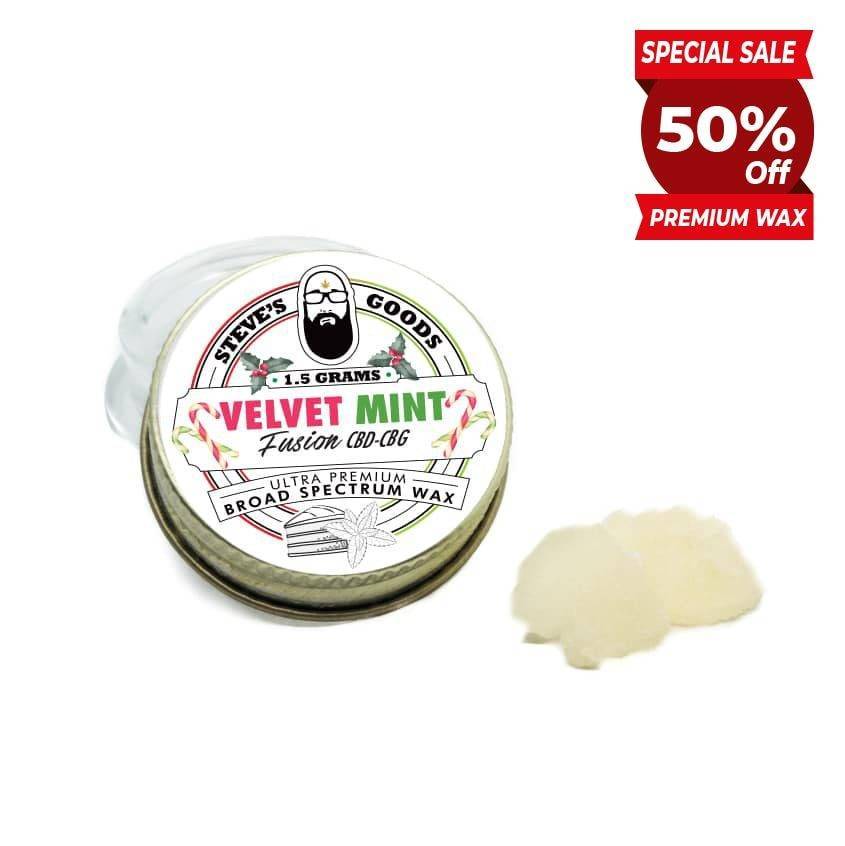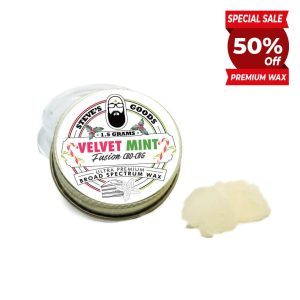 Ingredients:
Broad spectrum hemp CBD distillate extract from Colorado, Pure plant terpenes
How to Use:
Cut off a chunk of the Velvet Mint CBD Concentrate.  Sprinkle it directly on or in your cannabis mixture.
You may also have a preference, like a dab rig, other glass equipment, or an enail.
If you have no device, you may want to check out our famous CBD Starter Pack. 
More About Velvet Mint CBD Concentrate
Velvet Mint CBD Wax from Steve's Goods is our all-new and totally exclusive, broad-spectrum concentrate CBD dab flavor. We formulated it using our most recently acquire THC-free Super-distillate and combined it with our new favorite blend of floral and fruit terpenes.
Our customers value our unique process because we never fail to marry the highest-quality hemp extracts with the perfect balance of tastes nobody else comes close to producing. And yes… This one is a CBG fusion wax, just all the other limited edition runs to-date.
Why Choose Velvet Mint CBD Concentrate Hemp Dabs?
Simply put, this cannabidiol dab wax is a rush of fresh flavor that pairs well with any time of day.  We are confident you could click all day and not find a better terpene profile or an immediate mint fresh aftertaste in any other CBD dabs for sale on the market. Velvet Mint Dabs are best utilized via dab glassware, or via any favorite electronic device(s).
How to start dabbing?
It can be seasoned over the top of a regular amount of flower, similar to salting your favorite cooking dish. When combined with other dabs, the cannabinoid entourage effect is undeniable. This wax is so good, you will never have to wonder "THC or CBD concentrates?" The clear answer going forward will be "BOTH!" Let us know what you think!
What is the best way to consume Velvet Mint Concentrate CBD Dabs?
CBD concentrate waxes from Steve's Goods are made from Colorado's finest broad spectrum hemp, meaning all such products contain no THC. This means they are by definition legal CBD wax. We suggest starting with a medium sized dab and working your way up if you have never tried hemp wax before.
We have Dip Devices…
…which is convenient because they are a great brand that matches our products in quality.  We love Dip because they provide perfectly portable options for the hemp concentrates lover on the move. The Evri device has 3 choices of temp settings, requires few instructions to operate well, and an easy-to-clean construction.
We also offer the best stationary device option on the market.
The EZ Bake E-nail is famous for its ability to adapt to your glass at home and is reliable each and every time you need it to be. It heats up fast and boasts an insane, easily adjustable temperature range to match any dabber's preference. We love both so much, we have a difficult time picking the better option, and many of our customers say the same thing.
Can these CBD concentrate dabs be consumed without a nail or device?
Cannabis dabs, by default, mean "smokable" products. Smokable products are for burning (or in this case melting) in most consumption routines. Our simple advice is this: If you use cannabis regularly now add this CBD dab wax to your mix, and you are off to the races.
Thank you for choosing Velvet Mint CBD Concentrate and CBD Concentrates, by Steve's Goods!
We worked hard to make sure you could find us, and we are glad you did! Please feel free to browse our other CBD products for suitability to your needs and wants in a Colorado hemp product. Know that we are always innovating, and that means you will find that we bring new products to market all the time.
~Steve's Goods is on Social Media!~
Check us out on Instagram and Facebook!
-If you would like to join our affiliate program…
…please find our portal here.
-If you are interested in bulk and wholesale options for this product…
…please find our wholesale program here.
-For copies of our recent lab test results…
…visit our Certificates of Analysis on this page.
This product is not for use by or sale to persons under the age of 18. This product should be used only as directed on the label. It should not be used if you are pregnant or nursing. Consult with a physician before use if you have a serious medical condition or use prescription medications. All trademarks and copyrights are property of Steve's Distributing LLC. These statements have not been evaluated by the FDA. This product is not intended to diagnose, treat, cure or prevent any disease. Individual weight loss results will vary. By using this site, you agree to follow the Privacy Policy and all Terms & Conditions printed on this site. Void Where Prohibited by Law.