Description:
Terpin Gorilla CBD Shatter is a formulation of Gorilla Glue and Grand Daddy Purps terpenes together in this pure CBD isolate. Made in Colorado from the finest hemp, you will love it as much as we loved creating it for your enjoyment.
Product Details:
1/2 g – 1 g units
Rich, Natural Terpin Gorilla plant terpenes
Colorado hemp extracted CBD isolate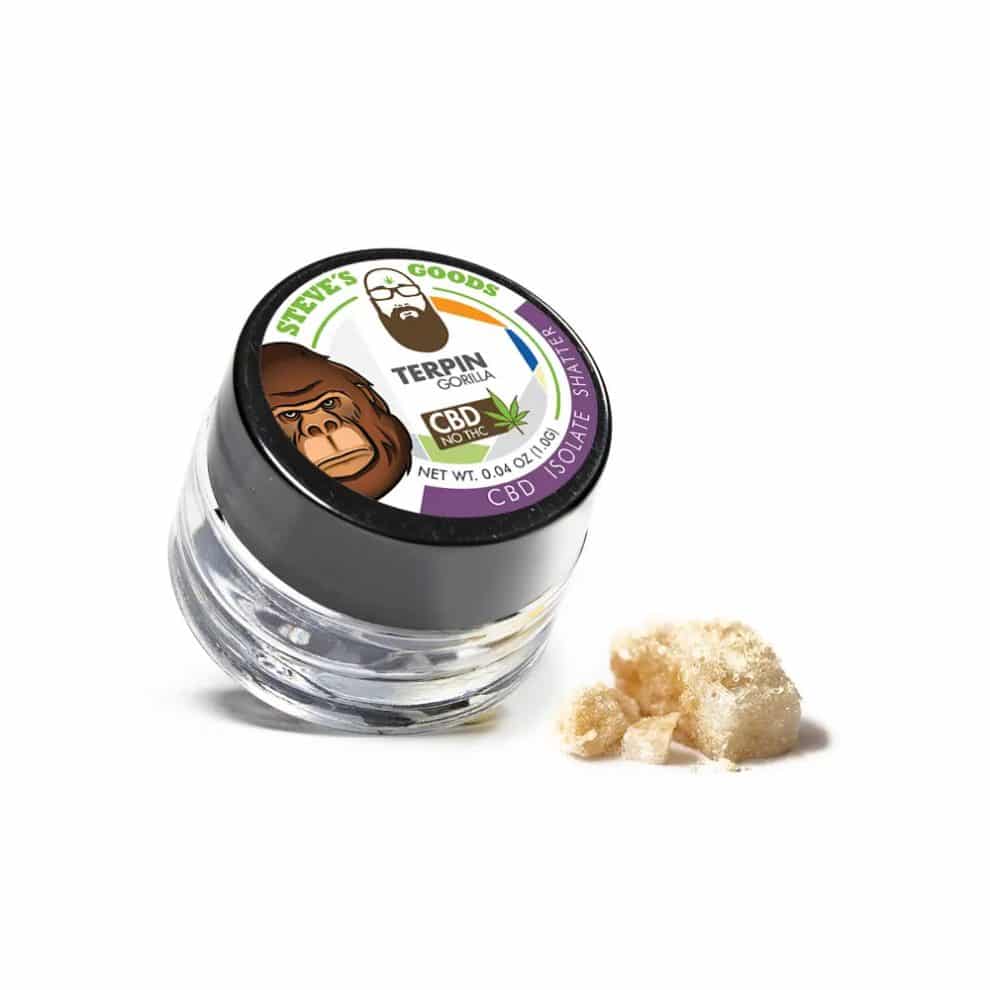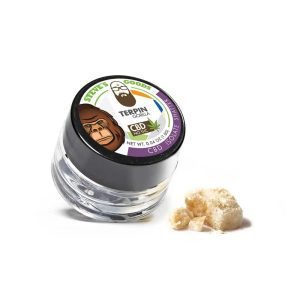 Ingredients:
Extracted hemp cannabidiol (CBD) isolate, Pure plant terpin gorilla terpenes
How to Use:
Break off a piece of this CBD Concentrate and sprinkle it directly onto, or mix it into, your cannabis (bowl, joint, device)
We recommend a dab rig, dab pen, or other devices used for consuming hemp concentrates.
This product is also easily consumed using our famous CBD Starter Pack.
More On Terpin Gorilla Hemp Shatter
Why choose Terpin Gorilla CBD Shatter dabs from Steve's Goods instead of the next guy?
When someone refers to us as the best manufacturer of CBD dab concentrate products, it isn't a half-baked opinion, or rough idea, or even a pipedream. Those people might as well have been showing you our trophy case as evidence because that opinion is a real one that we proudly embrace. Our Terpin Gorilla CBD concentrate shatter dabs are inspired by the broad-spectrum wax version we first offered.
These dabs are a foundational recipe…
…among a decorated series of winning Steve's Goods CBD dab products. Shatter is an appropriate term. These dabs look like terpene-infused shards of broken waxy glass swimming in a delicate sauce, but not drowning. They look undeniably clean and are slippery in texture. Discover why Steve's Goods remains undisputed industry champions of CBD concentrates.
What is the best way to consume Terpin Gorilla CBD Shatter Dabs?
Answering this question with a question: What is your preferential method of cannabis consumption? That method will do fine. Add Terpin Gorilla CBD Shatter to any mix and enjoy instantly! We have several e-device options available. See below if you need something to dab with.
We offer Dip Devices – Evri pen…
…which matches well with our products. It is a high-quality battery device and was designed to be a perfectly portable option for the dabs enthusiast on-the-go. The Evri device has different temp settings, few instructions to remember, three temperature settings, and an easy-to-clean construction. This is definitely a CBD shatter-friendly e-device.
We also offer the best stationary device option on the market.
The EZ Bake E-nail is well-known and globally famous for its easy adaptation to glassware most cannabis users already keep at home. It is durable, safe, reliable for each use, flexible in heat. It also reaches set temperatures quickly after being turned on, and temperature adjusts quickly with a rolling dial and a digital gauge. This is also a CBD dabs-friendly device option.
We love both so much, we have a difficult time picking the better option, and many of our customers say the same thing.
Can these CBD shatters be consumed without a device?
Of course, you can! Terpin Gorilla CBD shatter melts like all of the rest of our CBD dabs. In the world of hemp concentrates, nothing hits better than this mixture of Grand Daddy Purps and Gorilla Glue floral terpenes. So we say go ahead and season your bowl with it. Or introduce the desired amount into your next blunt or joint.
Whatever your method…
…it shouldn't be an inconvenience to combo with Steve's Goods CBD shatters; it should always be the enhancement it was made to be. So do your thing and enjoy the tasty new addition to your cannabis dab routine. And please let us know if you have a unique method by which you like to utilize our CBD concentrates. We always love to hear new applications for our products.
Additional Frequently Asked Questions about our Terpin Gorilla CBD Shatter:
What, exactly, are CBD shatter Dabs?
If you ask anyone at Steve's Goods, our CBD shatter dabs are made to be powerful, pure, and potent. We make these products only, ever, from the finest quality Colorado hemp CBD concentrates.
Steve has always believed…
…that the quality recipe depends heavily on the quality of products utilized in it. Our Terpin Gorilla CBD shatter is it a league of its own because the ingredients within each container are in a league of their own, respectively.
3 years ago we began a journey to try and become the best hemp CBD concentrates producer around. Fast forward to today and we have accomplished that goal locally, nationally, and even internationally. We hope this product makes you smile and has you agreeing with all the many voters who have picked us as the best over time.
Does CBD shatter work?
Yes, CBD shatter 'works.' For what purpose is a better question, and is one that depends on answers to a number of different, and person-to-person health considerations. Steve's Goods does not recommend our Terpin Gorilla CBD shatter as suitable replacements for prescriptions, treatments, or medications.
We encourage all customers to research hemp and to consult with a doctor or medical professional in advance of using products along with prescriptions or other medicines.
Who Do CBD shatter dabs work for?
Our typical customer for this product is a combo cannabis user. That is broad in definition and includes a variety of cannabis consumption methods, device type preferences, flavor prejudices, and product combo possibilities. These types of users are typically after cannabinoid balance, taste enhancement, or just have a THC restriction professionally or personally.
How much CBD is there in a gram of Terpin Gorilla CBD Shatter?
Each single gram unit of Steve's Goods CBD dabs contains 900 mg or more of CBD. Every half gram unit has 450 mg of the same CBD formulation.
How quickly will you go through a gram of CBD shatter?
Moderate cannabis users should get a week of dabbing out of a gram container.
Why is Locally Grown Colorado Hemp More Trusted Among Consumers?
You might be thinking to yourself; hemp is hemp. Why does it matter who grows it and where? And you might not be having that thought at all. But, if you are, here are some things to consider.
There are many factors in the mix when it comes to growing quality hemp. They include soil, temperature, nutrients, time of harvest, etc., etc. And, that's only the beginning of the story.
We track the industrial hemp used in our products from seed to sale
We've met the farmers and been to the farms. Following from seed to sale means we oversee our product every step along the way to assure purity and quality: nothing but the best.
Why choose Steve's Goods CBD shatter Dabs?
Terpin Gorilla CBD shatter was an overdue thank you to our cannabis purists when we finally got it right and offered it as one of our full-time CBD dabs for sale. Like all our other shatters, this was produced as a CBD isolate alternative to an award-winning CBD distillate wax formulation. The Gorilla Glue and Grand Daddy purps terpene blend are simply spectacular, as per all the feedback.
Thank you for choosing Terpin Gorilla CBD Shatter and CBD Concentrates by Steve's Goods!
We worked hard to make sure you could find us, and we are glad you did! Please feel free to browse our other CBD products for suitability to your needs and wants in a Colorado hemp product. Know that we are always innovating, and that means you will find that we bring new products to market all the time. As always, make sure and reach out to a member of our staff if you need answers or context.
We can't wait to hear how you loved Steve's Goods' shopping experience.
~Steve's Goods is on Social Media!~
Check us out on Instagram and Facebook!
-If you would like to join our affiliate program…
…please find our portal here.
-If you are interested in bulk and wholesale options for this product…
…please find our wholesale program here.
-For copies of our recent lab test results…
…visit our Certificates of Analysis on this page.
This product is not for use by or sale to persons under the age of 18. This product should be used only as directed on the label. It should not be used if you are pregnant or nursing. Consult with a physician before use if you have a serious medical condition or use prescription medications. All trademarks and copyrights are property of Steve's Distributing LLC. These statements have not been evaluated by the FDA. This product is not intended to diagnose, treat, cure or prevent any disease. Individual weight loss results will vary. By using this site, you agree to follow the Privacy Policy and all Terms & Conditions printed on this site. Void Where Prohibited by Law.