Description:
This is an out-of-the-box solution to start dabbing CBD and enjoying its effects within minutes of receiving your Steve's Goods order in the mail. It features one of the fines battery-powered dab devices ever made: the Evri by Dipper. And no device is complete without something to love and enjoy with it, which is why we include five 1/2 gram units of Steve's Goods concentrates in each CBD Dab bundle.
What's Included:
1/2 g of Blueberry OG and 1/2 g Pineapple CBD Wax | Reg. $49.98

1/2 g of Blueberry OG, 1/2 G Pineapple Express, and 1/2 g Watermelon OG CBD Shatter | Reg. $59.97

Steve's Goods CBD Starter Pack | Reg. $149.99
$259.94 value for $179.99
Product Details:
1 CBD Starter Pack
1 EVRI device
1 Battery Charger
1/2 g of Blueberry OG Wax
1/2 g of Pineapple Express Wax
1/2 g of Blueberry OG Shatter
1/2 g of Pineapple Express Shatter
1/2 g of Watermelon OG Shatter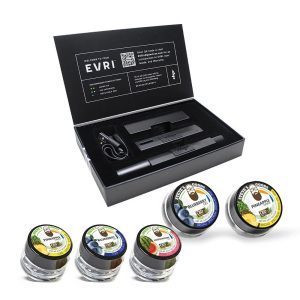 Ingredients:
CBD Wax: THC Free Distillate, Terpenes
CBD Shatter: CBD isolate, Terpenes
How to Use
Take the EVRI out of the box, and attach either the dab straw, or the 510 cartridge holder. Attach your cartridge or aim the dab straw on the CBD concentrate and consume.
More About The CBD Concentrates Bundle
Common Questions about our CBD Concentrates Bundle:
How much CBD is there?
In a 1/2 gram unit of broad-spectrum CBD wax, there is roughly 425 mg of CBD. In a 1/2 gram of CBD isolate shatter, there is roughly 450 mg of pure hemp CBD.
How long will it last?
This answer mostly depends on the shopper. Steve himself can finish a 1/2 gram unit of wax in a day or two. We commonly hear responses to this ranging from 1-2 weeks per 1/2 gram. There are five total 1/2 gram units included in this CBD dab bundle. In other words, this order might take you a while!
Do CBD Dabs Work?
Yes, CBD dabs work. Neither waxes nor shatters are suitable replacements for prescriptions or medicinal treatments of any kind. We encourage you to consult your doctor or medical professional in advance of making decisions to use our products in lieu of any others. E-Nail Wax and Shatter Bundle is sold and marketed as a bundle of supplements with a device for consumption of them.
Why choose Steve's Goods CBD Concentrates Bundle?
We are committed to changing the hemp industry. For 3 years we have formulated and reformulated to get to these cornerstone products.  Excellent flavors. Outstanding taste. Effective servings. Steve's Goods concentrates are boldly different, and we encourage all hemp and CBD industry fans and enthusiasts to experience this. difference.
The CBD Concentrates Bundle | Puff, Puff, Pass 5 Starter Pack Makes The Perfect Gift…
…for that someone in your family or personal life who wants to try hemp, but doesn't want to be encumbered by large dab devices, and might not know where to begin with CBD. What better way to express well-wishes than to give the gift of relaxation and clear-headedness? We thought of gift-giving, among other considerations when Steve put this bundle together. We hope you enjoy our CBD Wax & Shatter Dabs, especially if this is your first time shopping with Steve's Goods.
Every single jar of Steve's Goods CBD Waxes & Shatters…
…was made to enjoy, and to leave you feeling like you just partook in a delicacy. We know our farmers. We grow a lot of our own hemp. We are committed to natural solutions. We try, hard, to stay ahead of trends. And most importantly, listen to our customers and revise and release products to answer their communications. We really hope you love this E-Nail Wax and Shatter Bundle as much as we do. The CBD Dab Bundle truly is the perfect bundle.
Thank you for choosing CBD Concentrate Bundle | Puff, Puff, Pass 5 w/ Starter Pack – and our CBD Bundle Deals from Steve's Goods!
~Steve's Goods is on Social Media!~
Check us out on Instagram and Facebook!
-If you would like to join our affiliate program…
…please find our portal here.
-If you are interested in bulk and wholesale options for this product…
…please find our wholesale program here.
-For copies of our recent lab test results…
…visit our Certificates of Analysis on this page.
This product is not for use by or sale to persons under the age of 18. This product should be used only as directed on the label. It should not be used if you are pregnant or nursing. Consult with a physician before use if you have a serious medical condition or use prescription medications. All trademarks and copyrights are property of Steve's Distributing LLC. These statements have not been evaluated by the FDA. This product is not intended to diagnose, treat, cure or prevent any disease. Individual weight loss results will vary. By using this site, you agree to follow the Privacy Policy and all Terms & Conditions printed on this site. Void Where Prohibited by Law.